[This story on Labor Day in the United States describes how the power of vivid early photographs of working children directly looking at the camera (and therefore the viewer) helped change public perceptions and end child labor in the U.S. As noted in the last paragraph, today other media including virtual reality (and the sense of presence it evokes) are also being used to show and combat social injustices. The interesting story is from The Washington Post, where the original includes eight more images (follow the link at the end for over five thousand more) as well as links to related stories. –Matthew]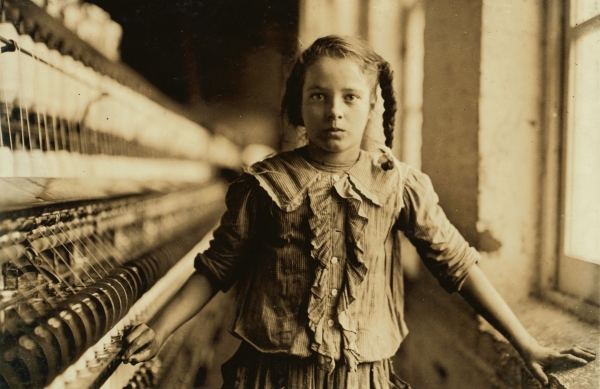 [Image: A young spinner in a North Carolina cotton manufacturing company poses for Lewis Hine, the documentary photographer who inspired the creation of laws to ban child labor. (Library of Congress)]
The searing photos that helped end child labor in America
By Jessica Contrera
September 2, 2018
He arrived at the coal mines, textile mills and industrial factories dressed in a three-piece suit. He wooed those in charge, asking to be let in. He was just a humble Bible salesman, he claimed, who wanted to spread the good word to the laborers inside.
What Lewis Hine actually wanted was to take photos of those laborers — and show the world what it looked like when children were put to work.
In the early 1900s, Hine traveled across the United States to photograph preteen boys descending into dangerous mines, shoeless 7-year-olds selling newspapers on the street and 4-year-olds toiling on tobacco farms. Though the country had unions to protect laborers at that time — and Labor Day, a federal holiday to honor them — child labor was widespread and widely accepted. The Bureau of Labor Statistics estimates that around the turn of the century, at least 18 percent of children between the ages of 10 and 15 were employed.
Hine's searing images of those children remade the public perception of child labor and inspired the laws to ban it. Today, the Library of Congress maintains a collection of more than 5,000 of Hine's photographs, including the thousands he took for the National Child Labor Committee, known as the NCLC.
"It was Lewis Hine who made sure that millions of children are not working today," said Jeffrey Newman, a former president of the New York-based committee. Read more on Searing photos and the presence they evoked helped end child labor in America…