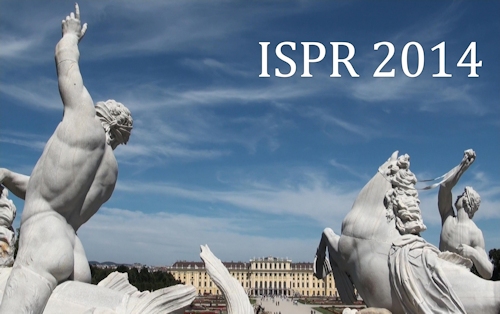 [Image © M/G Felnhofer]
International Society for Presence Research Annual Conference – ISPR 2014
March 17-19, 2014
Vienna, Austria

Conference web site: presence2014.univie.ac.at
[ PROCEEDINGS ISBN:  978-3-7089-1081-9 ]
ISPR 2014 was hosted by the University of Vienna in Vienna, Austria, March 17-19, 2014.
Below is a list of the papers and presentations from the conference, in alphabetical order by author name.
The official Proceedings are available now from Amazon.
The Proceedings, via links to Adobe Acrobat (.pdf) files containing each paper, will be available here beginning September 2014.
If you have questions or problems, please send an e-mail message to help@ispr.info.
---
PAPERS:
BEST PAPER AWARD – SECOND PLACE:
The Use of Doppelgangers in Virtual Reality to Treat Public Speaking Anxiety: a Gender Comparison
Aymerich-Franch & Bailenson
Video Best for Female Friends?
de Greef
Challenging Gender Differences in Physical Presence: Affective States, Spatial Abilities and Presence in a Relaxing Virtual Park
Felnhofer, Hetterle, Schmidt, Beutl, Hlavacs, Kryspin-Exner & Kothgassner
Development and First Validation of the PLMBR for Lab-Based Microworld Research
Frank & Kluge
BEST PRESENTATION AWARD – FIRST PLACE:
Can You Feel What I'm Saying? The Impact of Verbal Information on Emotion Elicitation and Presence in People With a Visual Impairment
Fryer & Freeman
Psychological Effects on 3 Dimensions Projection Mapping Versus 2 Dimensions: Exploratory Study
Jung, Lee & Biocca
The Effects of Direct and Global Illumination on Presence in Augmented Reality
Kán, Dünser, Billinghurst, Schönauer & Kaufmann
Immediacy as Induction of Parasocial Relationships
Kelly, Johnson, Broaddus & Fall
BEST PAPER AWARD – THIRD PLACE
Effects of Age on the Subjective Presence Experience in Virtual Reality
Kober
BEST PAPER AWARD – FIRST PLACE:
Does Social Rejection Hurt Virtually Like It Hurts in Real-Life? The Role of Agency and Social Presence in the Perception and Experience of Social Exclusion
Kothgassner, Kafka, Rudyk, Beutl, Hlavacs & Felnhofer
Presence as Influencing Factor for Social Capital
Neureiter, Moser & Tscheligi
Mixed Embodied Presence Through the Lens of Embodiment and Social Presence
Papasarantou, Rizopoulos, Bourdakis & Charitos
Presence and Emotion: Changes in Pain Perception Following Virtual Reality
Peled, Wallach, Safir & Pud
Identification of Image-Based Virtual Reality for Enhancing Spatial Presence Using Repertory Grid Technique
Rambli & Muhaiyuddin
BEST PRESENTATION AWARD – SECOND PLACE:
The Spawn of Presence: Examining the Relationship between Presence and Self-Presence
Ratan & Sah
Sexual Presence as a Dimorphic Phenomenon
Renaud, Fontanesi & Benbouriche
Measuring Presence: The Use Trends of Five Canonical Presence Questionnaires from 1998-2012
Rosakranse & Oh
Telepresence and Motor Rehabilitation in An Abstract Virtual Environment for Stroke Patients
Schüler, Kane, Drehlmann & von Piekartz
Me, Myself and Facebook: Cyberbullying, Self-Presence, and Self-Esteem
Seifert & Westerman
BEST PRESENTATION AWARD – THIRD PLACE:
Mediated Touch: Exploring Embodied Design for Remote Presence
Strohmeier & Kamphof
Research the Effectiveness of Virtual Environments in Post-Stroke Rehabilitation
Szucs & Lanyi
Influence of Vertical Navigation Metaphors on Presence
Vasylevska & Kaufmann
PANEL:
Remembering Dr. Paul Skalski and his Contributions to Presence Research
Bracken, Westerman, Lombard, Rubenking & Eden
KEYNOTES:

In Search of the Fixed Points on the Presence Scale
Antal Haans
Presence in Action: An Updated Overview of an Action-based Approach to Presence
Anna Spagnolli
Investigating the Impact of Image Quality on Telepresence, Attitudes Towards Brands and Purchase Intentions
Bracken
Preliminary VR Results for PTSD Treatment for Urban Crime Victims
Cardenas Lopez, Gomez, Baca & Plata
Evaluation of the Usability of Virtual Environments for PTSD Treatment
Cardenas Lopez & Pruessner
Context Reinstatement of Eyewitness Memory of Recorded Events Using Virtual Environments
Carroll, Kirwan & Buckley
Sounding Professional, Not Robotic: Teaching Students to Incorporate Social Presence Cues in Business Writing
Christen & Kelly
BEST POSTER – FIRST PLACE:
Clean to the Bone: A Phenomenological Analysis of Grotesque Movement
Foster
Enhancing Human Rights Activism Using Copresence Technologies and Approaches
Gregory
The Presence of Classroom Technologies
MacDonald
BEST POSTER AWARD – SECOND PLACE:
Measuring Valence and Naturalness of Statements Made By Virtual Agents
Schuler, Wolkenstein, Müller, Mühlberger & Plewnia
BEST POSTER AWARD – THIRD PLACE:
Using Immersive Virtual Reality for Developing Novel Lighting Application
van Rijswijk & Haans
DEMONSTRATIONS:
Virtualizer
Cyberith
Face Scanner for 3D Reconstruction with Kinect
Helf & Hlavacs
The Face Simulation Toolbox
Hlavacs & Beutl
Teletalker – Presence Software with a Bell
Markowski & Springett
Mimicry and Facial Similarity: Making Avatars More Persuasive
Verberne, Ham, Midden & IJsselsteijn