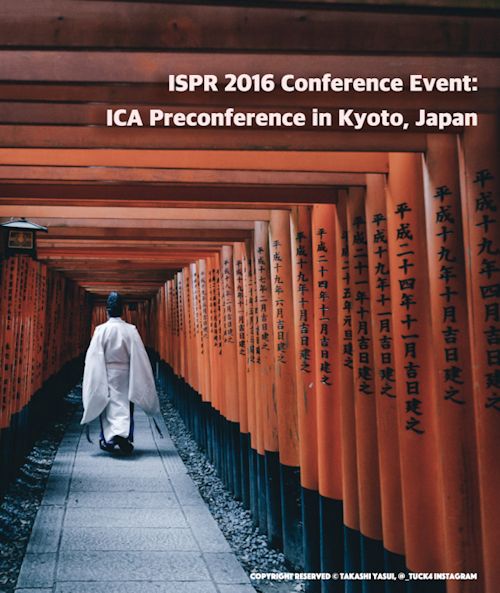 ISPR 2016: The Power of Presence: Using Telepresence Theory, Research and Applications to Enhance Mediated Communication Experiences in the 21st Century
A preconference of the 2016 conference of the International Communication Association (ICA)
Co-sponsored by the International Society for Presence Research (ISPR)
June 8, 2016 (with optional demonstrations and guided sightseeing events June 7)
Kyoto Research Park in Kyoto, Japan
[ PROCEEDINGS ISBN:  XXXXXX ]
Below is a list of the papers and presentations from the conference, in alphabetical order by author name.
The Proceedings are available via links to Adobe Acrobat (.pdf) files containing papers and presentation slides.
If you have questions or problems, please send an e-mail message to ispr-lombard@temple.edu.
---
PAPERS:
Title: Subtitle [paper] [slides]
Last name, First name, University
OVERVIEW
ISPR 2016 at Kyoto Research Park in Kyoto, Japan wasor an enlightening and enjoyable conference event two days before the 66th annual conference of the International Communication Association in Fukuoka, 9-13 June.
The event included a full day of invited and peer reviewed state-of-the-art presentations, and demonstrations; a keynote address from renowned Professor Hiroshi Ishiguro of Osaka University, creator of amazing humanoid robots and co-author of "Human-Robot Interaction in Social Robotics" (2012, CRC Press); and informal discussion, networking and fun. At the end of the day, attendees attended a social dinner at an (affordable) nearby restaurant. We also spent much of the day before the formal conference (June 7) enjoying demonstration visits and guided sightseeing.
DEMONSTRATIONS AND SIGHTSEEING JUNE 7
On Tuesday June 7 from 11am until 5 pm attendees are invited to a series of demonstration visits and sightseeing. Potential stops on a tour to be led by preconference team members (who speak Japanese) include: