[The VR company Parallux has created a new type of shared presence experience for audiences, as reported in this story from Techradar. See the original story for more pictures, and for more information see the NYU news release and an interview in No Proscenium. The Hollywood Reporter has a rundown of the VR-AR programming at the upcoming Tribeca Film Festival. –Matthew]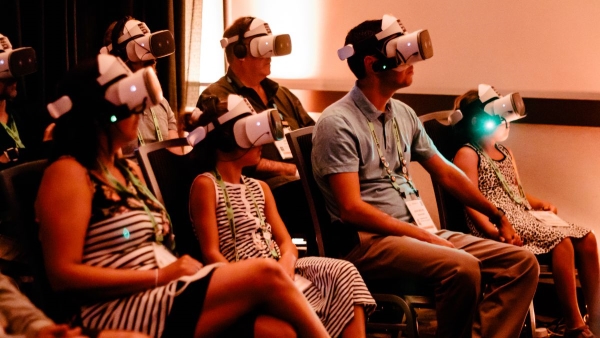 Are shared experiences the future of virtual reality?
By Catherine Ellis
April 23, 2019
VR is traditionally a lonely experience. After slipping on a headset, you're typically isolated (even if you're sitting in a group), and even multi-person experiences only let two or three people share the same world. But it doesn't have to be that way.
From April 26 to May 4 at this year's Tribeca Film Festival, virtual reality company Parallux is premiering a new experience that 16 people can watch and enjoy together. The experience, Cave, is a tale set 12,000 years ago when stories were told around fires, harking back to the earliest days of shared storytelling.
"When people will show up at Tribeca, they'll enter the VR arcade, and our experience cave will be in a separate room there," explains Sebastian Herscher, CEO of Parallux. "There are going to be 16 headsets on 16 seats, set up in two rows. They're going to walk in, be asked to sit down and relax, and be introduced to the equipment that we're using, just as a little bit of onboarding.
"Then they're going to put on their headset, and the moment that they put it on they are going to be transported to the world space of Cave."
When a member of the audience looks left or right, they'll be able to see virtual representations of the people sitting either side of them. These won't just be placeholders, either – each avatar will follow the movements of the person it represents, turning its head in the same direction and 'looking' wherever he or she does.
"On top of that, every seat has a unique viewpoint, like a theater," Herscher says. "So the person on the left side of the audience is having a very different experience and a different viewpoint than a person on the right side of the audience. They are then going to sit back watch our short, and then take off the headset and mosey on out just like a theater or a movie." Read more on Parallux's "Cave" at Tribeca: Are collective shared experiences the future of virtual reality?…