[Presence-evoking technologies are changing traditional audio-visual media in interesting ways. Snapchat is experimenting with using augmented reality for both watching and responding to original interactive programming via mobile devices, as described in this story in Fast Company; see the original story for a 1:04 minute video and animated gifs. –Matthew]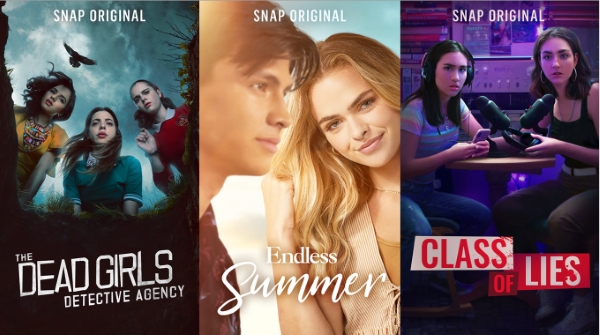 Snap is making whatever comes after TV
Today the company is announcing new original programming that puts users inside the story. Is it prestige TV, social storytelling, or a whole new medium?
October 10, 2018
By Mark Wilson
I'm standing on a beach, and a group of beautiful twentysomethings gather round a bonfire. There's Dylan, a passionate dreamer, who strums at an acoustic guitar in his millennial pink hoodie. And Summer, she's an ambitious life-lover, who dons red Chuck Taylors that match her jacket.
I know their names, and their personalities, because their backgrounds float right over their heads. And in case I hadn't made it clear, I'm not actually on the beach in Orange County. I'm standing in my basement, viewing the scene through a Snapchat AR "portal," which immerses me in a 360-degree moment that feels like a cross between a chill beach party and a trailer for some new MTV reality show.
This effect is by design. The experience I'm previewing is part of a new Snapchat show called Endless Summer, produced by Bunim-Murray, the same production company that brought us The Real World. It's all part of Snap's continued obsession with leveraging its own interactive, social platform to push the nature of programming forward.
This week, Snap is unveiling its biggest initiative in original programming yet. Dubbed Snap Originals, it includes a dozen new shows produced specifically for Snap, ranging from a horror anthology, to a mysterious campus mystery created by a writer on Riverdale, to a docuseries about drag queens who are coming of age.
Snap's own content hasn't all been a hit–following a controversial redesign, especially, its publishers reported losing views. But over the last two years, it's become a successful platform for the company that Sean Mills, head of Original Content for Snap, is quick to point out mirrors the habitual viewing style of TV audiences, rather than the viral one-offs of YouTube. SportsCenter's show on Snapchat reaches 2.5 million viewers, and NBC News's audience has doubled on Snap over the last year, from 2.5 to 5 million viewers a day. That's a small cry from Snapchat's 188 million daily active users worldwide, but puts NBC's Snapchat viewership on par with a hit cable show.
With its new content push, Snap doesn't want to just duplicate TV shows or Netflix binges, though. For whatever position its stock might be in, Snap wants to do something more ambitious: Push the medium of storytelling forward, leveraging its AR breakthroughs and social platform to do so. Read more on Snapchat's Originals incorporate AR and presence for "whatever comes after TV"…