[From The New York Times' Wheels blog]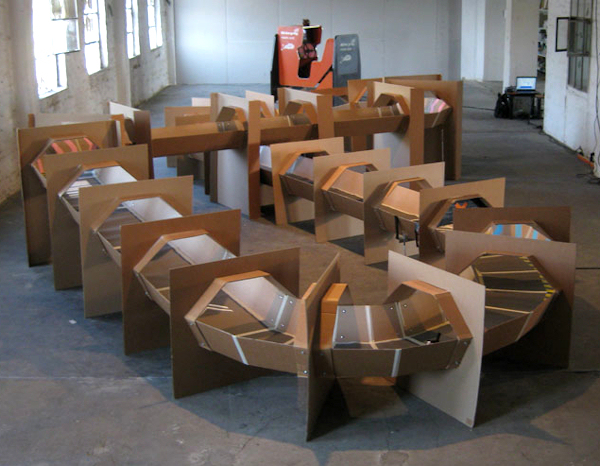 August 11, 2010
Recreating a Classic Video Game With Radio-Controlled Cars
By JONATHAN SCHULTZ
With apologies to "Gran Tursimo," "Forza Motorsport," "Project Gotham" and any number of hyperrealistic, console-based racing simulators and video games, arguably no title channels the visceral thrill of hurtling around a course like the futuristic "Wipeout" series. Now, a German art collective has rendered that thrill tactile, using defiantly analog components: cardboard, glue and vintage-video-arcade kitsch.
Called (with a wink) Racer 0.2, the project is the creation of three media artists collectively known as Sputnic.
The group envisioned a race simulator whereby a gamer sits inside an Out Run-style driver's cockpit and feeds steering, braking and acceleration inputs to a radio-controlled, 1:28 scale racer positioned on an elevated cardboard course. The vehicle then projects its movements onto the game cockpit's video screen via an onboard camera. The driver sits with his back to the actual course, a layout that gives Racer 0.2 a conceptual twist by treating reality and virtual reality as manipulable constructs.
The project can also be interpreted as a hoot.
"It's like being a child again," said Nicolai Skopalik, a Sputnic co-conspirator, reached by phone at the collective's base in Krefeld, Germany. "We all dreamed of having something like this back then. It's a wishful childhood dream."
Mr. Skopalik said that the Wipeout homage was somewhat accidental. "We all played the game when we were younger, so maybe we were thinking about it, but really we were trying to just create a stable track," he said. "It had the most stability with a six-sided form. So the form came first and later we realized, 'Wow, it looks a lot like the Wipeout track,' which gave us more direction."
Though it began as a media-art exercise, Racer 0.2's potential commercial applications are not lost on Sputnic. "We're getting people coming to ask us if we want to produce it for like an action-arcade setting," Mr. Skopalik said through incredulous chuckles. "We're not sure."
What is certain, however, are Racer 0.2's very real development costs and the demands it makes on the collective's resources. Sputnic recently posted a donation box on its Web site to help offset mounting expenses. "I'm surprised by every euro we get," Mr. Skopalik said. "It's really cool."
Racer 0.2 is also an evolving project, with a figurative version 0.3 always around the corner. "We of course want to have a multi-player mode, with two cars," Mr. Skopalik said. "We're also considering adding a motion-tracking device to add a third reality layer — a 3-D layer — where you can see obstacles and bad guys on the screen as you drive, but these objects wouldn't actually exist. It would be like real-time post-production."
Mr. Skopalik also expressed range anxiety.
"Right now when the car battery goes low, we just see it slow down and know it's time to charge it," he said. "It would be cool if the car could drive to a charging station automatically when the battery is low."
Despite the ambitious wish-list of upgrades, Sputnic is wary of technology bloat. "The fun lies in driving the thing and not crowding the concept too much," Mr. Skopalik said. "It's supposed to be a very pure racing game. We have to let the project itself dictate its development."