[The RealityVirtually Hackathon at MIT sounds like a fascinating, fun and valuable event where people gather to bring creative ideas for presence applications to life. This story from The Boston Globe (where it features a different image) describes many of the projects at this year's event; for much more information about them see the Winners page on the RealityVirtually website. –Matthew]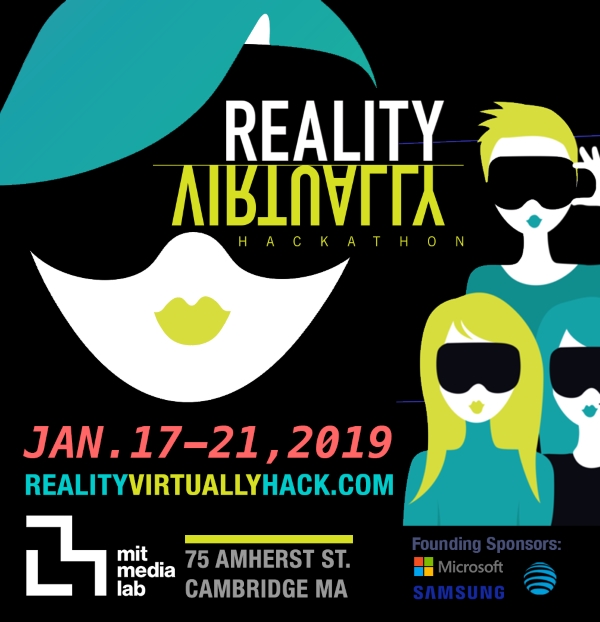 These developers are trying to make virtual reality more useful
By Scott Kirsner, Globe Correspondent
January 24, 2019
If you've seen a set of virtual reality goggles — in person or otherwise — you may have jumped to a few conclusions. Maybe a useful gadget for hardcore gamers, but not me. Who wants to stand around swiveling his head and looking like an apprentice welder from the Planet Cybertron?
And how much more antisocial could people possibly get?
But over the Martin Luther King Jr. Day weekend, virtual reality drew nearly 450 people from about 35 different countries to the campus of MIT for an event called RealityVirtually. The participants formed small teams and spent four days building, from scratch, fully functional pieces of software for virtual reality and augmented reality headsets. (Augmented reality is a sibling of virtual reality, using glasses that you can see through but that can overlay digital imagery onto the real world.)
It offered an incredible glimpse into the nascent medium's potential and possibilities. It's a medium, Northeastern University professor David Tamés observes, where "the hardware development is way ahead of where the storytelling and the applications and the content are. People are pouring huge amounts of money into the hardware, and nobody is really making the big investments in the software." (Tamés was among the participants at the RealityVirtually event.)
In other words, this is like television before Ed Sullivan or "I Love Lucy." And the hardware makers know they need to do a better job persuading people why they might need this gear; at RealityVirtually, they were offering cash prizes of up to $3,000 to teams that came up with the best software demos.
Several teams at RealityVirtually were thinking about the way that these headsets might help those with visual impairment. A team called Bright adapted a headset made by Microsoft — you can see digital information displayed on a clear visor, and it can also talk to you — to let the wearer "zoom in" on the real world. That might be useful for reading small text on a sign, for example, or recognizing a person from far away.
Peter Lu, a student from Sheridan College near Toronto, explained that his team had turned a Magic Leap headset into a "virtual cane." Instead of using a cane to gather information about the environment, a person with visual impairment could grasp a small controller in one hand, and use it to detect objects they might trip on or bump into. Tiny cameras embedded in the headset could spot obstacles, and send vibrations of differing intensities to the controller, indicating whether an obstacle was nearby or further away. The team also created a "memo feature," Lu explained, "so you can record your voice in a certain place, and then whenever you pass by, it plays back what you said. For example, 'There's a key I left on the shelf here.' "
Something called "Move 2 Improve" envisioned integrating virtual reality gear into a physical therapy regime. Put on a headset, pick up a controller, and play a game of "connect the dots," moving your arm to create pictures in the sky within the virtual environment. Before you know it, you've done 15 minutes of range-of-motion exercises to help rehabilitate your rotator cuff.
Fin Ambsdorf, a designer from Berlin, had worked on a language-learning project called Tarnia. Put on a pair of the see-through Magic Leap goggles and you can suddenly point to the objects around you in a room, and hear the German word for each. A visual label also pops up in space so you could see how the word is spelled. Everyone on the team, Ambsdorf explained, had to pick up a second language at some point in their life — and they wanted to take the process out of books and into the real world.
Even some of the games created at RealityVirtually had an underlying message or a hidden goal. A game called "Caution: No Bear in Area" put players inside a house that was flooding because of global warming. To get the water levels down, you had to (quickly) learn about residential energy efficiency and make changes to the home that would make it more energy efficient. Bird Box, a project that Tamés worked on, enabled two people in different places to interact with one another by painting in the same virtual environment.
Put on a Microsoft Hololens headset and a project called Accessibild enabled you to examine a real-world environment like a restroom. Why? To instantly analyze whether the space was compliant with the Americans with Disabilities Act, and if not, how it fell short. That's useful to anyone rehabilitating an existing building, or perhaps inspecting one for compliance. (Accessibild took home a $2,500 prize at the event.)
Present XR tried to envision what the presentation software PowerPoint would be like in virtual reality. Instead of creating a two-dimensional slide to display data or make an argument, what if you could build a three-dimensional environment with images and charts?
A project called CosmosVR won a prize at the event for best data visualization demo: It let you don a headset and explore the universe, viewing stars, gas, and dark matter. (That team's members included an astronomer, a computational biologist, and an autonomous-vehicle engineer.)
Yes, there was fun stuff, too — games that let you try to communicate with a diminutive alien creature using hand gestures, or do an exercise routine in virtual reality, or pretend to be a goldfish in a bowl.
But while we know that virtual and augmented reality gear will appeal to gamers, what was interesting about RealityVirtually was that it offered a glimpse into other kinds of uses that could someday pull the technology into the mainstream.
Or at least closer to it.