[The airlines are finding interesting applications of presence-evoking technology. This story from MRO ("Maintenance, Repair & Overhaul") Network is about new immersive tech Emirates Airlines is adopting for seat booking and other previews of the inside of its planes (more details, images and a 1 minute video are available from Emirates). APEX ("Airline Passenger Experience Association") has a related story about a passenger survey supporting the addition of VR-based experiences in airlines' airport pre-flight lounges. –Matthew]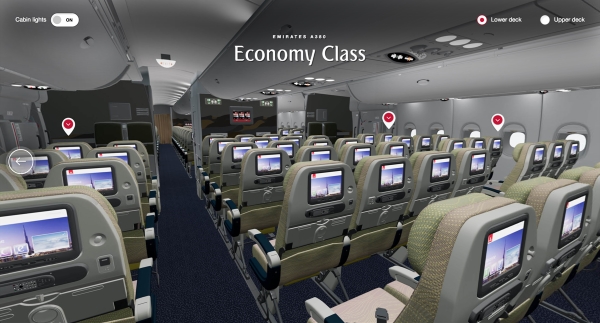 Virtual Reality Informs Passengers Booking Airline Seats
Emirates helps make seat selection a more accurate experience for its passengers via an immersive, 3D, online process
Kerry Reals
August 29, 2018
Airlines are starting to use three-dimensional technology to provide customers with a detailed, immersive view of their aircraft interiors during the booking process.
By allowing passengers to virtually experience the cabin before selecting seats, the hope is that their expectations will be more accurately met. And by showcasing premium products in this way, there is a better possibility that customers will be tempted to upgrade.
In July, Emirates Airline announced that it had introduced 3D seat models to its online reservation system and says it is the first airline to use web virtual reality (VR) on its digital platform.
Alex Knigge, senior vice president of digital at Emirates, says the carrier had "been looking at this for about 12 months," but it "wasn't easy to find a vendor that fulfilled our requirements."
The Dubai-based airline sought more than an app-only product. It wanted something that could be embedded into its website and accessed on desktops and mobile devices, with or without the use of VR goggles.
Emirates opted for Spanish technology company Renacen's 3D SeatMapVR product, which provides a 3D, 360-deg. view of all aspects of the carrier's cabins, including the onboard lounge and shower spa on its Airbus A380s. While the experience as viewed through VR goggles is "more immersive," says Knigge, other devices also provide a more detailed look inside the cabin than had been available.
"From the very beginning, we always wanted to reach as many customers as possible. Therefore, our product can be used on personal computers, tablets and smartphones," says Renacen Chief Operating Officer Joaquin Alviz Martin.
"In the case of personal computers, for example, we can use our mouse to interact with the 3D view. If the computer has a touchscreen, or if we use a tablet or smartphone, we can directly interact with our fingers with the immersive view.
"For those who are looking for maximum immersion, the VR view allows the camera to respond to the movements of our head, obtaining a much greater immersion sensation, which really makes us feel as if we are inside the airplane," the COO says.
Martin describes the product as "the logical evolution of seat maps" and believes it will prove popular with airlines as they continue to invest more in interiors as a means of competing with rivals.
"Airlines and their suppliers have been searching for years for the most efficient way to showcase more information about their cabin interior products, and there is no better combination than an immersive experience during the booking process. We are convinced that, one day, 3D seat maps will be the industry standard," he says.
Since launching with Emirates, Renacen has held talks with "almost 30 airlines, both low-cost and premium," says Martin. The company is "conducting proofs of concept for some with which we have signed NDAs [nondisclosure agreements]," he adds.
Martin notes that 3D SeatMapVR is easily integrated into airline systems because it is based on front-end, web-based technologies. "This allows us to integrate with the websites and digital channels of the airlines without having to alter their back-end, the logic of their systems or their existing basic seat map. Once we have created the 3D models of the fleet, the work of integrating the necessary libraries into the airline's systems is a task that can take approximately two weeks," he explains.
Emirates has begun offering this new booking option for flights on its A380s and is in the process of adding it to the reservation system for its Boeing 777s. The carrier has 19 different interior layouts across the two aircraft types and is "rolling out [3D SeatMapsVR for] all 19 layouts over the next couple of months," says Knigge.
"For premium brands, it's beneficial to do this, to keep reminding passengers that it is worth paying a premium," he adds. "The big advantage is that it enables customers to easily research our inflight product. One-third of our customers are new, so it is great [for them] to have a glimpse of our product before [booking]," Knigge says.
Renacen is hopeful its product will eventually be built into third-party reservation systems as well as airline websites.
As the International Air Transport Association's new distribution capability standard—which will enable airlines to market much richer content via the global distribution systems (GDS)—comes into effect, Renacen believes its product will help carriers showcase the finer points of their cabins to a much wider audience.
"We designed our product to be easily integrated into third-party systems, either through application programming interfaces or any other protocol," says Martin. "Living in the information age, it is essential to provide passengers with all the information we can offer on the seat they have selected—position, materials, space, audiovisual equipment, connectors, and such.
"That is why we are interested in reaching passengers wherever they are, either through the airlines' digital channels or through [online travel] and GDS platforms," he adds.