[Natural Reality 2:1 uses VR to make us contemplate the roles of technology and nature in our lives; this story is from The Creators Project blog (where it includes more images). There's more information about the production in a post on the Abundance Generation blog and a first-hand user report in a second post there. –Matthew]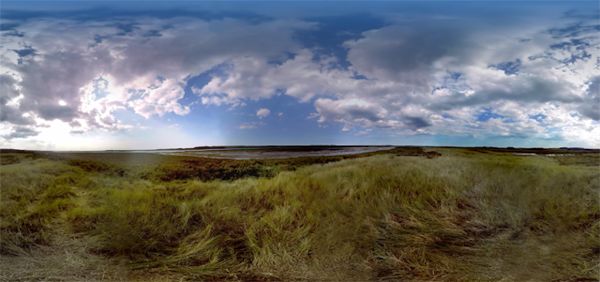 Escape into the Virtual Countryside
By Kevin Holmes — Sep 25 2015
Virtual reality transports Londoners from the center of the capital to the rural marshes of east England in filmmaker Dorothea Gibbs, and Third Channel productions' Natural Reality 2:1—produced by Rupert Lloyd and shot by 3D camera specialist Kevin Zemrowsky. Users wear the Oculus Samsung Gear VR and are met with a 360° expanse of Norfolk wetlands. The natural vista is soundtracked by birdsong, cell phone song, and interviews with various people—a photographer, a filmmaker, a curator—who discuss their (sometimes detrimental) relationships with technology and social media.
It's a meditative reflection not only on the wild beauty of the marshes and the transportive effect of nature (and VR), but also how our lives are constantly interrupted by technology. "It came from a statistic I saw that said eight hours of every day you spend connected to a device," explains Gibbs to The Creators Project. "And I wanted to reflect that in the film, so I created a landscape that is interrupted with the same ratio as you interrupt your daily life with technology."
So the audio, like the visuals, fluctuates every so often. The idea is they mimic not only the constant shifting of our attention when we're online, but also the states of being connected to our devices, and disconnected and alone in nature. The visuals represent this through a shift in frame rates. There is the normal frame rate reflecting being disconnected and for this the audio is just the natural Norfolk landscape, birds, wind whistling, bees. Then the footage speeds up to timelapse, reminding us of the time lost while hooked on our devices. And the audio shifts to the interviews, mechanical sounds—like the distracting sound of phone interference that comes just before a phone rings—and the natural sounds become electronically distorted. The compounded effect is, you can never quite settle into this virtual retreat.
Zelig Sound created the audio, but to create the 360° sound experience, instead of using standard binaural sound mix, Gibbs had Tim Godwin from Immersive Construction build an app in game engine Unity. This allowed them to attach mono sounds to specific moving objects within the space. Meaning when you hear a sound behind you, you can turn around and see the cause of that sound.
Of course, the film raises an interesting paradox—technology becomes our escape from technology. Yet perversely, VR allows for the disconnect that Gibbs is looking for. Although it's tech, it takes us away from the day-to-day trappings of the constant buzz of emails, messages, and notifications.
"I grew up there," Gibbs says of the marshes. "I used to spend holidays there. For me I wanted to try to show other people what it's like to love a place like that, which is completely remote. Some people may not like it because it's marshy and muddy, but the sounds are beautiful. You have lots of different marsh birds. It's a very popular bird watching spot. And it's a very magical place to me. So I wanted to reconnect people with what it feels like to be in a space like that—but also when you're trapped inside a VR headset, you can't look at your phone. So you're very much immersed in that place and you can't look away."
The film was commissioned by Human Nature and Abundance for the Human Nature collection which features artworks that explore the environment and the natural world. The collection forms part of The Art of Progress exhibition at 19 Greek Street, London which features artworks that explore the environment and the natural world, a part of the London Design Festival and is on until September 27, 2015.