[From Journalism.co.uk; see also the BBC's 3:57 minute video report]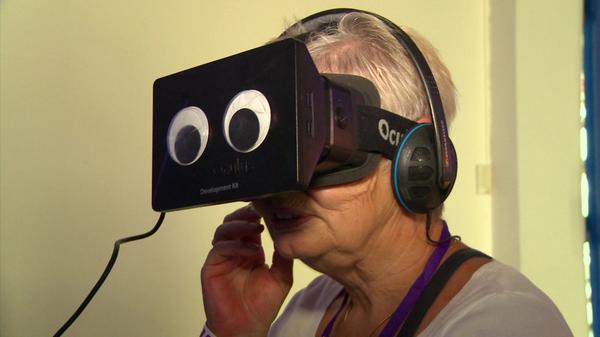 Lessons from BBC virtual reality stream at Glasgow Games
The BBC Research and Development team shares what lessons were drawn from the first virtual reality sports stream and how they can be used in the future
Posted: 8 August 2014
By: Catalina Albeanu
A virtual reality live stream was set up at the Commonwealth Games last week to allow viewers outside of the Hydro Arena to experience the gymnastics competition as if they were comfortably seated in the stalls.
The BBC Research and Development (R&D) team placed a 360 degree camera and an audio microphone which recorded sound from all directions in the arena, and streamed the content to an Oculus Rift virtual reality (VR) headset in the Glasgow Science Centre, half a mile away.
The team has been experimenting with ways in which the BBC might use virtual reality in its programming if the technology became a popular consumer product.
Bruce Weir, senior technologist, immersive and interactive content at BBC R&D, told Journalism.co.uk the Commonwealth Games "seemed like an excellent opportunity to get this technology in front of people who may not have seen anything like it before, just to get an idea of how they reacted to it, whether they thought it was something they'd be interested in and any technical issues that they've spotted that perhaps we glossed over that were quite important to them."
Until the Commonwealth Games experiment, the R&D team had focused on whether or not they could get a high enough picture quality and frame rate for a good viewing experience.
Weir said that with the current generation of cameras that is "moderately marginal", but they are expecting things to improve if virtual reality becomes popular in the consumer market.
"What we have also discovered is that the audio is really really important. If you get the good quality audio then you can get away with lower quality visuals", said Weir.
"And we've spent quite a lot of effort in looking at immersive audio, so that's essentially audio formats and playback techniques which give a very convincing replica of the sound field – so it sounds very much like you're in a, say, musical auditorium or surrounded by the action in a film or something like that."
A positive response from the public was partly due to the novelty factor and also to the use of impressive hardware that has come a long way since it first became available in the consumer market ten years ago, according to Weir. But what happens once the novelty factor wears off?
"What we'd like to do is further experiment with different genres of content, for example of drama in VR with full surround audio", said Weir. "It would be really interesting to try and then we'll have a much better idea of the creative possibilities and the creative potential of the technology."
The application of virtual reality in news broadcasts is something that depends on the availability of the kit to the audience.
Weir said: "I can certainly see the value from a sort of purely technical video point of view, where you can be placed in the middle of an event and look around and get a much richer idea of what's going on, but I think the technology and the capture systems would have to move on some distance before that became something common."
One of the other challenges of producing video to be streamed over to a virtual reality headset is a phenomenon called VR sickness, essentially motion sickness.
The virtual reality systems Weir has seen so far have been designed to try and minimise this risk, but care should also be taken to avoid large or uncontrollable view point changes within the content.
He said: "You don't want the viewpoint to be rocking up and down or moving too vigorously, because that can give you quite bad motion sickness and be quite disorienting, and that's really going to inform the type of shots that are going to be suitable if we're going to be making content for this sorts of platforms."
Weir added that using static cameras and staying away from fast cuts would help minimise the phenomenon. VR sickness is one of the aspects the R&D team will be looking at when doing similar experimental programmes in the future.
Could viewers expect a virtual reality stream from the Olympic Games in Rio two years down the line? He said it's a possibility, but it all depends on which direction public attitudes towards the technology are going.
"There's no consumer models on the market yet," he said, "so whether people will buy them or not is a new question.
"But what we're doing in R&D is getting into a position where, if this does become popular, we're sort of ahead of the game, and we can inform the BBC about production methods and techniques that'll really bring the most out of this technology."