[From The Hollywood Reporter]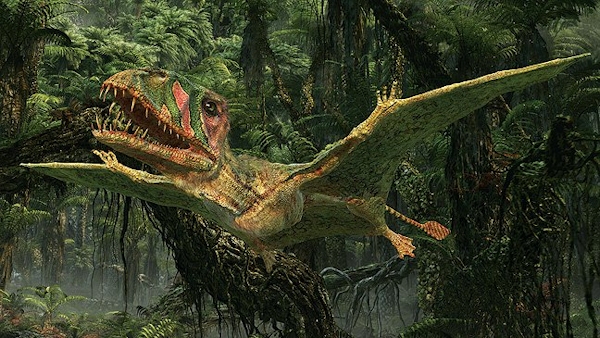 [Image: Atlantic Productions/Zoo]
British TV Producer Creating Virtual Reality Narratives for Sony and Oculus Rift
Atlantic Productions, the company behind the BAFTA-winning "Flying Monsters 3D," is working on documentary, animated and dramatic pilots for Oculus Rift and Sony's Project Morpheus.
4/25/2014 by Adrian Pennington
British TV producer Atlantic Productions, the company behind natural-history documentaries fronted by Sir David Attenborough (Galapagos, Kingdom of Plants and the BAFTA-winning Flying Monsters 3D) is pioneering virtual-reality narrative content. It includes documentary, CG and drama pilots in development for Facebook's virtual-reality headgear-maker Oculus Rift and for Sony's Project Morpheus.
Anthony Geffen, CEO and creative director of Atlantic Productions, told The Hollywood Reporter that he expects at least one of its 10-minute VR projects to be bundled with the release of Oculus Rift headsets when it comes to retail, possibly this Christmas.
Atlantic, which was an early innovator of stereoscopic 3D with productions, began VR development six months ago and has partnered with several virtual-reality firms to create content.
"VR will be a game-changer," said Geffen. "The point of entry [for consumers] is cheaper than a mobile phone, and content distribution will be global. VR is known for gaming, but what it needs is quality narrative content, and that's where we come in."
Facebook acquired Oculus Rift in March for $2 billion and is expected to start selling a consumer product later this year or in early 2015 costing around $350 each.
Material for one Oculus Rift project was shot by Atlantic at the same time but separately to its forthcoming 3D Ultra HD documentary Conquest of the Skies. Both will feature Attenborough.
Another project is being created fully in CG at Atlantic's own visual effects division, Zoo. "We've produced a lot of natural-history programming, which has made use of CG images, so it seemed logical to produce an immersive documentary in which viewers would come up close to some re-created creatures," explained Phil Harper, who heads up the outfit's digital division, Atlantic Digital. "Rather than viewing the scene, you would be in the scene. We don't think this has ever been done before."
The producer is also playing around with narrative drama and has a pilot in discussion "with one of the main manufacturers."
"This is more like a 10-minute experience rather than a 30-minute episode," Geffen explained. "There is a need for new content formats with virtual reality."
A variety of shooting techniques have been used. These include use of rigs with six or eight GoPro cameras. Geffen said Atlantic is also about to launch into shooting VR content in 4K.
Audio has been reproduced binaurally, a technique that simulates the way the human body responds to sound and gives the illusion of being in a particular place. Headphones are needed for playback.
"There are a whole range of potential new shots that are not possible on conventional 16×9 TV screens," said Geffen. "Do you focus on 360-degrees or on immersive 3D or on a huge 180 degree shot? All these are now feasible. We are at a stage of imaging history where the rules are being rewritten."
One conundrum the producer said it has solved is where to place the onscreen presenter in a 360-degree panorama when he or she will always be in shot. Other issues include how — or indeed whether — to make any edits.
The producers are also keen to explore 360-degree video in stereo 3D, although they say there is no system capable of producing it efficiently yet.
To do all this, Atlantic is hosting everything from R&D and rig development, to filming, VFX and postproduction entirely in-house and admits that the effort is extremely challenging.
"There is not really a clear system in place for postproducing VR content," said Harper. "We began by manually stitching six videos from the six cameras and processing them into one. Then we'd have to regrade to remove the stitching effect — again a very manual process. Software development is changing fast to make the process easier, but there are big questions concerning format, bit rate and frame rate. For example, what frame rate should we be shooting in, and how do we play back at the correct frame rate?"
Geffen said: "We had to create our own digital VR department, and this is now a full-time operation. We're in production and developing all our own processes from concept to shoot. I still believe in 3D, but a big problem was that the industry was very slow to give audiences a reason to understand why 3D is amazing. The content simply wasn't there. Virtual reality is totally immersive, and it could be a massive mainstream entertainment experience."