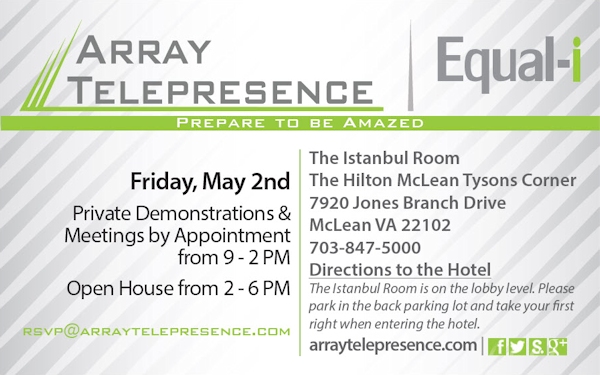 Hello ISPR Community,
We are introducing a revolutionary telepresence camera and image improvement processor that turns any traditional videoconferencing codec (Avaya/RADVISION, Cisco, ClearOne, LifeSize, Polycom, Vidyo, etc.) into a dual screen telepresence environment that exceeds the quality of $250,0000 telepresence group systems from Cisco & Polycom for $14,000 and the cost of a 2nd display. The company is called Array Telepresence and their patent-pending Equal-i technology includes a unique camera and "Image Improvement Processor" that brings the furthest participants in a videoconferencing meeting "Up Close and Personal", hides the camera, improves the eye-line, improves the meeting format, and spreads the scene out over a large format dual screen display at the right aspect ratio of the human eye and powers both displays using a single videoconferencing codec and single bitstream.
It really has to be seen to be believed so we are hosting an open house for organizations that would like to improve their videoconferencing, potential resellers, systems integrators, industry analysts, academics, researchers, potential investors, and the press.
The Open House will be held from 2:00 – 6:00 PM EST on Friday, May 2nd at:
The Istanbul Room
Hilton McLean Tysons Corner
7920 Jones Branch Drive
McLean, Virginia 22102
703-847-5000
Directions to the hotel:  http://www3.hilton.com/en/hotels/virginia/hilton-mclean-tysons-corner-MCLMHHH/maps-directions/index.html
Please feel free to pass this invitation along to anyone you believe may be interested and we hope to see you on Friday, May 2nd. If you can join us then please RSVP to RSVP@ArrayTelepresence.com
HSL
Howard S. Lichtman
C2O, Array Telepresence
O +1-512-828-7317
F +1-480-393-5435
M+1-571-331-5678
HSL@ArrayTelepresence.com
http://www.ArrayTelepresence.com
Array Telepresence Overview:
http://www.scribd.com/doc/194881955/Array-Telepresence-Overview-Sheet
Array Telepresence Blog:
http://arraytelepresence.com/blog/
Array Telepresence – Sneak Peek Video:
http://www.youtube.com/watch?v=80tOgRC7XVU
Invitation to Washington DC / NoVa Open House Friday, May 2nd:
http://www.scribd.com/doc/219967186/Invitation-Array-Telepresence-in-NoVa-Washington-DC-May-2nd-Hilton-McLean