[From MobiHealthNews]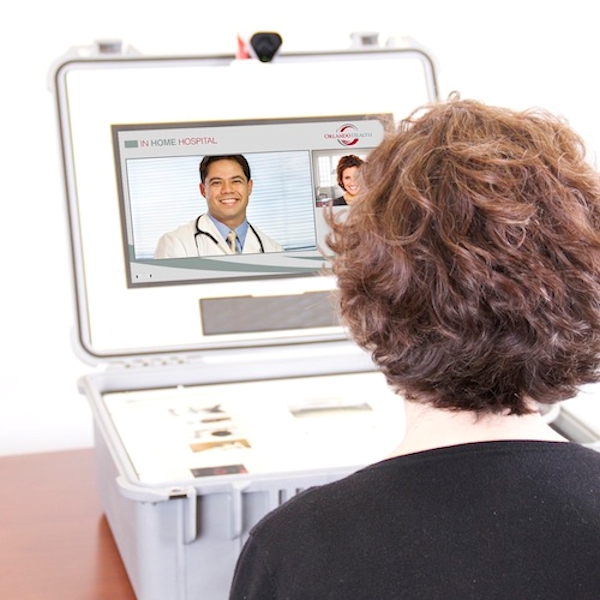 Orlando Health explores telemonitoring as an alternative to hospital admissions
By: Neil Versel | Jul 23, 2013
While other hospitals are trying to comply with a new Medicare policy by assuring recently discharged patients don't have to be readmitted, Orlando Health is trying to prevent inpatient admissions in the first place by sending some patients home from the emergency department with telemonitoring equipment.
The Central Florida health system is a month into a planned four-month pilot of home-based videoconferencing units tied to simple vitals monitors and a visiting nurse program, in hopes of lowering costs and boosting patient satisfaction. "It's about trying to bring quality healthcare to people at lower cost," explained Dr. Timothy Bullard, medical chief of business development and innovation.
Bullard told MobiHealthNews that the program is related to the health system's push to become an accountable care organization.
Orlando Health plans on enrolling about 40 patients with blood clots, skin infections or pneumonia, ailments typically treated with intravenous antibiotics and diuretics for a short period of time. "These are all acute conditions that normally would require short inpatient admissions," Bullard explained.
When patients present at the ED with one of these conditions, attending physicians might offer home care as an alternative to admission. Patients choosing this option are sent home with videoconferencing boxes, custom-built by Orlando Health's IT department on a Polycom telepresence platform, and simple, off-the-shelf vitals monitors such as blood-pressure cuffs and pulse oximeters. The boxes communicate on Verizon Wireless or AT&T cellular networks, so patients do not need to have broadband Internet at home.
A visiting nurse shows up daily at the patient's home to administer IV medications, "We tried to build our protocols around once-daily therapy," said Bullard, an emergency physician. Nurses also check in by videoconference every four to six hours.
Physicians consult with patients once a day, using their iPads. "We try to connect when the nurse is making her visit," according to Bullard.
Monitors can notify nurses when anything abnormal is found, and the nurses then evaluate and triage each case. "They will respond and determine if we need to be involved," Bullard said, speaking for the medical staff.
In the first month, Orlando Health has enrolled eight patients in the pilot, and is considering expanding the program to those with chronic congestive heart failure. Bullard himself had one active patient as of last week, and had already personally discharged three since the pilot began. "Patients so far are pleased about being at home," he reported.
The health system will be evaluating the pilot for the technology's effect on cost and patient satisfaction, but not for clinical outcomes. Bullard said 40 patients might not be enough to draw statistically significant clinical conclusions, but he expects telemonitoring technology to be in the health system's longer-term plans.
"It's kind of a look into the future," Bullard said. "I think that more care is going to be delivered in a virtual mode."