[From The Hollywood Reporter, where the story includes more images and links to videos and related stories]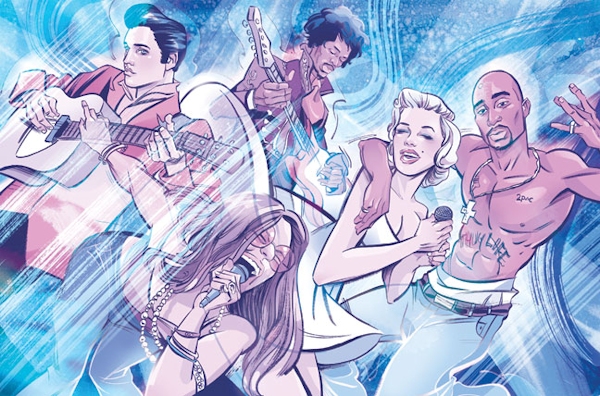 [Illustration: Kagan McLeod]
Marilyn Monroe Hologram Concert in the Works Amid Growing Controversy
The trend ignited by a Tupac Shakur resurrection in the desert portends rights battles of epic proportions.
5/31/2012 by Eriq Gardner
This story originally appeared in the June 8 issue of The Hollywood Reporter magazine.
When Tupac Shakur took the stage in hologram form at the Coachella Valley Music and Arts Festival in April, hundreds of thousands of onlookers reveled in seeing one of hip-hop's greatest performers seemingly brought back from the dead. Shakur's music soon returned to the Billboard 200 album chart for the first time since 2000, and almost immediately, word spread about a possible tour.
But in the weeks since that headline-grabbing stunt, many in the music community have begun wondering about the potential financial and legal repercussions from using technology to resurrect legendary artists onstage, even as speculation has centered on which superstars might be next to receive the hologram treatment.
For instance, The Hollywood Reporter has learned that a "live" Marilyn Monroe concert is being planned to take place before year's end with the working title Virtual Marilyn Live — A Musical Celebration of the Birth of the Pop Icon. The concert, which has yet to secure a venue (organizers also plan to stream it on the web), will feature the projected blond bombshell singing and interacting alongside live music stars. Becky Altringer, managing director and co-founder of Digicon Media, the company doing the planning, says the event will employ the technology used at Coachella to launch virtual Marilyn's new career as "a performer, spokesperson, cultural pundit and computer avatar."
Who's next? Will Elvis Presley return to play Vegas? How about a Jackson 5 reunion mixing the surviving members with a hologram of Michael Jackson? CNN already has incorporated holograms into its election coverage, and TV commercials have used footage of Fred Astaire and Marlene Dietrich to hawk products.
The potential new revenue stream from live holograms could boost an already lucrative business for the estates of some of the most iconic dead celebrities. Jackson raked in $170 million in 2011, according to Forbes. Presley took home $55 million. Monroe, despite having died of an apparent drug overdose nearly 50 years ago, didn't do badly at all with $27 million. "I would say there could be an uptick [in revenue]," says Mark Roesler, head of CMG Worldwide, an Indiana-based agency representing the estates of stars including Andy Kaufman and Natalie Wood. "Whether that is 10 or 30 or 40 percent is hard to tell, but it will be an uptick."
Hologram technology also could spread beyond dead musicians. Think Marlon Brando performing A Streetcar Named Desire live onstage. Or a virtual Jimmy Stewart starring in a remake of It's a Wonderful Life. Or Hank Aaron breaking Babe Ruth's home run record in front of a stadium full of nostalgic fans. The adult entertainment industry, always quick to adopt new technology, also could make interesting use of holograms.
"There is a genuine feeling that this is cool and this is the future," says Justin Wilkes, executive vp media and entertainment at @radical, a firm that has created holograms on behalf of advertising clients like Deutsche Telekom. "Audiences are craving the experiential, and if you can give them an immersive experience and take them through a story, the possibilities become incredibly exciting. Imagine what happens when James Cameron and Martin Scorsese come on board." Indeed, the Hugo director has said, "If everything moves along and there's no major catastrophe, we're headed toward holograms."
Despite the enthusiasm, however, it's far from settled what rights are needed to pull off hologram spectacles.
To adapt a performance from an existing video work, all that is typically required is a copyright on the video. But, potentially, more rights are needed for hologram performances: In many states, including California, celebrities also hold valuable "rights of publicity," which allow them to protect their images, voices and likenesses from exploitation without consent.
Has a movie star who signed a broad contract given up rights to stop a hologram? Actors and musicians usually allow studios and record labels to use their images to promote a film or album forever. Reality TV stars hand over to producers pretty much all of their rights for a chance to become famous. Some lawyers therefore believe that most existing contracts give studios the rights to create holograms if the technology merely modifies a work covered by a contract. And there are exceptions to publicity rights. They often don't cover celebrities (like Monroe) who didn't live in a state with such protections at the time of their death. The law also allows "fair use" for new works that are "transformative," meaning they use a small amount of a celebrity's image as part of a larger spectacle.
The coming Monroe concert could signal the type of legal fights to come.
Digicon, which says it has been developing avatars and "synthespians" since 1995, is not working with the Monroe estate, as Coachella producers did with Shakur's family. The company owns certain copyrights pertaining to Monroe, including a recent grant on her computer-generated persona, and Altringer says that might be enough. "We will probably end up cooperating with them, but only when they come to us," she explains. "We aren't in a rush to deal with them because they [own] only marketing rights to old photos for merchandise. We will have our own rights for the living virtual Marilyn, who is the pop icon today."
A rep for Monroe's estate couldn't be reached for comment, but it has brought several lawsuits against those who have used her image without permission. Jonathan Faber, chief executive of Luminary Group, has managed deceased celebrity estates including those of Ella Fitzgerald, Ruth and, formerly, Monroe. He says he's unsure how courts would interpret the issue but adds he wouldn't "hesitate to bring a case" against someone who used one of his client's images to create a touring hologram.
That said, Faber is curious where the technology will lead, though he's not steering clients to be on the first wave.
"Almost all the clients whom I work with aren't guided solely by money," he says. "They would want to see how this can be done tastefully, something their spouse or their father would have stood for. I think we'll need to gauge the public's reaction before proceeding."
Many are approaching holograms with similar skepticism. For instance, if they could be used to show performers doing things they never did during their lifetimes — imagine footage of Brando manipulated so he could play the villain in the next Avengers movie — could the rights-holders of Brando's screen work get away with making a deal without his estate intervening?
That question likely will require immediate attention from Hollywood dealmakers hoping to avoid court battles over how to interpret old contracts in light of technology no one contemplated when making those deals. For example, those who allowed their image to be shown on movie screens many years back never imagined that films would be distributed online.
"You've got to be careful about the way these clauses are written," says Jonathan Steinsapir, an attorney at L.A. firm Kinsella Weitzman. "If you want to exclude holograms, you should explicitly exclude them in contracts."
THE TRICKY SCIENCE OF HOLOGRAMS: Tupac was smoke-and-mirrors but real projections are coming.
Tupac Shakur's surprise virtual appearance at the Coachella Valley Music and Arts Festival in April was widely described as a cutting-edge hologram stunt. But it had nothing to do with holograms. The image actually was made possible by a magician's trick known as "Pepper's Ghost" that might date as far back as the 1500s, according to a research scientist at MIT.
"You have a half-silvered mirror on a stage at an angle and a projector somewhere down about where the footlights of the orchestra would be, and it projects an image that appears to be on the stage," explains V. Michael Bove Jr., who heads the object-based media group at the MIT Media Lab.
While a Pepper's Ghost illusion uses light, it typically is a 2D technique that differs from a hologram, which involves a 3D image that re-creates "light waves that would have come from a physical thing if it were present," says Bove.
Still, true holograms might not be far off. At the MIT Media Lab, Bove's team is doing research toward developing live holographic images that can be broadcast on television. That first required finding a way to "capture" a hologram — no easy task. A surprising tool used to process some of the needed information is Microsoft's Kinect motion controller, which video game fans know as an Xbox accessory but has additional (and important) applications. "We can plug a Kinect into a laptop, capture a scene and reconstruct it as a hologram," Bove says.
A remaining challenge to holographic television comes at the display end. "You need more pixels than are typically [in a television monitor]," says Bove, adding that "right now, real holograms are restricted to postcard size — maybe cell-phone or laptop size." Plans are afoot to "scale up" the images to living-room size, though it will take many more years before they can be presented in movie-theater size. If that happens, 3D holograms would offer a much different experience than the 3D currently used in theaters. Now, if a viewer moves his or her head, the scene doesn't really change. But 3D holograms re-create real life, where a viewer can change his or her perspective by looking around objects and people. "Holograms have that property," says Bove. "The viewpoint changes when you move your head."
But for now, the "magic" of Tupac, says Bove, was in the lifelike computer animation used in re-creating the rapper, not necessarily the technology that projected him to Coachella fans. "That's not about display technology; that is about storytelling." — Carolyn Giardina