[A press release from Yoostar via Business Wire]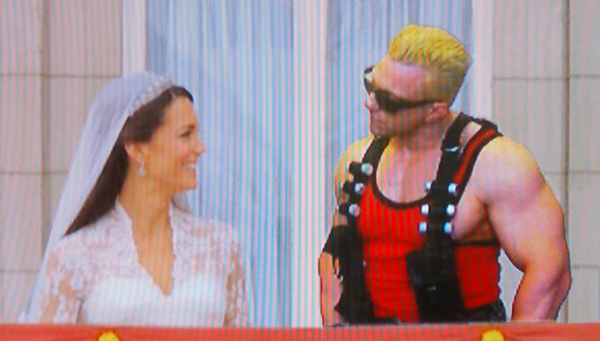 You May Now Kiss the Bride (or Groom): Fairy Tales Can Come True….It Can Happen to Yoo as Yoostar Releases Free Download of the Royal Kiss Scene for Kinect for Xbox 360
By Business Wire
May 12, 2011
It was the moment the world cheered – with over two billion people watching across the globe, the image of Prince William and Kate Middleton enjoying their first public kiss is sure to become one of the most iconic images of 2011.
Now Kinect for Xbox 360 owners can make their own Royal Wedding dreams come true – by placing themselves, their friends and family, at the heart of one of the most watched television events in history.
Available free for Yoostar 2, the Royal Wedding scene enables gamers and fans of the royal family to step into the shoes of Prince William and/or Kate Middleton on the balcony of Buckingham Palace. Simply use the magic of Yoostar 2 to replace both William and/or Kate to create your own memorable scene – then share it via Yoostar Playground, YouTube and Facebook.
"This free download is a very special and unique offering to our community and one of the many great reasons to buy Yoostar 2 now. Taking such an iconic piece of history, such as the Royal Wedding and allowing gamers, movie fans, and lovers of the British royal family to become Prince William or Kate Middleton is just incredible," said Nicholas Reichenbach, Chief Content Officer of Yoostar Entertainment Group. "Bringing this unique piece of content to Yoostar 2 and Yoostar Playground is just the start of our plans with Yoostar 2. Over the coming months, we plan to bring some of the most iconic scenes ever seen on screen to the living room."
Yoostar 2 is a console game for the Kinect for Xbox 360 and the PlayStation® 3 computer entertainment system utilizing the PlayStation®Eye that is played on the user's television and connects to the Internet. It brings the magic and fun of Hollywood sets to living rooms everywhere. Yoostar 2 makes it possible for players to insert themselves into famous movie and TV scenes, starring alongside, or in place of, their favorite actors. Players choose scenes from a wide variety of movie genres; a built-in teleprompter displays actor's lines in English, Spanish, French, Italian, or German; an outline of the original actor's body shows players where to position themselves before the camera rolls. For added fun, performers can even toss the script and improvise.
On Yoostar Playground players rate, share, comment on, and "mash-up" performances produced by Yoostar 2 console game performers – owning the console game is not required. In-game activities earn points that help players grow from struggling actors to A-list celebrities. As players gain "fame," they are awarded Badges and paid Yoobucks. Yoobucks can be used for power ups and boosts that accelerate achievements in both Yoostar Playground and Yoostar 2.
The Yoostar Network is a growing web of interconnected social networks that link Yoostar performers across Facebook user pages, Yoostar Playground, Twitter, Yoostar.com, Xbox LIVE, PlayStation Network and YouTube.
Yoostar 2 is currently available at all leading retail outlets such as Amazon, Best Buy and GameStop throughout North America for an MSRP of $49.99. Yoostar Playground is live on Facebook and can be accessed at http://apps.facebook.com/yoostarplayground/. For more information on Yoostar 2, please visit www.Yoostar.com.
* The Balcony Scene will be released in the near future on PlayStation Network
About Yoostar Entertainment Group
Yoostar Entertainment Group is the world's first Social Video Game Company. Perfectly blending aspects of online video creation and sharing, social gaming and social networking, Yoostar creates a new kind of personalized entertainment experience that's immersive, fun and social. Founded in 2007, Yoostar has offices in New York City and Los Angeles. Find out more about Yoostar on Yoostar.com, on Facebook (Facebook.com/yoostar), or follow @Yoostar and @gregoryf on Twitter.