[From the Reporter blog of Imperial College London]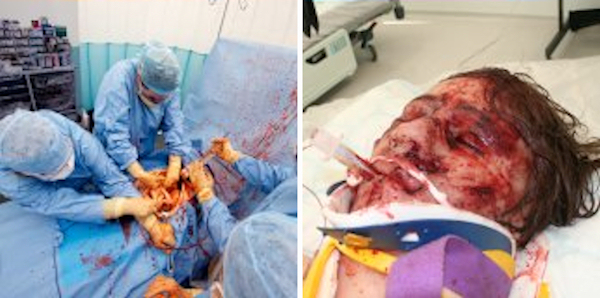 A Model Patient
Sam Wong, Communications and Development
13 May 2011
In the Paterson Wing at St Mary's Campus, a surgeon tries to stem the flow of blood from a patient who's been stabbed in the abdomen. As a heart monitor bleeps urgently and fluid continues to emerge, the pressure of the situation is inescapable. Yet the man lying on the operating table is not a man at all, but a very convincing dummy.
Simulated operations are increasingly becoming a major part of a surgeon's training. Virtual reality is commonly used to rehearse procedures, with simulators now able to reproduce faithfully the feel of real instruments as they move through tissue. At Imperial, the Distributed Simulation Group, led by Dr Roger Kneebone (Surgery and Cancer), is developing a real-world approach to training medical staff, involving experienced medical staff, an inflatable theatre, and realistic silicon models like those used in TV hospital dramas.
Surgical registrar Miss Alexandra Cope devises scenarios that put an entire team through their paces in a mocked-up operating theatre. The walls of the theatre are formed by an inflatable 'igloo' that efficiently recreates the feel of a clinical space.
"The difficulty of doing a simulation on a lab bench is that people say, 'in real life I would do something like this,'" says Alex. "We want to see people behaving as they really would in the workplace. Putting them in the right environment helps with immersion, but not everything needs to be faithfully reproduced."
If you look at the igloo closely, it doesn't look much like an operating theatre. But it is roughly the right colour and it gives a sense of being in a hospital. According to Alex, that's enough for people to get immersed in the simulation and behave as they would do in a real operation.
"The principle behind what we do is called 'selective abstraction'. What's in the centre of the participant's vision has to be highly realistic, but the further away you get from the action, the less realistic things need to be. They just need to be represented, so that they're not obviously absent," she explains.
Unlike training in virtual settings generated by computers, using the igloo drills trainees in working as a team. "It tests not just whether they can do the clinical procedure, but whether they can do it under pressure, and, at the same time, communicate with the anaesthetist and direct an assistant," Alex explains.
Special effects
With the atmosphere set, the next thing a simulated operation needs is a suitable patient. When the Imperial team first started using the igloo, the surgeon operated on organs taken from pig cadavers. Then they were approached by Max Campbell, a special effects make-up and prosthetics artist with over eight years' experience in the film and television industry.
"When I was working on Holby City, we always had top surgeons come and work with us on the day, to ensure accuracy from a medical perspective," Max says. "Often, they would comment on how realistic everything was and say they didn't have anything like it in their industry."
Now Max and his company, Health Cuts Ltd, produce lifelike silicon models specially designed for surgeons to rehearse operations. Some of the models contain rubber tubing that carries fake blood – a feature that plays no small role in recreating the pressure of a real operation.
To ensure that his models behave as much like real anatomy as possible, Max consults extensively with doctors, observes real procedures, and examines cadavers in the anatomy lab.
According to medical student Claudia Craven, it's easy to forget, once a simulation begins, that the operating theatre is not real. "When Miss Cope is shouting for more swabs, there's a vessel bleeding onto the floor, and you hear the ominous bleeps from the anaesthetic machine while you're trying to open a suture pack, it certainly feels like a real situation.Even though you know it's just a mannequin and not a real patient, the situation still makes your heart rate go up. It's emergencies like this where rehearsal is vital."