[From the web site of New York's Museum of Arts and Design (MAD) , which features more information and many images]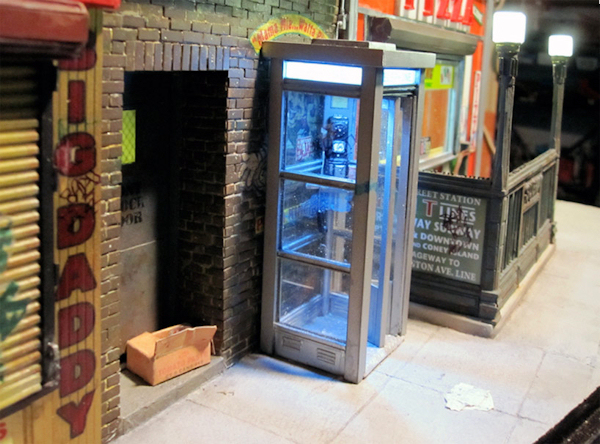 [Image: Alan Wolfson's Canal St. Cross-Section, 2009-2010]
Otherworldly: Optical Delusions and Small Realities
June 7 – September 18, 2011
Virtual reality has been a powerful factor in shaping our social and artistic environment since the 1970s. Today, innovations in digital technology have completely transformed film, video, and television: extraordinary special effects and three-dimensional imaging created using computer-based software are commonplace. However, while the digital world continues to expand into more and more areas of our lives, a profound human need to re-experience the actual and tangible has also arisen. It is not a coincidence that as individuals spend more and more time looking at a monitor interacting with others in cyberspace, the pleasures in making things by hand, engaging with materials and techniques in a direct fashion, also increase.
Otherworldly: Optical Delusions and Small Realities illuminates the phenomenal renaissance of interest among artists worldwide in constructing small-scale hand built depictions of artificial environments and alternative realities, either as sculpture or as subjects for photography and video. These are worlds of "magic realism" conceived and realized through intense engagement with materials, attention to detail, and concern for meaningful content. In this exhibition, the works are presented as dioramas, models, snow globes, and site specific installations, as well as through photographs and video.
For MAD, this is an exceptional opportunity to examine the museum's mission-to explore materials and processes and the "meaning of making"-in a new and unexpected format; each work of art in the exhibition reflects the artists' passionate interest in how materials and process convey meaning; these are artists who dedicate tremendous time and effort to achieving extraordinary visions of reality. Furthermore, one important initiative of MAD since our reformulation as a museum of contemporary arts and design is to challenge and erode the hierarchical boundaries that have traditionally separate fields of creativity. Otherworldly: Optical Delusions and Small Realities will be our first exhibition to fully embrace the field of photography under the umbrella of our mission, thus establishing new and creative linkages between art, craftsmanship, design, and visual imaging.
Otherworldly: Optical Delusions and Small Realities is organized around four themes that provide a context for the works, and offer the viewer a narrative thread that makes the works accessible to our visitors.
"Unnatural Nature" features work by artists that recreate natural environments or propose alternative visions of landscape and nature.
"Apocalyptic Archaeology" features works that reveal the darker side of the post-industrial landscape and the time-infused eroding urban environment.
"Dreams and Memories" includes works that capture and convey states of psychological angst, often in the form of dark and mysterious open-ended narratives.
"Voyeur/Provocateur" includes subversively witty scenes-satirical commentaries on art, culture, and politics.
Otherworldly: Optical Delusions and Small Realities features recent work and site-specific installations by contemporary artists from around the world including Matthew Albanese, Amy Bennett, James Casebere, Mat Collishaw, Bethany de Forest, Thomas Doyle, Gregory Euclide, Joe Fig, Peter Feigenbaum, Patrick Jacobs, Kim Keever, Frank Kunert, Ji Lee, Walter Martin and Paloma Muñoz, Didier Massard, Charles Matton, Michael McMillen, Lori Nix, David Opdyke, Liliana Porter, Jonah Samson, Charles Simonds, Michael Paul Smith, Tracey Snelling, Paolo Ventura, and Alan Wolfson, among others.