[From newStaar Media; more information, including pictures and videos, is available here]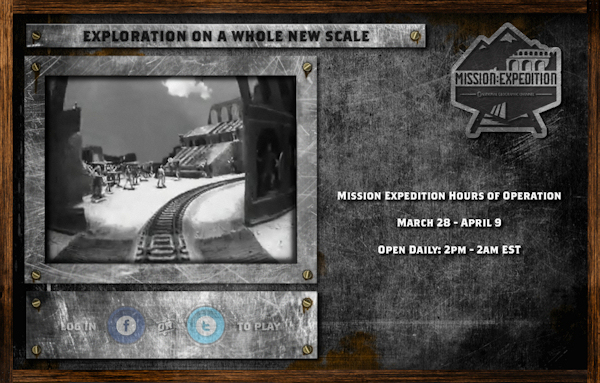 Telepresence Creates an Interactive Experience for Television Viewers
By D Robert Curry
March 28, 2011
As part of their annual Expedition Week on television, the National Geographic Channel announced the launch of "Mission Expedition." Using telepresence, the internet, and a highly detailed miniaturization of places in the world, the expedition is designed to engage viewers in an immersive interactive experience and scavenger hunt.
Viewers can log on to www.natgeotv.com/ expedition from March 28th to April 9th to take part in the virtual expedition. Via the internet, viewers will have 60 seconds to control a telepresence camera which is attached to a model train. The train travels through a miniature set which includes recreations of, "a remote Papua New Guinean village populated by cannibals, Victorian London during the time of Jack the Ripper, the Himalayan Mountains with Yeti sightings and the Roman Coliseum during the gladiator era," according to National Geographic.
During their minute, individuals will search for tiny hidden artifacts valued at a total of $10, 000. The users must snap pictures of the artifacts, and if their picture captures the "hidden artifact of the day", it will be mailed to the user.
The set, with all of its 200 miniatures, took six weeks to build by Deeplocal, an interactive firm in Pittsburgh, PA.
SOURCE National Geographic Channel