[From TG Daily; additional information from other sources follows below]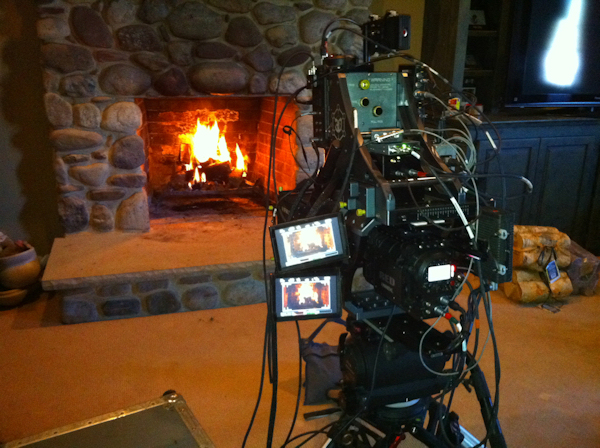 Christmas Yule Log to air in 3D for first time
Mark Raby | Thu 16th Dec 2010
To countless Americans, watching the perpetually burning Yule Log on TV is a Christmas tradition, and this year it's getting a high-tech makeover.
It's been part of the holiday TV makeup since the 1960s and has remained relatively unchanged over the last 44 years. Hundreds of millions of viewers have tuned in to see the relaxing fireplace burning with classic Christmas music in the background.
This year, though, you can make it feel like that log is so close you can touch it. For the first time, its producers will make the TV special available in 3D. Time Warner Cable, Comcast, Cablevision, and Cox have all signed up to offer the 3D feed to their customers.
"Cable raised the bar a few years ago with the first high-definition crackling fire. Now this year for the first time, many systems are also showing the 'Yule Log' in 3D, in addition to high definition and standard definition," said the show's production company in a statement.
Of course, many homes probably have a 3D TV sitting under the tree right now, so you may want to open that present first so you can immediately see what 3D broadcasts look like.
—–
[From UPI]
'Yule Log' to air in 3D
Published: Dec. 16, 2010
"Everyone loves the televised 'Yule Log,' a longtime holiday tradition that brings a special glow to many homes," a news release announcing the program said.
—–
[From NOLA.com]
Cable TV's on-demand yule logs go 3D
Published: Thursday, December 16, 2010
By Dave Walker, The Times-Picayune
The cherished holidays tradition of watching logs burn on TV is going 3D.
This year, suitably equipped Cox Communications customers can watch the traditional on-demand yule log in sparkly three-dimensional HD.
Also available will be the old school HD logs (a tradition since 2002!), and even older school standard definition logs.
The new 3D version "is originally produced exclusively for cable using the latest 3D technology," says an In Demand news release. "To see the 3D version, viewers need a 3D TV with compatible 3D glasses and an HD set-top box connected according to their system's specs. HD offerings were filmed with HD-cameras and are presented in 1080i picture and 5.1 sound. The 3D version was produced by Offhollywood Digital using Red 1 cameras and an Element Technica 3D rig."
The free feeds, available via Video On Demand channels, will roll through Jan. 3.
Elsewhere on demand, the cable company is offering "Winter Green" – a shot of snowy woods – and "Snowman" – a snowman standing strong in a wind-storm.