[From VR-News.com]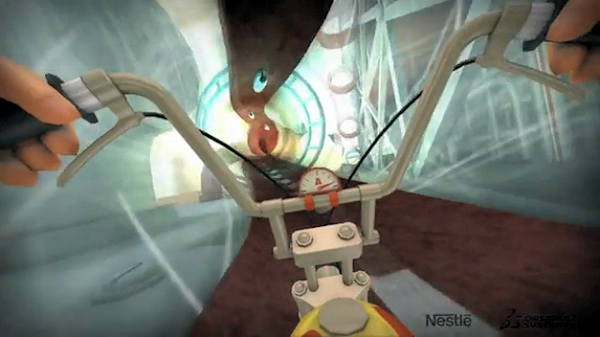 Post Published: 22 October 2010
Dassault Systèmes helps consumers enjoy a virtual reality experience with Nestlé breakfast Cereals
Dassault Systèmes creates a video game combining real-time motion sensing with stereoscopic 3-D for Nestlé Breakfast Cereals
Following the success of the augmented reality game integrated into Chocapic and Nesquik cereal packs launched in France at the end of 2009, Dassault Systèmes has deployed leading-edge know-how and experiential 3D technologies to support the marketing strategy of Nestlé France Breakfast Cereals with the roll-out of a new immersive virtual reality application  The promotion is timed to coincide with the launch of Luc Besson's latest movie Arthur 3 – The War of the Two Worlds.
Now, video gaming fans won't have to wait for the next generation of motion-sensing game systems that can be hooked up to a 3D TV screen. Instead, they can simply buy a packet of their favorite breakfast cereal to get a foretaste of the endless possibilities of video games.  People can immerse themselves into the fantastic world of the Minimoys and enjoy a unique virtual reality experience using the cut-out 3D glasses provided on the Nestlé cereal packs.
From October, 4.2 million packs of Chocapic and Chocapic Duo, Chocapic Pepites, Nesquik, Cookie Crisp,Cheerios and Chokela, cereals featuring the 3D offer will be available in stores in France for a period of nine weeks.
3D racing game with no joystick, keyboard or mouse
Once they have put on their 3D glasses equipped with a "magic square" featuring one of the heroes from the movie, Arthur fans simply switch on their webcam and go to www.arthurcourse.com to plunge into the stereoscopic 3-D immersive experience. The webcam detects the magic square, eliminating the need for a keyboard, mouse or joystick. Next thing they know, they're driving a motorcycle intuitively simply by moving their head and body, and the race is on to see who is the fastest and most skillful 3-D rider!
Learn more about this exciting new experience at: http://www.youtube.com/watch?v=jGdSslAJRwM
Racing enthusiasts can take the fun even further by building their own race tracks using the endless parts available in the different universes. Nestlé fans, meanwhile, can have fun collecting the three "magic cards", which let them explore three different race tracks: the natural universe of Selenia,  the aquatic world and the toy world of Arthur.
First-ever online game that also works with 3D TV screens
In addition to enjoying the game on their home computer using the red and blue 3D glasses cut out from the Nestlé cereal packets, people with 3D TV screens can also join in by connecting their computer to these latest-generation devices.
"Next-generation consoles and stereoscopic 3-D screens will allow players to explore new ways of interacting with virtual worlds. They'll be able to play by just moving their bodies in front of a 3D TV screen, without the need for a joystick," explains Mehdi Tayoubi, Director of Interactive Strategy at Dassault Systèmes. "We are implementing our experiential 3D solutions to enable brands to initiate mass deployment of this exciting new way of interaction today among consumers with Internet access."
Spearheading innovative marketing and packaging
This creative marketing tool forms part of the strategic partnership agreement signed between Dassault Systèmes and EuropaCorp in June 2009 and coincides with the release in France of Arthur 3 – The War of the Two Worlds, on October 13, 2010. It follows a previous campaign rolled out at the end of 2009 to support the release of the movie Arthur and the Revenge of Maltazard, whereby Dassault Systèmes created an augmented 3D reality game which was incorporated into Nestlé France's Chocapic and Nesquik cereal packs.*
About Dassault Systèmes
As a world leader in 3D and Product Lifecycle Management (PLM) solutions, Dassault Systèmes brings value to more than 115,000 customers in 80 countries. A pioneer in the 3D software market since 1981, Dassault Systèmes applications provide a 3D vision of the entire lifecycle of products from conception to maintenance to recycling. The Dassault Systèmes portfolio consists of CATIA for designing the virtual product – SolidWorks for 3D mechanical design – DELMIA for virtual production – SIMULIA for virtual testing – ENOVIA for global collaborative lifecycle management, and 3DVIA for online 3D lifelike experiences.  For more information, visit http://www.3ds.com/
About EuropaCorp
EuropaCorp is one of Europe's leading independent film studios. The company was established in 1999 according to an original integrated business model that allows it to combine diversified sources of revenue. In France, its activities include feature film production and distribution, video/VOD and the sale of TV broadcasting rights. Worldwide, the company is engaged in the sale of international broadcasting rights, partnerships and licenses, music production and publishing, book publishing, and TV advertisement production. In 2010, EuropaCorp expanded into TV drama production.Offering a broad line-up of film genres and with an extensive international footprint, the studio has produced some of France's top-selling movies worldwide in recent years. It offers a catalogue of 500 movies and has a full-time staff of 120 people.
Find at more at http://www.europacorp-corporate.com/
About Nestlé Children's Cereals: Chocapic, Nesquik,  Cookie Crisp,  Cheerios and Chokella
In consultation with its team of nutritionists Nestlé Breakfast Cereals develops great-tasting recipes with guaranteed whole grains that are loved by children and approved by their parents. As a leading provider of breakfast cereal for children and teenagers, Nestlé is committed to animating its products using state-of-the-art creative marketing tools to offer customers exciting new brand experiences.