[From The Gilroy Dispatch]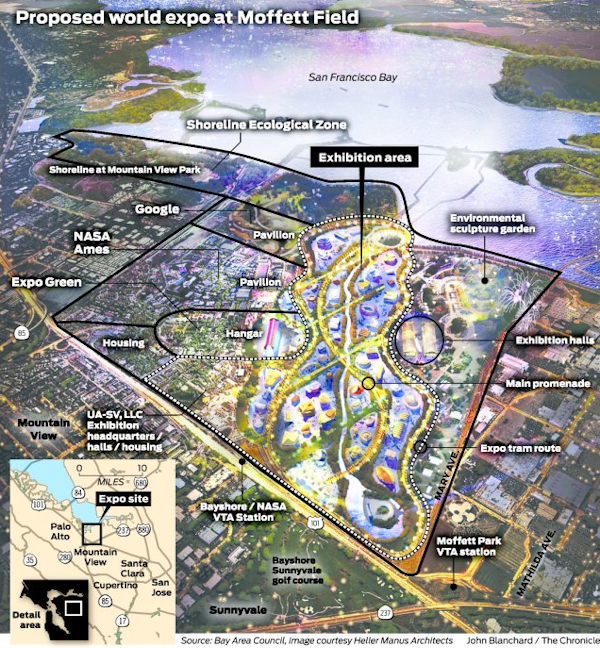 Telepresence could unite world at expo
Sep 22, 2010
By Martin Cheek
At the Shanghai World Expo this month, Gov. Arnold Schwarzenegger announced the Bay Area's bid to make Moffett Field the site of the 2020 World Expo. If we do get the go-ahead to put on this massive fair showcasing science, technology and industry, I say let's do it Silicon Valley style. Let's connect the world using the telepresence technology developed at the very location where the Silicon Valley World Expo might take place in a decade.
NASA's Ames Research Center at Moffett Field does some of the world's most advanced research in virtual reality. With this science fiction-like technology, you strap on peripheral equipment and step into a computer-generated world limited only by a designer's imagination. Beyond videogames and entertainment, virtual reality provides a far more practical application called telepresence. This mind-blowing computer system lets you "travel" via digital networks to other locations on our planet. Ames Research Center's tech wizards are even developing telepresence systems to let you "travel" via rovers to other planets like Mars.
Imagine stepping inside a telepresence chamber at your corporate site and holding digital meetings with your customers on the other side of town – or on the other side of the world – via virtual reality. You'll cut the time, expense, and hassles of long-distance business travel. You'll be more productive by eliminating jetlag. And you'll help save our planet by cutting down on fossil fuel burned by passenger airplanes.
Engineers at Silicon Valley companies such as Cisco and HP are now using research done at Ames to build telepresence systems for the near future. In the next 10 years, telepresence could turn into a multi-billion dollar market as broadband Internet networks and superfast computer chips are developed to process the data-intense streams of digital bits and bytes.
Education of the general population, however, is the key for telepresence to truly ignite. People still need to learn the potential of applying telepresence technology to business, schools, and even virtual tourism. That's where the Silicon Valley World Expo can play a starring role. To understand why, let's look at the history of expositions and how they can change society.
The world's first expo opened in London's Hyde Park on May 1, 1851. It was conceived by Prince Albert, husband of Britain's Queen Victoria – and a visionary who saw how science and technology can improve life. He developed "The Great Exhibition of the Works of Industry of All Nations" to showcase the best ideas and innovations of his age. The exposition's center piece was the Crystal Palace, a massive cast-iron and glass architectural wonder of Victorian England. Millions of visitors from around the world flocked to The Great Exhibition to experience the latest scientific discoveries and technological innovations presented in Prince Albert's awe-inspiring edifice.
Albert's idea caught on. Over the last 160 years, more than 50 exhibitions all over the globe have introduced the public to the latest and greatest in technological marvels. These world expos can ignite new industries. For example, about 27 million people – half the American population – attended the exhibition in Chicago in 1893. Inventor Nikola Tesla wired the Chicago pavilions with alternating current electricity, and visitors went drop-jaw over seeing amazing new electric contraptions and appliances. Shortly after, millions of American consumers started buying these devices – igniting our modern electric age.
World expos help spread the seeds of revolutionary new ideas in science, technology and commerce – the very things that make Silicon Valley an innovation engine. And by using telepresence technology, Silicon Valley World Expo 2020 could be the first in history to sow those seeds in the minds of millions of people around the world who "travel" to it in a virtual reality realm.
Companies could set up satellite telepresence sites for audiences in major world cities. In Silicon Valley, a telepresence tour guide wearing a digital data suit could walk through the various pavilions at Moffett Field, pointing out ingenious ideas and inventions in, say, solar power or electric cars. The telepresence data would shoot through a broadband network and share the fair in real time with "visitors" in Europe, Asia, Africa, South America, and Australia. They would experience the wonders of Silicon Valley's expo as if they were actually here.  
Telepresence could also very well change society by changing how people see each other. "Travel is fatal to prejudice, bigotry and narrow-mindedness," Mark Twain once said. By developing telepresence technology and showing it off at its world expo, Silicon Valley can provide humanity with a virtual travel tool that would break down intolerance and build up peace and prosperity.
If we do get the opportunity to host World Expo 2020, let's do it Silicon Valley style. Let's use telepresence technology to unite the people of our planet in a celebration of human imagination and ingenuity.
Marty Cheek is the author of 'The Silicon Valley Handbook.' His column appears every other Friday. You can reach him at martych@gte.net.