[From MedCity News ("Innovation, influence and business in America's medical cities")]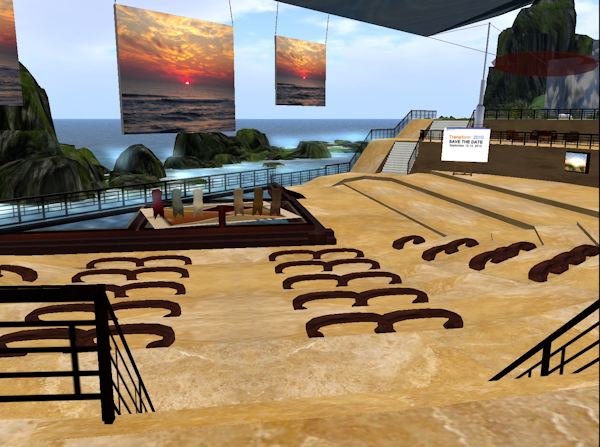 5.21.10 | Thomas Lee | Rochester, Minnesota
Mayo Clinic explores the virtual world of Second Life
Mayo Clinic is a world famous hospital and research institution. But owning a tropical island seems a bit excessive, especially for a non-profit organization.
Alas, "Mayo Clinic Island" isn't real, at least not in the traditional sense of the word. The island only exists in the virtual 3D world of Second Life, where avatars, online personas of real people around the world, freely mingle and attend lectures on cancer and heart disease.
Once confined to tech geeks and online gaming enthusiasts, Second Life and other similar sites have become the ultimate training and modeling tools for health care organizations. Hospitals and medical schools use Second Life to conduct courses, simulate doctor/patient visits, and test innovative designs for emergency rooms and medical clinics.
"For Mayo, were trying explore the leading edge of technology to try to do a better job of taking care of patients," said Web administrator Brian Kaihoi. "Virtual is a logical extension of what we already do with our websites, what we can do beyond our websites. Its the next step."
So far, Mayo has hosted virtual conferences on colon cancer and thoracic aortic aneurysms. But Kaihoi, who works closely with Mayos Center for Innovation, says thats just the beginning. The hospital is exploring how doctors can use Second Life to better educate the public about diseases. In the future, Mayo could model MRI scans or even use sensors to transmit real time patient data to an avatar.
"Its our lab of where we playing with this stuff," Kaihoi said. "The only thing were implementing [right now] are the easy talk things. Were getting our feet wet. The institution is still deciding where they want to go and what they want to test. The possibilities are only limited by our imagination."
Mayo is hardly the only healthcare organization to embrace virtual reality. At Massachusetts General Hospital in Boston, instructions conduct stress-relief meditations classes in Second Life. The federal Centers for Disease Control have hosted virtual health fairs that provide information on specific health issues.
Palomar Pomerado Health in Escondido, Calif., constructed a virtual simulation of a $983 million hospital it will open in 2011. The virtual location gives patients and other visitors an opportunity to test new technologies planned including RFID-enabled bracelets that track patients.
Experts say the healthcare industry has embraced virtual reality programs like Second Life as a low cost educational tool that provides valuable information to doctors and patients in a fun, engaging environment.
Why spend a lot of time and money organizing a conference when you can create one on Mayo Clinic Island? Why build a hospital blind when you can see how patients explore it in Second Life?
Medical schools have especially embraced virtual reality. Carol Kilmon, an associate professor of nursing at the University of Texas at Tyler, says Second Life has eliminated geographic boundaries, allowing nursing students from across the country to train together in realistic environments. For instance, a student in Texas and her classmate in Minnesota can treat virtual patients in a simulated ER room instead of talking to lifeless dummies in either state.
Or how about conducting virtual surgeries to rehearse for the real thing?
"Such tools can address the increasingly limited opportunities for technical training and assessment that are offered to doctors, not only during training but throughout their careers," an editorial in the New England Journal of Medicine said. "It is no longer necessary to educate students, residents, and practicing physicians in a system that relies on chance opportunities for learning new skills."
"Simulation allows for risk-free training in technical skills," the editorial said. "Although simulations alone cannot improve the quality of health care, they do significantly advance clinical education especially when combined with enriched curricular and educational environments such as virtual operating suites and lead to enhanced clinical reasoning and professionalism."
Can Second Life move beyond training and education into real life care? For example, can a real doctor actually treat real patients in a Second Life office?
With advances in telemedicine and remote monitoring devices, including sensors that transmit real time patient data, it certainly seems possible. For instance, Mayo is conducting a pilot program in Cannon Falls, Minnesota for patients to consult with doctors in different locations using advanced interactive video technology developed by Cisco.
However, healthcare institutions must first figure out how to comply with federal privacy laws that protect patient data, said Cathy Walker, chief operating officer for MUVE Market LLC, a start-up that developed Second Life-based operating systems that can record and play back data from virtual simulations. That might take a while, she said.
Kaihoi of Mayo notes patient support groups for specific diseases are already sprouting up in Second Life. There, patients and even some health care professionals swap information and offer each other advice and counsel.
In many cases, patients can speak more candidly about their conditions in virtual worlds because they feel more comfortable communicating through the safety of their avatars, he said.