[In an era when intolerance and closed-mindedness is on the rise, this is a positive story about how even relatively simple and low-bandwidth technology can evoke presence and (hopefully) foster "curiosity, critical thinking, and, yes, empathy at an age when kids are starting to form impressions of people unlike themselves." The story is from the Philadelphia Inquirer, where it includes two more images. For much more information including a video and blog, see the Empatico website. –Matthew]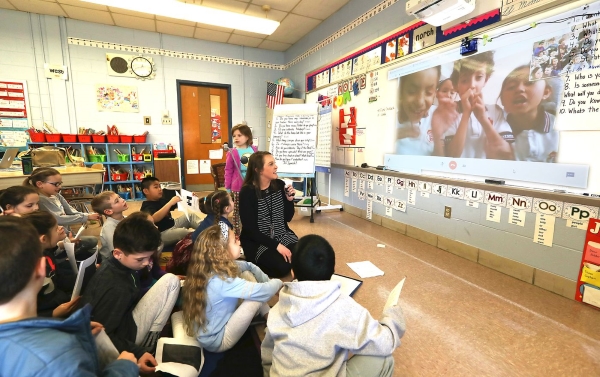 [Image: Second-grade students at Bells Elementary School in Blackwood, N.J., are talking to the Ibime School students in Mexico City, using Empatico. Credit: Akira Suwa]
'How do you celebrate Day of the Dead' and other questions N.J. classroom asks kids around the world
By Anndee Hochman
March 26, 2019
The kids in Kristin Seymour's second-grade class in Washington Township were brimming with questions for their new friends in Madison, Wis.
Manny Dunleavy wondered whether it was cold and snowy there. Emma Todd wanted to know which football team the Madison kids favored. And Jarrett DiEgidio was curious about ice fishing.
One by one, they approached a small webcam in their Wedgwood Elementary classroom to pose their questions. Then they watched as the Madison kids, connected through a live video chat and pictured on a large screen at the front of the room, answered.
"Yes, I do like ice fishing," said a girl named Jessica. "I haven't caught any fish yet. For Christmas, my dad got me a hut to go out on the ice, so we can be warm when we're ice fishing."
For nearly a half-hour, the students swapped details of their lives: The Madison kids cheer for the Chicago Bears; the New Jersey children root for the Eagles. In Wisconsin, families splash in Lake Mendota on hot summer days; Seymour's students head down the Shore. And everyone, it seemed, likes to ride bikes.
This was Empatico in action — a new web platform that allows teachers to link their classrooms with another class in the United States or around the world in the hope of fostering curiosity, critical thinking, and, yes, empathy at an age when kids are starting to form impressions of people unlike themselves.
Empatico is a $20 million project of the KIND Foundation (the same folks who make KIND snack bars). The technology, free to educators, includes lesson plans on such topics as weather and mapping, guidelines for preparation and post-chat reflection, and an algorithm that matches classrooms across time zones.
Empatico's mission and lesson plans were designed with preadolescent kids in mind. "We based it on the neuroscience that children at that age range are starting to develop their own perceptions of people around the world," Erick Roa, Empatico's head of partnerships, says. The company hopes to connect a million students by 2020.
In the year since Empatico's launch, 7,000 educators have signed up in all 50 states as well as Mexico, Canada, the United Kingdom, Nigeria, Egypt, Brazil, Vietnam, and Singapore. But Washington Township is a first: the only school district so far to outfit every elementary school classroom with Empatico and provide professional development to help teachers use it.
That effort is due largely to Kathi Kersznowski. Her title is technology integration specialist for Washington Township schools; her passion is global education. When she first learned about Empatico at a May 2018 tech educators' conference, she felt both thrilled and deflated. "It stuck in my mind because it was created to connect kids ages 7 to 11 with kids around the world … but I lamented the fact that our teachers weren't going to be able to do it."
The 175 classrooms in the township's seven elementary schools had computer stations for teachers, but no webcams. So Kersznowski wrote to Roa, asking if he might help connect her with a corporate sponsor.
Roa made a better offer: Empatico would donate 180 webcams to the district, a cost of nearly $2,000, if Kersznowski would provide training and encourage each teacher to make at least two Empatico connections during the school year.
The cameras arrived in July. In September, Kersznowski took a few minutes at each school's welcome-back meeting for faculty to introduce the project. Then she and her co-tech specialist, Jessica Soulliard, visited every classroom to walk teachers through the setup process and train them in how to use Empatico.
For Kersznowski, the conversations and insights that happen through Empatico are keys to global change. "Our students are driven to make an impact, and are less fearful of trying new things than adults. If we can let them connect with people they would never meet otherwise, they're going to learn about people who look, live, and learn differently," she says.
On the day she unpacked box after box of webcams, Kersznowski wept. "That's not the gift of an $11 piece of technology," she says. "That's the gift of the world."
In the hallway at Wedgwood is a map with pushpins noting all the places where students have connected: Rice, Minn.; Leavenworth, Kan.; Kapaa, Hawaii; Ontario, Canada. Even links within the U.S. bring children in Washington Township, a largely white, middle-class district, face-to-face with difference, Kersznowski says. "If you are connected with a classroom in inner-city Detroit, for our children, that is a cultural exchange. If you're connected with an Indian reservation in New Mexico, that's a cultural exchange."
Less than two miles from Wedgwood, at Bells Elementary, Kayla Ewing's students cluster on the rug, in full view of the screen that shows their second-grade counterparts at Ibime, a school in Mexico City.
The Mexico City teacher, Cynthia Ramirez, warms up both groups: "If you like to read, clap your hands. … If you like to dance, stand up .… If you like to play sports, give me big cheers." The kids on the carpet and the kids on the screen pump their fists and whoop.
Despite a few technological glitches — occasionally the sound or the picture vanishes for a moment — students spend the next 40 minutes learning about each other. The Ibime kids, in navy sweaters and blazers over crisp white shirts, love taquitos and strawberries; one of them has a lemon tree in his backyard. The students at Bells like to jump on trampolines and eat pizza.
"How do you celebrate Day of the Dead?" asks Lyla DiMartino, and the Mexico City students explain about "ofrendas," the offerings of food placed near photographs of dead ancestors in the belief that their spirits will visit in the night and be nourished.
Ewing had worked with her students before the video chat to brainstorm questions and learn about Mexico: what the flag looks like, how long it would take to walk to their counterparts' school (816 hours).
Before they chorus "Adios, amigos," Ewing's class decides to sing to their new buddies: a goofy, raucous rendition of "Baby Shark," complete with jaw-snapping hand gestures. Apparently, this is an aspect of kid culture — like hide-and-seek and soccer and the video game Fortnite — that knows no boundaries. Within seconds, the Mexico City kids are flapping their arms in identical motions, crowding the camera as they sing along.