[GIBLIB is advancing the use of presence experiences for surgical education. The company's press release below announcing the first VR app for live OR experiences is followed by a Cedars-Sinai story about the medical center's first accredited continuing medical education course filmed in VR. See Medgadget for an interview with the company's CEO. –Matthew]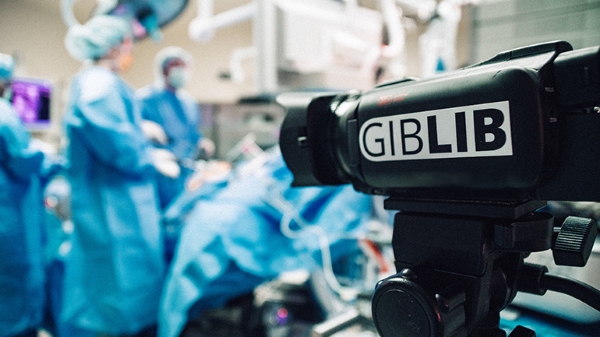 [Image: Source: Medgadget]
GIBLIB Launches First VR App for Live Operating Room Experiences through the Oculus Store
Emulates Real Surgeries For Medical Students and Practicing Physicians To Learn the Latest Surgical Techniques in 360-degree Virtual Reality
On January 29, 2018 – GIBLIB, the streaming media platform offering the largest library of on-demand medical lectures and surgical videos in 4K and 360-degree virtual reality, today announced the launch of the first VR app for an immersive operating room experience to enhance surgical education. Through the app, GIBLIB provides medical students and practicing physicians the most immersive and accessible operating room (OR) experience anywhere, at anytime.
The app supports GIBLIB's direct-to-consumer offering, which requires consumers only have a subscription to the Company's streaming media service and an Oculus Go headset or Oculus Rift System. GIBLIB exclusively partners with leading academic medical centers, Cedars-Sinai and Stanford Children's Hospital, to provide engaging and informative content from the best surgeons and physicians in the world, which is now accessible through the VR app that connects to the Oculus Store.
Surgical education is largely determined by OR access in order to learn new and updated procedural techniques from top experts. This helps surgeons continuously provide the best patient care available. Access to ORs with leaders in every specialty is highly limited, involves lengthy scheduling, and requires significant out-of-pocket travel expenses. The GIBLIB VR app is the first technology solution to perfectly emulate a complete OR environment with 360-degree VR content of both filmed and live stream surgeries, which allows medical students and practicing physicians to access the content at any time.
GIBLIB films each video with studio-quality 4K resolution to be both visually descriptive and informative. The company leverages precise camera angles from the surgeon's point of view and 360 spherical panorama, in addition to intuitive digital overlays, ensuring practicing physicians and surgeons receive the most authentic media-based OR experience. Supporting medical staff in ORs, including nurses and surgical assistants, can also gain important insights into how to best conduct themselves during procedures and use the most up-to-date surgical and robotic equipment.
"The latest surgical techniques and procedural best practices are advancing faster than ever before, and the ability to gain access to educational content that keeps surgeons up-to-date needs to meet demand," said Brian Conyer, CEO and Co-founder of GIBLIB. "Our goal is to bridge the gap between medical professionals and the knowledge they need in order to enhance their techniques in a way that is universally accessible and retains the authenticity of the learning experience."
—
[From Cedars-Sinai]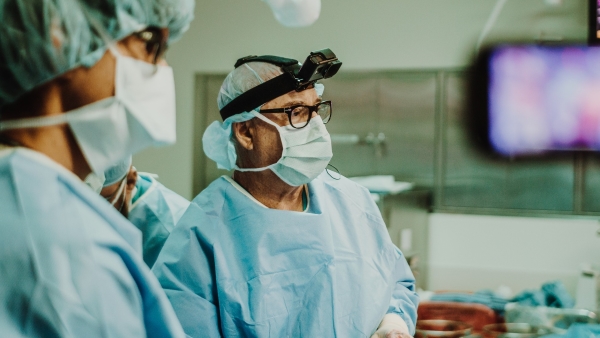 [Image: Mohan Mallipeddi, MD, on left and Ed Phillips, MD, on the right, perform surgery while the procedure is filmed in 360-degree virtual reality. GIBLIB's camera equipment is affixed to Phillips' head for point-of-view filming. Photo courtesy of GIBLIB.]
First Accredited Continuing Medical Education Course Filmed in VR
360-Degree Virtual Reality Enhances Procedure-based Learning for Gastro-Intestinal Surgeons and Medical Professionals, Now Available for Streaming
Los Angeles, December 3, 2018
For the first time, a 360-degree virtual reality (VR) Continuing Medical Education (CME) accredited course in GI surgery is available for streaming to surgeons and medical professionals.
The course is a collaboration between medical experts at Cedars-Sinai and GIBLIB, the streaming media platform offering the largest library of on-demand medical lectures and surgical videos in the newest formats.
Employing 4K and 360-degree virtual reality, GIBLIB content closely emulates operating room environments, featuring surgeon points-of-view and other angles to showcase support provided by the surgical team. While viewing the procedures on a VR headset, course attendees experience a fully immersive, 360-degree panoramic perspective of the operating room complete with multiple angles, including digital overlays such as patient imaging and laparoscopic and robotic camera feeds.
"We are excited to bring Cedars-Sinai medicine virtually to any doctor at any medical facility," said Harry Sax, MD, executive vice chair of the Cedars-Sinai Department of Surgery. "With this technology, other medical professionals can learn our advanced techniques and procedures and ultimately, deliver excellent care to patients across the country."
The Essential GI Surgeries course offers 25 hours of high-definition, fully narrated surgical procedures featuring the latest in laparoscopic and robotic techniques demonstrated by experts from Cedars-Sinai. Cedars-Sinai's gastroenterology and GI surgery specialties are ranked No. 3 by the 2018 Best Hospitals edition of U.S. News & World Report.
"Virtual reality allows viewers to be fully immersed in the operating room without having to travel across the world for specialized training," said Miguel Burch, MD, chief of Minimally Invasive and GI Surgery at Cedars-Sinai. "This efficient, innovative technology provides an online, backstage pass for trainees anywhere."
Each video in the Essential GI Surgeries course is filmed by GIBLIB with surgical precision, incorporating multiple angles and perspectives with exact edits to highlight the most important aspects of each unique procedure. The course will further shape modern-day surgical theater by scaling the observational learning process for doctors through digital innovation.
"We are honored to serve the global medical community as a complementary educational service with the largest streaming medical content library available and the first CME-accredited virtual reality content," said Brian Conyer, CEO and co-founder of GIBLIB.
Healthcare professionals can access the course by subscribing to giblib.com.
Cedars-Sinai is an Accreditation Council for Continuing Medical Education (ACCME) provider and was awarded "Accreditation with Commendation" in December of 2017. Cedars-Sinai has achieved exemplary status in four consecutive surveys.