[Here are three short stories about how people are using technology to celebrate Christmas virtually this year. I wish you all a wonderful, restorative Christmas and holiday season, mediated by technology and otherwise! –Matthew]
[The first story, from Patch, is about a "virtual Santa sleigh ride" attraction in Chicago; for more details see ABC7 TV's 3:37 minute news report. For coverage of other attractions see "Mindful of Amazon, malls take the Santa experience high-tech" in the Chicago Tribune.]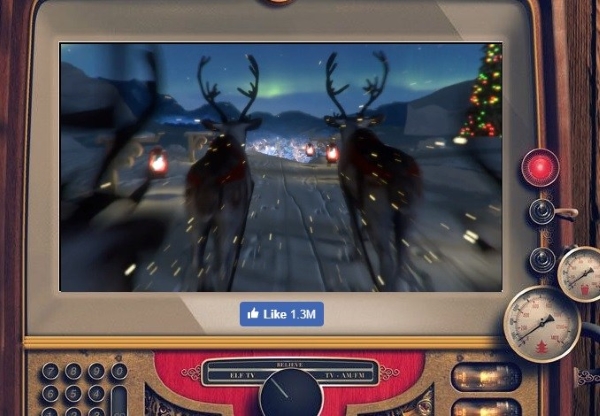 [Image: Source: O The Places We Go, where you can watch the 1:23 minute sleigh ride video]
Water Tower Place Debuts First in the Country Virtual Santa Sleigh Ride
Claire Vartabedian (community member)
November 15, 2018
This winter, Santa is coming to town in style with a fun seasonal adventure at one of Chicagoland's premier shopping destinations. Water Tower Place is partnering with Portable North Pole (PNP), a web and mobile platform that specializes in creating customized Santa videos, to bring a unique virtual sleigh ride experience exclusively to Chicago. As the only U.S. location to host the iconic red sleigh from PNP, Water Tower Place is elevating the traditional visit to Santa Claus this holiday season.
Between November 16 and December 24, Chicagoans and tourists alike can experience the holiday magic of an interactive virtual ride on Santa's sleigh, parked on the 7th floor of Water Tower Place. For $39.99, visitors can take Santa's reindeer on a training flight with immersive technology and have a recorded video of their thrilling adventure from Chicago to the North Pole sent to their email address to be shared with loved ones. After the sleigh ride, children can greet Santa's elves and meet with Santa to have their picture taken. In addition to their virtual sleigh video, guests will receive complimentary digital downloads of the pictures with Santa, one 5×7 print, one 4×6 print and four wallet-sized photos.
Visitors can upgrade to a premium package priced at $49.99 and continue the magic at home by creating a highly personalized video at PortableNorthPole.com. There are eleven videos to choose from, each offering incredible scenes from Santa's North Pole village. In the tailor-made video message, Santa will mention children by name, show photos of them in his magic big book, list real details of their life and much more to create a truly special, personal experience.
"Exclusive to Water Tower Place, the PNP Santa sleigh ride is a unique, engaging way to include the whole family in a holiday adventure," said Mitch Feldman, senior general manager of Water Tower Place. "It enhances the holiday shopping experience, giving families cherished memories that they can capture with customized videos to keep for years to come."
Water Tower Place welcomes walk-ups to the Santa sleigh ride experience, or visitors can skip the line by making a reservation at https://www.celebrateyourholiday.com/Reservations. From November 16 to November 30, Water Tower Place is offering a special promotion of $10 sleigh rides for Chicago Public School students.
For more information about holiday happenings at Water Tower Place please visit https://www.shopwatertower.com/en.html. You also can find Water Tower Place on Facebook at https://www.facebook.com/ShopWaterTower or on Instagram @watertowerplace.
—
[The second story is from WBBM Newsradio in Chicago via Radio.com; see the original version for a 1:04 minute video.]
Virtual Interactive Santa Surprises Sick Children In Hospital for Christmas
December 13, 2018
WBBM NEWSRADIO (CHICAGO) — Children who are stuck in the hospital during the holiday season don't have to skip out on visits with Santa thanks to some interactive technology.
Patients at Shriner's Hospital for Children in Chicago were wheeled into an activity room which was decorated for Christmas along with huge television screen displaying a crystal clear video of Santa.
"We have Cyber Santa here and he's visiting with all the kids.  He's actually talking with them from the North Pole," said Darlene Kelly, the hospital's Director of Recreation Therapy and Child Life.
He also knew a little something special about the children since he was given some of their background information. So the experience was extra personal for the kids. "He knows all about them. You can kind of see their eyes, like, 'Oh, my gosh, he knows my name and he knows what I want and he knows I have a sister and a dog.'"
They're using video conferencing technology from a company called Dimension Data. Mitch Hershkowitz, with the company, said the picture quality makes it unique, making the kids feel like Santa is in the room with him. He said it's also used to connect doctors with patients who are not in the hospital, as well as family members.
"Parents, aunts, uncles, Grandparents, extended family can't all be here, so they can use the technology to spend time with the children."
Darlene Kelly said the Santa visits help to break the monotony for the children.
"You know, it opens their heart. Some of them have been here for so long and it kind of breaks the day and gives them hope and it's encouraging. They have something to look forward to and it's just a nice thing to have for the kids."
—
[Finally, a short story from the Mirror in the UK notes that although actually being there is best, celebrating Christmas virtually is very common. See the original story for more on the Thorntons campaign.]
Virtual Christmas with Facetime and Skype sessions for half of Brits
Opening presents or eating Christmas dinner with faraway loved ones on Facetime and Skype is very normal
By Jack Peat
23 December 2018
Half of Brits will celebrate Christmas virtually this year, according to a study.
Researchers found more than five million people will open presents over Facetime or Skype because they can't be with loved ones on the big day.
And three million will also have their Christmas dinner in front of a screen for the same reason.
The findings emerged as a third of those polled revealed they live 'too far away' from their nearest and dearest to spend the festive period with them.
Further to this, 16 per cent admitted they struggle to find the funds to visit family at this time of year.
The research was commissioned by Thorntons, as part of its Pass The Love On campaign, where they reunited three families who couldn't be together over Christmas.
[snip]
The research of 2,000 adults was carried out by OnePoll in October 2018.