[The new app described in this story from Forbes is called Spatial but what makes it compelling is the combination of spatial and social presence. The original story includes more images and a 2:15 minute video. For first person reports on a recent demonstration of the product see coverage in Fast Company and Engadget, and for information about how it was inspired by fictional user interfaces in Minority Report and other films see coverage in Variety. –Matthew]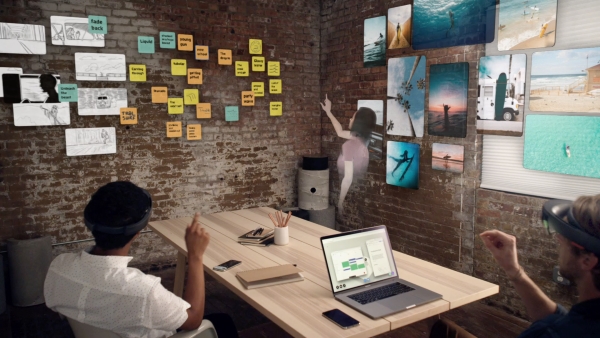 Spatial Bursts Out Of Stealth With Cash And XR Telepresence
Charlie Fink, Contributor
October 24, 2018
After two years in stealth, Spatial is launching its cross-platform XR collaboration App that enables holographic telepresence through augmented reality, turning any room into a 3D workspace. With Spatial, users connect remotely and express ideas seamlessly using lifelike avatars, unlocking a new level of computing that is not confined by space, no matter what device they are using.
I have been saying for two years that because people are the killer app, it follows that telepresence, delivered through AR or VR, would be immersive computing's first killer app. While important strides are being made by two European start-ups, Valorem and MeetingRoom.io, and social VR startups like High Fidelity and Rec Room, no one has yet created a deeply practical use case. It has to be more than the world's greatest chat room. We have to do something in VR. I wondered out loud what that might be. Now I know it must be Spatial.
Spatial enables an entirely new way of working together that has the potential to disrupt the 1BN video conferencing business owned largely by Cisco Spark. Spatial could also affect the travel industry, as XR meetings could radically reduce the need for expensive business travel.
Cisco recently added VR to their conference system, but it is quite generic. The way Spatial gets around the problem of sterile avatars that don't represent users by taking a regular 2d profile picture and, using an AI-based approach, turns that into a 3D model which becomes your avatar. This really deepens the connection between users in remote locations.
Spatial can be accessed with any device: VR, PC, smartphone, or an AR HMD like the HoloLens. Spatial's voice-driven 3D web browser brings objects into a shared space, where users can manipulate them and view them from every angle. "We are harnessing the power of augmented reality to create a combined digital and physical world that will change the way we work together," said co-founder and CEO Anand Agarawala. "With Spatial, collaboration becomes an immersive 3D experience where you can express ideas visually by just saying them, organize thoughts in the room around you and never let space confine your work."
Remote work is far from the only compelling use case. Spatial also allows users to share media, so a family throughout the world, on different devices could play a game, or watch a big one. Or simply play with their grandchildren in unexpected new ways. Think of it as Facetime in 3D with a much, much better form factor, and cross-platform (something Facetime can't do). Co-founder and Chief Product Officer (CPO) Jinha Lee says that "We are moving from the era of personal computing to collective computing where people can share their space and ideas from anywhere, on any device."
Created for global companies with distributed workforces, the tech is being trialed by a leading pharma company, a major design firm, a government agency and Ford's Innovation arm, Ford X, to unify remote product teams. "Say goodbye to boring video chat and mundane screen sharing. Instead, truly work from wherever while still being holographically present with your collaborators," says Samsung Next's Jacob Loewenstein, one of Spatial's investors.
Spatial announced it has raised $8 million in seed funding from an esteemed list of investors and angels. Investors include iNovia Capital, Garrett Camp with Expa, Samsung Next, Joi Ito, Mark Pincus, and Andy Hertzfeld, not surprising given the blue-chip Silicon Alley DNA of its founders, Anand Agarawala and Jinha Lee. Agarawala founded BumpTop, which was acquired by Google in 2010, and Lee introduced pioneering AR computer SpaceTop at TED in 2013. Together they built Spatial to define the next generation of computing and unlock collective human intelligence.
I have never seen anything quite like Spatial. It's extraordinary. It's disruptive. They seem to have found the sweet spot of usability in our bandwidth constrained world. I'll be very interested to see what uses cases develop in, and beyond, the conference room. "Unlike anything I've ever seen, this is a game changer," said Andrea Bielecki, CEO of INVIVO, a digital healthcare agency that works with large pharmaceutical companies (Pfizer, Novartis, etc). "It really feels like we're in the same room. Talk about an immersive conversation."
—
Charlie Fink is a former Disney & AOL exec and Forbes columnist. In the 90s, he ran VR pioneer Virtual World. He's the author of Charlie Fink's Metaverse, An AR Enabled Guide to VR & AR.