[Presence field trip! I'd love to visit this cafe in Seoul… The short story is from Adweek, where it includes several pictures, and see Design You Trust for 30+ more. The idea of a presence-evoking restaurant isn't new of course; for example My Modern Met compares Cafe Yeonnam-dong 239-20 to "an Instagram-worthy Wes Anderson-esque cafe in the Philippines [and] a coffee shop shaped like a Rolleiflex camera in South Korea." –Matthew]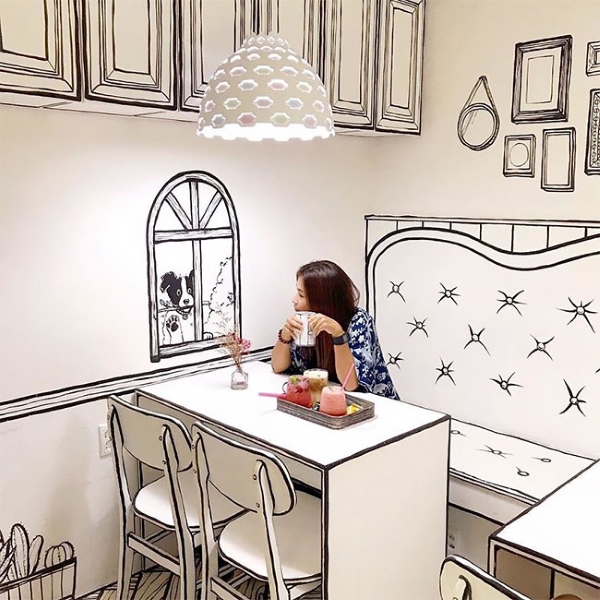 [Image: Source: Design You Trust]
This Popular 'Drawing Cafe' Transports Patrons Into a Quirky Cartoon World
A designer's dream in Seoul
By Shannon Miller
September 27, 2018
When was the last time you had a dining experience so immersive that you felt as if you had been transported to an entirely different reality—or had merely left reality altogether? While that may sound like an intense sojourn for the quick bite to eat, there is a cafe in Seoul, South Korea that proves your next cup of coffee can be quite the animated delight.
Located in the popular Yeonnam-dong district, Cafe Yeonnam-dong 239-20 is designed to look like a walkable black-and-white sketch lifted right out of a comic book. Every detail from the floors to the cutlery contributes to a 2D-looking dreamscape that makes patrons feel as if they're suddenly living in a cartoon. The "drawing cafe," as it's known to some, also has a gorgeous selection of colorful beverages and food to choose from which, based on their lively Instagram presence, look breathtakingly photogenic against the monochromatic, yet striking atmosphere.
Cafe Yeonnam-dong 239-20—a name that also conveniently doubles as the hot spot's address—opened in July of 2017 and is inspired by one of Korea's hit television dramas W – Two Worlds, where the protagonist enters the world of a webtoon that was authored by her father. Since opening, the cafe has become a highly recommended must-see attraction for locals and tourists alike.
If you're unable to make the trip to Seoul, you can cruise their bustling social media pages and take a gander at the remarkable shop with the crowd of pleased customers. However, if you do find yourself in the area and have the opportunity to visit this cozy spot, take a moment to soak in the clever, elaborate details of this sketched paradise before getting in those amazing selfies.