[Here's a new and surprising use of presence-evoking technology for summer fun. The story is from Digital Trends, where it includes a 1:06 minute video. More information from coverage in Gearbrain follows below and see the Ballast website for more on VRSlide and the company's larger vision for underwater applications of VR and presence. –Matthew]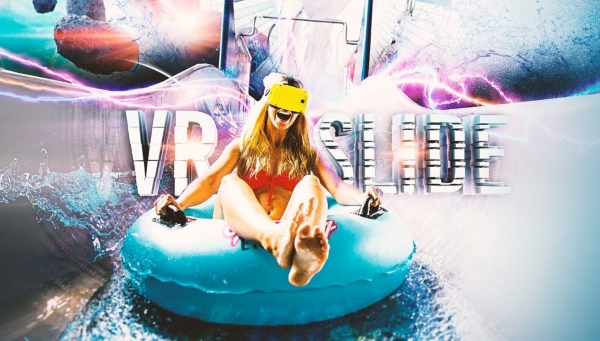 World's first VR-augmented waterslide is totally unnecessary, but also amazing
Luke Dormehl
July 18, 2018
Let's face it: We live in a pretty jaded society. In such a "been there, seen that" environment, the promise of a regular ole' waterpark wouldn't be enough to prompt even an eye-roll emoji in response from many people. Thank goodness, then, for an amusement park in Germany whose new, world-first waterslide adds in a dose of scintillating virtual reality in an effort to make us feel something again.
"Ballast originally started by making an experimental headset that can be used underwater," Stephen Greenwood, the CEO of Ballast VR, the company behind VRSlide, told Digital Trends. "Last summer, we were approached by German waterslide manufacturer Wiegand-Maelzer to see if we could build a system that worked on waterslides. The biggest challenge with VR on waterslides, compared to roller coasters or other track-based rides, is that every rider moves at a unique speed — meaning that in order for everything to be perfectly synchronized, we had to invent a tracking system that knows precisely where each rider is and display the VR content at a variable speed."
A bit like the opening credits to the Naked Gun movies, in which a cop car is transported to everywhere from the inside of a pinball machine to the Death Star trench, once VRSlide riders put on their goggles, their perspective changes to give the illusion of them flying through a variety of settings. Sure, the virtual reality looks a bit more like a PlayStation 2 game than cutting-edge graphics, but Greenwood said that the results are surprisingly effective.
"We were skeptical when considering to take on the project," he explained. "But when we did some very early tests, even without the tracking system it became clear that it's a bizarre combination that produces a really thrilling experience. I think it's more fun than roller coaster VR, because there are multiple senses being stimulated — you have water splashing against the rider, unexpected twists and turns when the rider thinks they are going one way in VR, but then actually take a sharp turn in the other direction. Riders can also experience a new world every time they go down, so the same slide can be refreshed as much as the park operators would like."
At present, the slide at Therme Erding, 30 minutes outside Munich, is the only place you can try the experience. However, Greenwood said the company is interested in taking the technology global. "We are currently in discussions with parks outside of Germany to expand," he noted.
—
[From Gearbrain]
Can VR make a waterslide more fun? This theme park thinks so
Virtual reality comes to a waterslide – and yes, it's waterproof
Alistair Charlton
July 18, 2018
[snip]
The headsets are custom-made for the ride and are powered by a Samsung Galaxy S8 smartphone running bespoke software. Riders are given the choice of three VR 'worlds' to pick from when they reach the front of the queue, including Space, Snow and Sky (pictured below). Each world takes the rider on a journey through a video game-like environment, as they weave between trees or snow banks, and soar through the sky chasing butterflies.
The headsets are stored on a rack of wireless chargers, making it easy for staff to pick one out and hand it to the customer before they launch themselves down the slide. The ride lasts for approximately 35 seconds and costs €2 ($2.33); between the ride opening in mid-March and late-June, it had attracted 36,000 people and earned about $84,000 in revenue, according to MIT Technology Review.
Thankfully, the headsets are water-resistant enough to survive the ride and being submerged in shallow water. To help keep the visual experience in sync with the rider's location on the slide, the Galaxy S8 is programmed to listen out to ultrasonic chirping emitted along the slide.
The phone also monitors the rider's inertial movement to understand their weight and progress down the slide, then uses artificial intelligence to adjust their location in the virtual world to keep their view in sync with what they can feel.
[snip]