[The CBC report below is about a niche but potentially life-saving application of presence-evoking technology; the original story includes three different images. For more information listen to the 4:27 minute report from CBC's Daybreak North radio program and see the VR Safety Training Solutions website. A short piece from MyPrinceGeorgeNow includes these additional quotes:
"'From the people we have talked to who have taken the [regular] training, they aren't always confident that they would know how to use it effectively in the field even though they've taken the training,' explains CEO Kelly O'Neill. 'So we wanted to be able to provide them with an experience that is very realistic.'"
"'This is as real as it gets without being attacked, it is the most effective training tool I've seen. I definitely want to add this to our bear safety training programs,' said Dan Le Grandeur, Bear Scare Inc., Wildlife Management & Training Expert, in a statement."
–Matthew]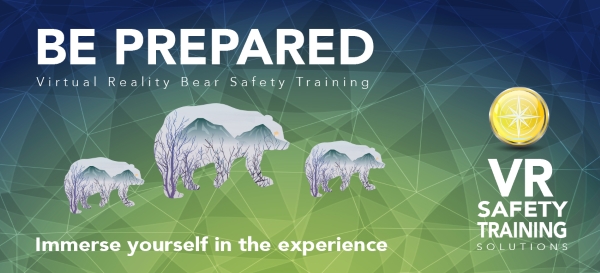 This B.C. tech company is using VR for bear safety training
Virtual reality gives trainees hands-on experience beyond what classroom learning can provide
CBC News
Posted: Jun 09, 2018
If you found yourself being charged by a 270-kilogram grizzly bear, would you know what to do?
A tech firm in Prince George, B.C., is hoping to teach people how to respond to that exact scenario with a new virtual reality training program — and to make that training stick.
"We realized that a lot of the training you have to take is a little bit mind numbing, and we thought there must a better way to teach and a more effective way to teach," said Kelly O'Neil, CEO of VR Safety Training Solutions.
Participants begin by donning a virtual reality headset and controller, the latter of which is used during the game to deploy bear spray.
The headset renders an idyllic woodland scene, complete with sound effects — but before long, the player is spotted by a bear, which then charges with frightening speed. Players must use their bear spray before it's too late.
O'Neil says the program was designed to replicate the experience of a bear attack in a way that standard classroom training can't, giving participants the chance to practice reacting in a safe environment.
"That's part of our goal, was that people would get that feeling [of fear]," O'Neil said.
"If you're able to practice when you know what could happen and you have in your mind what could happen and what you need to do, then you're going to be better prepared [in real life]."
Chief Technical Officer Pete McKeen says no amount of reading or classroom training can prepare you for just how fast bears can move — and he speaks from experience.
McKeen recalls an encounter with a large grizzly, first spotted about 300 metres away from him.
"He saw me and he just came, and there was no stopping him," McKean said. "It's hard to really explain what goes through your head when that happens."
McKeen believes VR technology has numerous training applications for dangerous situations beyond just wildlife encounters.
"You could go to a gas plant and go into a room or a tank for confined space, film it, and then create a scenario right there," he said.
"It's a few years out, but this is a start, and it's a good start."