[A second survey of leaders in the augmented and virtual reality industries reveals some interesting trends, including the importance of user experience and increasing focus on collaborative and social experiences. This press release is from Perkins Coie LLP via Business Wire. For more information see the company's (free) survey and infographic. –Matthew]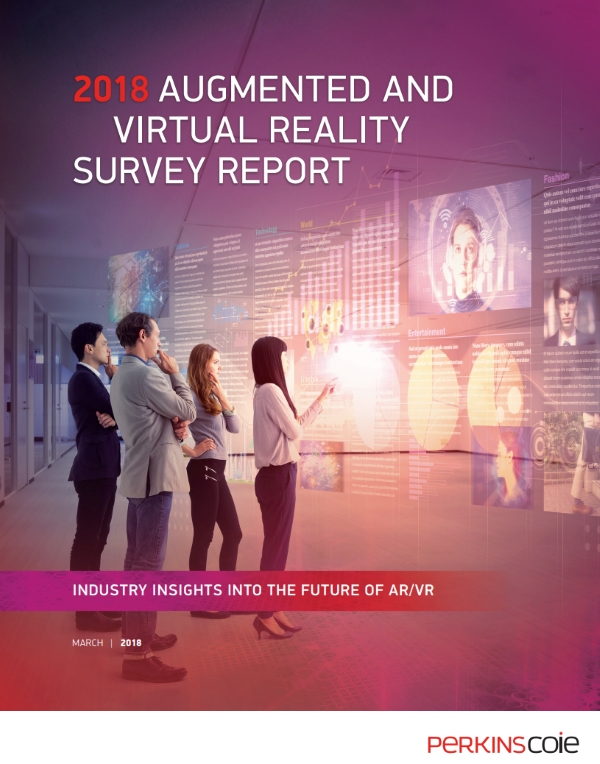 Perkins Coie's Second Augmented and Virtual Reality Survey Shows Continued Advancement and New Worries
Investment is on the rise and more companies are going to market, leading to increased practical applications and heightened legal concerns
March 20, 2018
PALO ALTO, Calif.–(BUSINESS WIRE)–With investment in augmented reality (AR) and virtual reality (VR) on the rise, the industry is growing and moving into more practical applications. But growth is leading to new challenges, including increased worries about legal risks, according to a new survey of startup founders, technology company executives, investors and consultants by global law firm Perkins Coie LLP.
Gaming Still Strong, but Practical and Collaborative Experiences Gain
In this year's survey, which follows the firm's inaugural survey released in September 2016, gaming maintained the top spot among sectors primed for investment over the next year in the eyes of respondents. But its leading position dropped from the 2016 survey (78 percent) to the 2018 survey (59 percent) as other areas made gains, including retail, healthcare and medical devices, military and defense, and real estate.
In another sign that AR/VR is building appeal beyond gamers, over the next year, 82 percent of respondents expect developers to focus more on collaborative and social experiences for AR/VR and 81 percent expect developers to focus on creating AR tools and applications for smartphones.
"Gaming and entertainment has long been a focus in this industry – and while that continues, we are seeing a broadening of interest in AR and VR applications in other areas," said Don Karl, Co-Chair of Perkins Coie's Interactive Entertainment practice. "Movement toward more practical applications for AR and VR and the belief that developers are turning to collaborative and social experiences are strong signs of a growing industry."
User Experience Tops Obstacles for AR/VR, Concerns about Legal Risks Grow
User experience was viewed by respondents as the top obstacle for mass adoption of both AR and VR (39 percent and 41 percent, respectively). Cost was viewed as a greater concern for VR (22 percent) than AR (14 percent), whereas respondents expressed more concern about content offerings for AR (25 percent) than VR (17 percent).
The survey also found respondents generally more worried about legal issues than they were 18 months ago. Concerns about consumer privacy and data security, the top option selected, rose from 15 percent in 2016 to 44 percent in 2018. This was closely followed by product liability and health and safety issues (up from 18 percent in 2016 to 42 percent in 2018) and intellectual property infringement (up from 16 percent in 2016 to 40 percent in 2018).
"It's not surprising that as more AR/VR companies go to market or get close, their concerns about legal issues, including data security, IP infringement and patent litigation, increase," said Kirk Soderquist, Co-Chair of Perkins Coie's Interactive Entertainment practice. "Respondents were particularly concerned that patent trolls will take notice as more AR and VR products come to market and noted that platforms are increasingly requiring exclusivity in an industry that is now more focused on building fences around hardware."
With regard to exclusivity, there was a significant jump (12 percent in 2016 to 31 percent in 2018) in the percentage of executives with established technology companies who cited platforms requiring exclusivity as a challenge they have faced in deals with companies developing AR/VR solutions.
Timeline for AR to Surpass VR Accelerates
Similar to the first survey, two-thirds of respondents expect the AR market to surpass VR in revenue (66 percent in 2016 and 67 percent in 2018). However, 51 percent now say it will happen within three years, whereas only 18 percent selected that timeframe in 2016. Even taking into account the 18 months between surveys, it appears that respondents believe the timeframe in which AR will surpass VR is shorter than previously anticipated.
Growth Remains the Focus for Startups
Forty-five percent of startup respondents said their growth or exit strategy over the next three years was raising capital to build their companies, compared with just 23 percent who are looking to acquisitions and 18 percent pursuing strategic partnerships. AR/VR startups also identified slow adoption as the top concern they hear from potential investors (selected by 71 percent of respondents), just slightly ahead of a lack of an established market for the technology (selected by 67 percent).
"The trend lines show that investment in AR and VR is increasing, but there still seems to be a hesitancy from investors to write big checks," said Jason Schneiderman, partner in Perkins Coie's Emerging Companies & Venture Capital Law practice. "In this environment, startups are continuing to focus on growth and raising capital to build their companies, but we're seeing increased confidence as the industry matures and investments will likely continue to rise."
The survey was completed by 140 respondents from a variety of industries, more than half of which held C-level or VP titles. To view the complete Perkins Coie Augmented and Virtual Reality Survey report, as well as an infographic summarizing the results, please click here.
In addition to Karl, Soderquist and Schneiderman, the Perkins Coie attorneys who developed the survey report and analysis included Miriam Farhi, Andrew Grant, David Pekarek Krohn, Brendan Murphy and Ben Straughan. For more information on Perkins Coie's areas of focus in the AR/VR industry, please click here.
About Perkins Coie
Perkins Coie is a leading international law firm that is known for providing high value, strategic solutions and extraordinary client service on matters vital to our clients' success. With more than 1,000 lawyers in 19 offices across the United States and Asia, we provide a full array of corporate, commercial litigation, intellectual property and regulatory legal advice to a broad range of clients, including many of the world's most innovative companies and industry leaders as well as public and not-for-profit organizations.
Contacts
Perkins Coie
Terence Gordon
TGordon@perkinscoie.com