[A new virtual reality installation and a display of items from the evolution of immersive media will be on display in Bradford in the UK through May. This story is from The Telegraph & Argus and more information is available from the Thresholds page on the Museum's website. I want to go! –Matthew]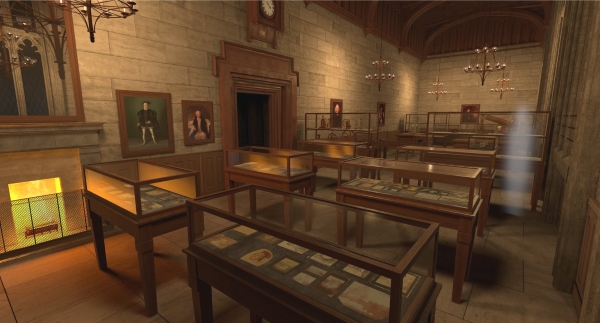 [Image: Inside the virtual reality environment of Thresholds, a replica of William Henry Fox Talbot's 1839 photography exhibition]
Time-travelling through virtual reality
Emma Clayton, Leisure and Lifestyle Editor
23rd February
In 1839 the world's first major public exhibition of photographs took place at King Edward's School in Birmingham, presenting examples created by founding father of photography, William Henry Fox Talbot.
From March 2 to May 7, this historic event will be re-staged at the National Science and Media Museum in a striking virtual reality installation; Thresholds. Artist Mat Collishaw plunges visitors into Talbot's event, nearly 180 years ago, through an immersive portal to the past. Walking through a digitally-reconstructed room, visitors will see Talbot's inventions, touch furniture and fixtures, even feel heat from a recreated coal fire. Infrared sensors track each person's movements, creating ghostly avatars, enhancing the feeling of travelling through time. To complete the sensory experience, Mat has created a soundscape of Chartist protesters who rioted in 1839 on the streets of Birmingham, who can be heard, and seen, outside the room.
"I've been looking to work with virtual reality for a number of years and I'm delighted it has now become a feasible medium for me to use in artwork," says Mat. "VR's ability to enable visitors to revisit the birth of photography – a medium that has come to saturate our lives – is compelling. It's also quite appropriate as VR is the total 360 degree immersion of the viewer within an image, and is itself one of the many innovations spawned by the invention of photography."
Thresholds, (open to visitors aged 13-plus), a collaboration between Somerset House and the Library of Birmingham, features imagery recreated from original Talbot photographs and equipment held at the National Science and Media Museum.
The installation is complemented by Immersion (March 2 to June 24), a display of historic items highlighting how innovators have used science and technology to create increasingly immersive sensory experiences in photography, cinema and recorded sound. Examples from the museum's world-class collections, including one of the earliest Victorian stereoscopic cameras and objects relating to the origin of large-format IMAX and Cinerama screens, will sit alongside experimental stereo recording technology from EMI's historic Central Research Laboratories and stereoscopic equipment from Queen guitarist and photography collector Brian May's personal archive. Highlights include the prototype of the OWL Stereoscopic Viewer developed by May and the London Stereoscopic Company for viewing classic or contemporary stereocards, and the 1960s stereo viewer given away by Weetabix which sparked his interest.
The EMI Archive Trust has loaned objects relating to British inventor and engineer Alan Dower Blumlein's ground-breaking experiments in stereo sound in the 1930s, which enhanced listening to recorded music. Technology used at Abbey Road Studios during Blumlein's test recordings will be displayed, including reproductions of his notes and drawings from the development process. Blumlein's family have also loaned the Technical Grammy Award he received posthumously in 2017.
Annie Jamieson, Associate Curator of Science and Technology, said: "This is a wonderful opportunity to show how historical collections can work with contemporary installations. Visitors will see and hear that immersive audio and visual technologies have a long history, with VR one of a long line of developments."