[This widely-cited story from The Daily Mail highlights part of a new Lancet Commission report regarding the use of several technologies, including those designed to evoke different types of presence, for the treatment of dementia patients. For more information see The Lancet as well as a related story, "Assisted living tries virtual reality to help seniors with dementia," in The Journal Times. –Matthew]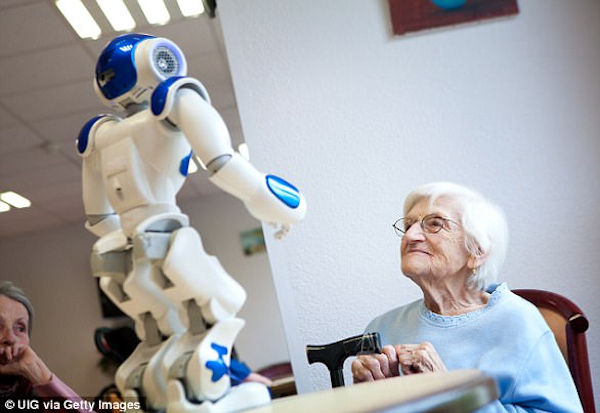 [Image: Source: The Daily Mail]
Robots could soon care for dementia patients but experts warn it's 'not a replacement for human contact'
Tech advancements mean gadgets and apps are already being introduced
But there may be some potential in robots, researchers said in a new report
However, they worry that they may be used a substitute for face-to-face care
By Rosie Taylor for The Daily Mail
Published: 20 July 2017 | Updated: 21 July 2017
Robots could soon be caring for dementia patients, a report suggested.
Technological advancements mean gadgets and apps are already being introduced into dementia care.
Devices like GPS trackers are used to ensure patients do not get lost, while monitors in the home can detect falls and tell if the phone or television is being used, sending information back to family and carers.
Some dementia patients wear smartwatches, which collect data on their sleep and eating patterns, blood pressure and sugar levels for analysis by doctors, researcher and carers.
And interactive technology, including virtual reality and specialised apps and computer games have been introduced to care homes to help calm patients with dementia.
Electronic calendars and speaking reminders can also help patients tell the time or remind them to do simple tasks like washing hands.
Robot animals
Some care homes are also using robot animals which interact with patients to help them feel at ease – and it will not be long before robots are used to help with feeding, washing and mobility.
The summary of technology available to patients is published today as part of a Lancet Commission report on dementia prevention, treatment and care.
It warned that while technology could be useful, it was 'not a replacement for human contact.'
There were also concerns some devices could fringe on privacy rights and that most had not been tested to see if they had any negative effects.
Caution is needed
It said: 'Advances in the use and application of technological innovations might help people with dementia to live in safe, stimulating, and functionally enabling environments, and support and assist carers and professionals in improving quality of care.
'However, evidence on the effectiveness for most devices is not available. Caution is therefore needed to protect people with dementia from overselling of ineffective and potentially unsafe devices.'
Some potential
Study co-author Professor Clive Ballard, of Exeter University, said: 'There might be some potential in robots but my worry would be if people started using that as a substitute for face-to-face care.
'Personal interaction is a human need and advancements in technology won't work unless you also have that human element.'