[This story from India's MiD DAY (where it includes other pictures) describes an effort to use presence for education and social change on a vital topic. The goal and power of the approach is described in coverage from The Pioneer: "By integrating technology creatively in the work [the creators] do, they aim to connect more with the young target audience by enabling them to get a realistic immersive experience of what is intimate partner violence." And coverage in DNA:
"You might have figured out where Manoj's initial transgressions lead, without us elaborating—but it is only the immediacy of the 360 degree experience that would leave you awake to a reality most often ignored. Because when the prototypical Manoj screams and rampages, he's not communicating with the disembodied female voice-over. Hardly. He's looking straight at a horrified audience. He's looking—at you."
For more on the uses of emerging and social media for improving sexual health, see coverage in The Guardian. –Matthew]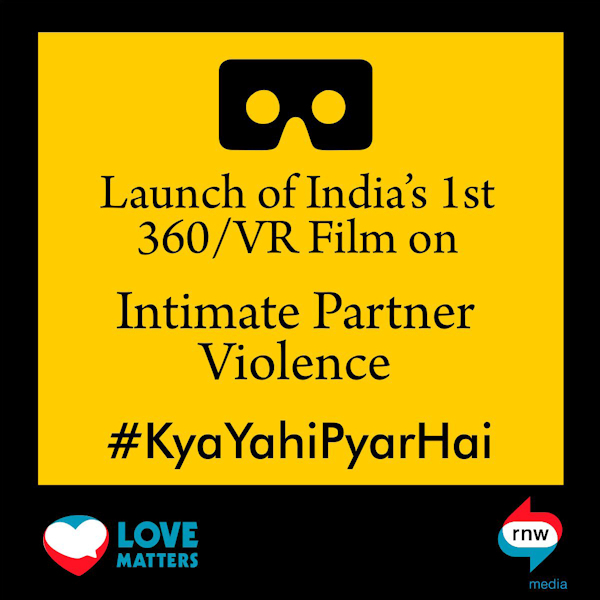 Care or control? First Indian Virtual Reality film will explain the difference
India's first Virtual Reality film about Intimate Partner Violence wants you to learn the difference between care and control in love
By Krutika Behrawala | Mumbai | Posted 07-Jun-2017
As Kya Yahi Pyar Hai begins, its protagonist Anuja invites us to step into her shoes. We don't spot her in the frame, but for those seven minutes, we're lost in her world. That's considering she is played by a Go Pro camera that offers a 360-degree view of each setting. As we drag the cursor through a park, we spot Anuja's boyfriend, Manoj, sitting on a bench. He is chatting with her (us, the viewers) about his usual day at work until he spots a man walk by. He believes his girlfriend was checking him out and gets jealous.
In another scene, he insists on accompanying Anuja to the mall, though she says she can go shopping on her own. The film ends with him slapping her because she said no to having sex with him. This Saturday, if you drop in at the film's launch in Khar, you can watch this immersive film wearing Virtual Reality (VR) headsets.
Understanding IPV
Produced by Love Matters India (LMI), a bilingual website launched in 2014 that is part of a global multimedia project on love, sex and relationships, Kya Yahi Pyar Hai is India's first 360 degree VR film that tackles the issue of Intimate Partner Violence (IPV). "The idea is to help unmarried couples realise the difference between care and control. Often, it is easier to see physical and sexual abuse as part of IPV. The challenge is to get the audience to understand more subtle expressions of controlling behaviour, be it verbal or financial violence," says Vithika Yadav, co-founder and head of LMI.
The film is an extension of the portal's online campaign #BearNoMore launched in 2015. "The narrative draws from the case studies shared on the portal," says Yadav. Based on her research, she shares, "India experiences high levels of IPV, mostly directed towards women. Social norms, especially those around gender roles, are identified as the dominant drivers for IPV in India. Alcohol is considered another major factor in India." She also observes that both, women and men hesitate to report such crimes for various reasons, including social stigma, risk of further marginalisation by family and community members, and an overall difficult law enforcement environment.
Shoot challenges
Directed by city-based filmmaker Gayatri Parameswarana, the film was shot for over a month at various locations in Mumbai. The team zeroed in on the concept of VR to offer viewers a more real experience. However, it had its own challenges. "We had to leave the scene every time we hit record because we couldn't be in the film. In 360-degree frames, everything is captured. It was also difficult for Arjun Radhakrishnan (who plays Manoj) to act with a camera instead of a real person," says Parameswarana.
Post the launch, the film will be up on YouTube, and the team will conduct screenings at various educational institutions in the city.
What's IPV?
WHO defines Intimate Partner Violence as "any behaviour within an intimate relationship that causes physical, psychological or sexual harm to those in the relationship, including acts of physical aggression, sexual coercion, psychological abuse and controlling behaviours".