[This is a clever use of presence-evoking technology to create presence experiences; the story from CBC News – Manitoba includes three videos, including a CBC News report. For more information see the Flipside VR website and YouTube channel and the Bucko Comedy website. –Matthew]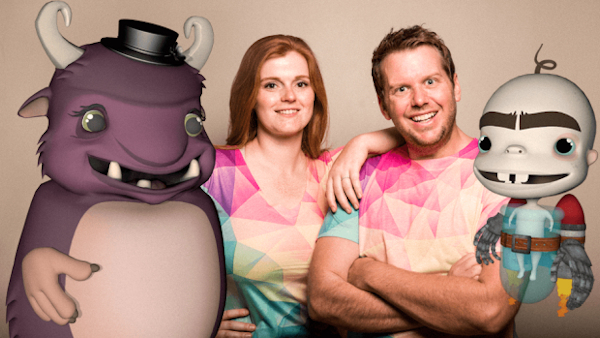 [Image: Lauren Cochrane (left) plays Genefur while Aaron Merke (right) plays 2B in the virtual reality created cartoon Super Secret Science Island. (Credit: Ronnie Abelada).]
Virtual reality TV show created in Winnipeg on way to international convention
'It's just making an animation using your body, instantly,' says actor
By Teghan Beaudette, CBC News
Posted: Jun 20, 2017
A first-of-its-kind cartoon is being made in Winnipeg using exclusively virtual reality technology.
Super Secret Science Island has two characters — failed experiments abandoned on an island by their creator — that are brought to life by BUCKO Comedy's Aaron Merke and Lauren Cochrane.
The entire show is acted, shot and edited in real-time.
"Someone could be in Winnipeg, somebody else could be on the other side of the world. They can meet up in VR, create a show together and output that right away," said Rachael Hosein, the chief creative at Campfire Union, the virtual reality development house that created the software for the show.
Merke and Cochrane go to different rooms, put on headsets, grab a set of hand controls and improvise an episode.
"It's like putting a headset on and you're Homer Simpson," said Campfire Union's John Luxford.
While they act, Luxford and Hosein switch camera angles and make sure everything in the virtual world runs smoothly.
"What we're doing is making a virtual TV studio. It's using off-the-shelf virtual reality hardware that we hook into an app that we created, and it's kind of two parts. It allows people to watch content in VR using a VR headset, and it also allows content creators to use a VR setup to live-animate an animated show," said Hosein.
Merke has a simpler way of describing it: "It's just making an animation using your body, instantly."
Merke plays 2B, a cranky guy who lives in a test tube and Cochrane plays Genefur, a kind of "dumb" Mary Poppins-type character that looks like a bear.
"I've done traditional cell animation and that takes forever. This is instant. It's absolutely the quickest. The turnaround on it is insane," said Merke.
Episodes are about three minutes long and can be watched in 2D on YouTube or in 3D on VR headsets.
The episodes can even be livestreamed, and actors can be across the world from each other.
Merke and Cochrane are just in different rooms a few feet away, or in Cochrane's case, a hallway in a shared tech space.
"When we're improvising together — that's our life — that's what we do. When we're doing it here, we've found a way now to connect. We give high fives in space even though you can't feel it, but you can see it," said Merke. "It's almost like teaching yourself to puppeteer."
The software that makes it possible is called Flipside. It was developed by Campfire Union after they were experimenting with virtual reality drawing apps.
"We were playing around with ways to stream those drawings out to other people, and it kind of got us thinking about content creators in VR," said Hosein. "There's a lot of ways that people can create content and share content and be social within a virtual reality app, so the idea just kind of grew from there."
In the show, characters can draw their own props (like a hat or a pair of glasses) and then use them.
"We knew there were going to be a lot of bugs. Something we didn't expect was how intimate a VR space can be. You're acting with somebody who is on the other side of the world but it really feels like they're honestly there," said Hosein.
"That kind of creates a really organic experience out of a lot of tech and a lot of hardware and a lot of distance between two people."
Merke and Cochrane want to use it to develop interstitials (short segments between TV shows) for kids' networks.
"We're going down to VidCon, which is a YouTube convention in Anaheim. So we're going to be pitching to some people. We have some meetings lined up," said Merke.
Meanwhile, Campfire Union is also working with a San Francisco-based comedian who delivers a takedown of current news as an alien floating behind a desk.
The team says they aren't aware of any other virtual reality development studios using the tech to create cartoons or shows, but they're actively looking for more content creators to make more shows.
New episodes of Super Secret Science Island launch every Thursday.