[Aside from being an interesting example of the pursuit of presence, this story from Queensland University of Technology News describes the potential of industry-academic partnerships. See Malcolm Burt's YouTube channel for more information. –Matthew]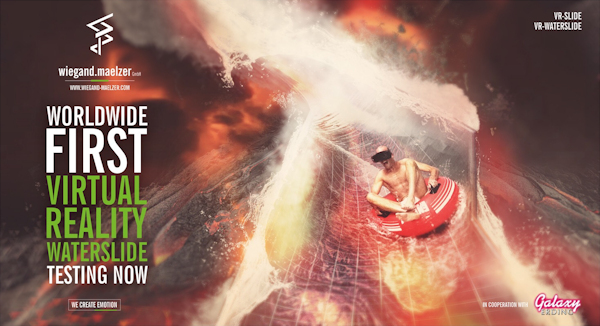 QUT's 'amusement academic' helps create world-first VR waterslide
27 April 2017
The ever-popular theme park waterslide is about to enter a new dimension thanks in part to a QUT academic who has become a world-leading expert in fun.
Malcolm Burt, currently doing his PhD which seeks to define the elements required to deliver the ultimate virtual reality theme park ride, was asked by German waterslide company Wiegand-Maelzer to consult on its world-first virtual reality waterslide concept.
"Certain design elements are still being ironed out but the VR waterslide concept is in testing and there is nothing else like it in the world," said Mr Burt who completed his Research Masters on why rollercoasters exist and created the documentary, Signature Attraction.
It was after watching this film that Wiegand-Maelzer's Head Engineer Frank Heimes made contact with Mr Burt.
"Malcolm has an unusual combination of disciplines, including theme park research and media production, which make him ideal to contribute to this ride experience." said Mr Heimes.
Mr Burt said of the slide: "It doesn't have a name yet but we are working on ideas that tie in with the story the ride tells. It's expected to open to the public at the Galaxy Water Park in Erding, Bavaria later this year.
"Essentially, it's a waterslide, but when you ride, you're wearing virtual reality goggles which totally intensifies many elements of the experience. Using research into VR immersion, and how to trick the brain into believing it is [in] danger, every twist, turn and launch is magnified, and it definitely makes for more of an adrenalin kick.
"By adding practical effects to the mix, the ride can also make you feel as though you are doing things like riding a lava flow and dodging volcanic eruptions. Volcanos are very hot right now in the world of theme park rides."
Mr Burt's work as consultant on the new waterslide aligns with his research into virtual reality which is gaining him international acclaim.
"Theme parks are always looking to create new experiences and virtual reality is the holy grail at the moment," said Mr Burt who recently gave a TEDx talk in Salinas, California entitled 'What's Wrong With Reality?' where he discussed society's endless need for amusement and distraction­—in theme parks, virtual reality, and even social media.
"As well as my work with Wiegand-Maelzer, I have secured legendary amusement park company Six Flags as an industry partner for my PhD, allowing me to collect data from their attractions including VR rollercoasters and a 415ft VR drop ride."
Other vendors participating in his PhD field studies and data collection later this year include motion platform VR simulators and VR walkthrough amusement attraction vendors in the USA and Europe.
"What's really exciting about the virtual reality waterslide though is that it is not just about data collection on an existing attraction—my research is actually feeding into the development of the ride from the beginning."
"This mix of research and industry consultancy is what I plan to do more of once I finish my doctorate."
QUT is part of a national collaborative group of five major Australian universities that form the ATN (Australian Technology Network of Universities).
—
Media contact:
Amanda Weaver, QUT Media, 07 3138 9449, amanda.weaver@qut.edu.au
After hours: Rose Trapnell, 0407 585 901, media@qut.edu.au