[This new product lets you see, hear, talk to and play with (i.e., experience social presence with) your pet from anywhere in the world. The story is from Metro, where it includes more images and a video. A press release is available via PR Newswire, and more information is available from the product's Indiegogo project website. –Matthew]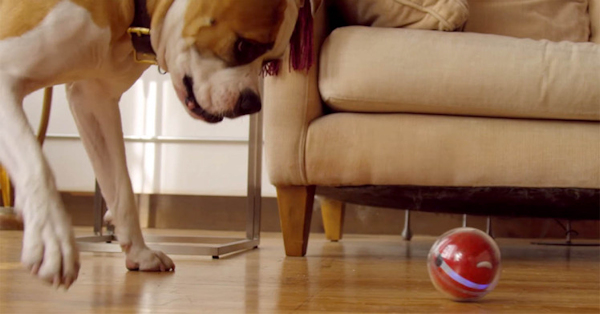 This gadget lets you play fetch with your dog even when you're at work
Alice Sholl
Monday 10 Apr 2017
The only one in the world who loves playing fetch more than you is your pupper.
And sure, the novelty might wear off more quickly for you than them, but nothing beats the look on that face when they're waiting for that ball to get thrown.
Until you have to take a break from your 24/7 fetch session to go to work, that is.
Which is where something called Pebby comes in.
Dubbed the 'most advanced robotic pet sitter', it's essentially a ball and collar loaded with cameras and sensors that allow you to play fetch with your dog remotely.
The remote-controlled ball uses wi-fi and bluetooth so you can watch, interact and capture your pet being a big ol' cutie in real time.
Like all good things, you can also share the images and videos it captures on social media at the touch of a button.
And for those of us firmly in the cat camp, there's an animal and human-friendly laser attached too.
Thankfully, when you need to get back to mindlessly scrolling through emails at work, you can put it on an 'auto play' function and let the ball do its thing without your assistance.
Instead of waiting and wondering when your pet wants to play, the app notifies you with a 'bark' or 'nudge alert' (cute), and the two-way audio lets you speak to your pet as well as listen.
Considering how most pet toys down at your local supermarket look, they look pretty slick too; they're customisable and charge wirelessly.
Having originally been on Kickstarter with an asking amount of $50,000, its creators absolutely smashed that target and gathered more than ten times their original aim.
While most of the pledges have sold out, there are still some up for grabs – meaning you can get your very own Pebby.
So get grabbing.