[In an apparent first, an auction house is using VR to provide an immersive experience with virtual versions of art works before a sale. This interview from Sotheby's, where it includes a 3:16 minute demonstration video and more images, never mentions presence explicitly but the phenomenon is obviously central to the discussion (note that the "watch video here" links may require sign in). –Matthew]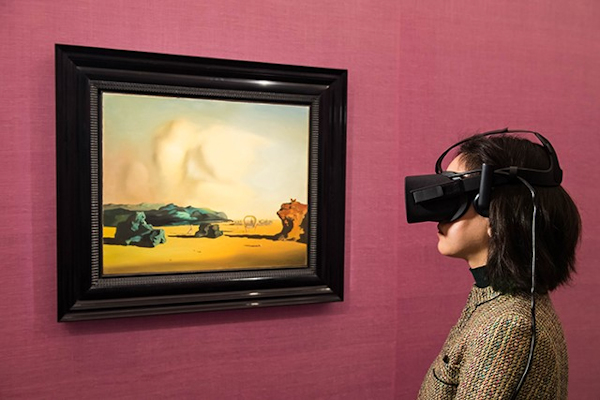 [Image: A visitor to the exhibition tries out the virtual reality headset (photo: Ian Gavan)]
Reimagining Surrealism Through Virtual Reality
By Sotheby's | 22 Feb 2017
Visitors to the Surrealist Art Evening sale exhibition at New Bond Street, which is on view until 1 March, will be able to 'step inside' some of the auction highlights thanks to an innovative Virtual Reality experience. Sotheby's teamed up with FGreat Studio to create the immersive film which features works by the likes of Dalí and Magritte. Visitors can immerse themselves in the full experience using our Occulus Rift VR headsets at the gallery and the film can also be watched in full VR via YouTube 360° using a personal headset or Google Cardboard – Watch video here. We caught up with Conrado Galves, Executive Creative Director of FGreat Studio, to find out how the video was made and to hear how this is a first for an auction house.
Sotheby's: Tell us how this collaboration with Sotheby's came about and how you came up with the idea for the video.
Conrado Galves: FGreat has been developing a strong work bond with museums, heritage and art institutions for years. It was just a matter of time until we met Sotheby's producers and started thinking about working together. The idea for this project came from the Sotheby's team who wanted something special for the exhibition ahead of the Surrealist sale. VR (virtual reality) looked like something that could make a difference and have a long-lasting impact.
S: How do you go from a still 2D image to creating something that works as a 360/VR experience?
CG: We have to recreate the 2D environment in 360 degrees. So we remodel everything that we see in the image to build the scenario. The first step is to separate and create a 3D model of every single element, so that the camera can travel around it. Sometimes we have to create what the image doesn't show and, for this, we use the texture of existing objects. Once we have the 3D scene, we're able to create an incredible immersive experience.
S: What are the biggest challenges in doing this?
CG: You have to respect the style of the artist and the texture of the painting, so that it can be perfectly recognized even in a 360-degree scenario. Differently from 2D, in a 3D scenario the person can look all around, explore all angles, so we have to understand the work of the artist, the scene that was painted and recreate it in a very respectful way to enhance the viewer's experience. For this reason, we try to avoid creating new elements that are not present in the painting.
S: What are the different stages of the process?
CG: The first step is to recreate the image in 3D, every single element of it. From the very beginning, we already have in mind how the camera will travel around the scene and what experience we would like to offer. The aim is to amaze the viewer through an immersive experience. The video has 4K resolution, which means that the quality of the image is the highest possible. This makes the whole process a bit slower, but the image has much more detail, making the VR experience more realistic.
S: How many people does it take to create something like this? How long did it take to complete the video?
CG: We had three full-time professionals working on this project for around five weeks – from briefing to final delivery. We managed to completely recreate four scenes from Surrealistic paintings, which was a very enjoyable challenge.
S: What do you think VR brings to the storytelling process?
CG: I think VR is more than a film. VR is an experience and it needs to be treated as such. You need to put yourself in the viewer's position and imagine how that journey will somehow change him/her and how that image is seen. You must think about how the camera moves, the story you're going to tell, how it can influence and provide the viewer with a memorable experience – this is what VR is about. It is something that stays with you. Today we watch so many films that we don't even remember half of them, but you'll definitely remember a good VR film, especially if it has good story-telling. It's not only about the visuals, each scene must tell a story and that's what we bring to the creative process. You have to take into account that the story is told from the point of view of the viewer and that's where the camera is positioned. It can be steady in the middle of the action or travelling around the elements. We are always trying to enhance the story to make the viewer's experience unforgettable.
S: What can visitors to the exhibition expect from this VR experience?
CG: They can expect to contemplate a painting as they probably never have before. The visitors will be able to step into the painting and feel how the artist envisaged that scene. It's a different relationship with art. VR gives a technological touch to art which can attract new audiences. The integration between art and technology is a very exciting step and it's a passion of the FGreat team. To allow the viewer to step into the painting and contemplate that artist in a different way is a new approach with brilliant outcomes.
S: Have you created other art-related VR videos?
CG: This is a first for us. This is the first time we have worked on VR by recreating art pieces in 360 degrees. It was a challenge that we embraced with passion. We have done VR works before for Sony, Playstation 4, Nissan and other VR films, but this was the first time we could put together our experience in VR with our experience in working with museums, heritage and art institutions. And we hope to do many more!
S: Which other art world companies are doing VR projects?
CG: We are aware of other VR projects from the Royal Academy of Arts and the Van Gogh museum, but as far as we know no auction house has ever done it. This definitely puts Sotheby's at the forefront. It was a great honour and pleasure for us to be invited to this project and we hope it will be a great success in the exhibition.
Visitors to the Surrealist Art Evening sale exhibition at New Bond Street can experience the VR video from Thursday 23 February until Wednesday 1 March. The film can also be watched in full VR via YouTube 360° using a personal headset or Google Cardboard – Watch video here. The Surrealist Art Evening sale is in London on 1 March.