[The U.S. Transportation Security Administration is creating a "vast catalogue" of detailed, 360 degree virtual versions of Washington area sites – "think of it as virtual reality that allows you to travel through any transportation asset as if you were there"; this story is from The Washington Post. –Matthew]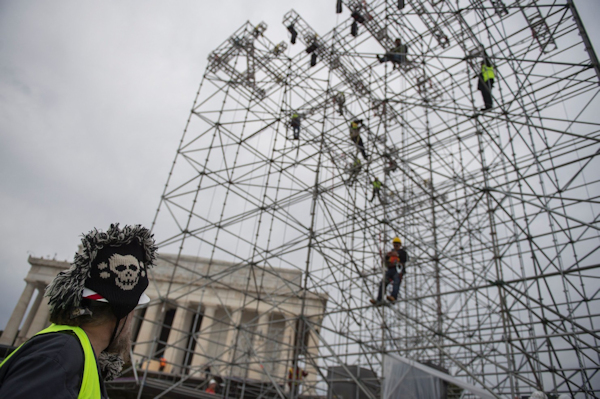 [Image: A construction worker looks at scaffolding being put up Jan. 11, 2017, near the Lincoln Memorial in Washington as part of a stage to be used in the inauguration festivities for President-elect Donald Trump. (Andrew Caballero-Reynolds/AFP/Getty Images)]
TSA team works to ensure inauguration safety with library of 'virtual' sites
By Lori Aratani
January 14
For nearly a week in November, Jim Bamberger and his crew of six spent their days and some of their nights photographing every square inch of Dulles International Airport.
Runways. Restrooms. Stairwells. Click. Click. Click.
Within a month, the thousands of images they captured over 55 hours were stitched together to recreate a 360-degree virtual version of Dulles. It was another entry in a vast catalogue of important Washington-area sites that the Transportation Security Administration has put together to help officials with the massive security effort surrounding Inauguration Day.
The files offer officials a bird's-eye view of landmarks such as Union Station, as well as all 91 Metrorail stations, enabling them to identify potential trouble spots and coordinate how they might respond to an incident. Some agencies also use the collection as a training tool for personnel who may not be familiar with particular buildings or rail stations.
"Think of it as virtual reality that allows you to travel through any transportation asset as if you were there," said Bamberger, a risk specialist with the TSA, an agency of the Department of Homeland Security.
With as many as a million people expected to come to Washington for Donald Trump's inauguration Friday, and some 200,000 people expected to take part in the Women's March the following day, security will be tight.
Officials once used blueprints to identify potential vulnerabilities in a system, but Bamberger said IVIEW, which stands for Intermodal Virtual Imaging Enhancement Workshop, offers capabilities that go well beyond tools of the past.
Up close, IVIEW is like a souped-up version of Google Earth, which Bamberger called "a good reference point." But IVIEW, he said, goes beyond letting people explore a place.
"It's Google with a lot more tactical enhancements," Bamberger said.
Snapping open his laptop, he called up the interior of Cleveland Hopkins International Airport for a demonstration. Clicking on the side of his screen, he simulated an explosion inside the terminal. Toggling around the airport's interior, he was able to speculate on where the smoke might float, examine the building's ventilation systems and identify the best ways for rescuers to enter the building and perform evacuations.
Details matter — right down to where the hinges are on a door, which can affect where debris might fly in the event of an explosion or how a rescuer might move into a situation, Bamberger said. IVIEW offers users the ability to create scenarios and learn from them.
"It gives you more situational awareness," said Metro Transit Police Chief Ronald Pavlik in a YouTube video about the project. "How to prepare, what kind of equipment you might need, the challenges you might face before you even get there. No matter what the event is, there's always going to be a need to use it."
The TSA began capturing sites in 2011, starting with airports, then moving to mass-transit and freight-rail systems.
Bamberger said another benefit of IVIEW is that it offers first responders unfamiliar with a site a quick way to get a read on a situation.
"If I'm in a firetruck and I have a fire on the tarmac, I can basically see on a computer in my vehicle how to come through the tarmac, what gates I can access from the field, the ability to find alternate routes into an incident [at a site] I may not be intimately familiar with," Bamberger said.
While the upcoming inauguration was at the top of the TSA team's minds as they recently moved slowly through Dulles, their work is far-reaching. The agency's library includes airports, train and rail stations across the country. It has been used by law enforcement officials from coast to coast. Officials in Philadelphia used TSA virtual models to help plan for Pope Francis's 2015 visit, as did officials in Cleveland to prepare for the Republican National Convention last year. In all, more than 1,000 mapped sites are stored in the TSA's library.
The work to capture the images is far from glamorous. Armed with cameras and tripods, Bamberger's team, which includes William Welch, Esperanza Espinosa, Chase Carpenter, Emily Burggraf and Mark Rains, proceeded systematically through the airport.
"It pays to have chemistry with these guys because you're spending an inordinate amount of time doing the same thing, moving in circles over the course of eight to 10 days," said Welch, a section chief for the IVIEW program.
But the payoff is real.
"This is the greatest job in all of TSA," Welch said. "This is one of the things that we do that we get a chance to see how it's being applied. When we share it with our stakeholders, our operatives in the field, their faces when they get a new tool that is great to use, innovative, it's amazing."