[The application areas for VR and presence are limitless; this story from The New York Times (where it features more photos) describes how luxury watchmakers are taking high-end clients into their products and to related environments. –Matthew]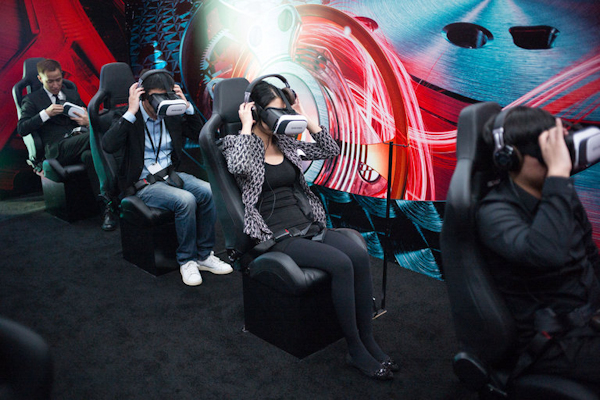 [Image: Guests at a Roger Dubuis virtual reality event in October in Shanghai. Credit: Eric Leleu for The New York Times]
Virtual Reality Takes Fans Inside the World of Watches
By Victoria Gomelsky
November 13, 2016
Swiss watchmakers are nostalgic by nature. How else to explain their constant reference to a golden era of timekeeping, more than 200 years ago, when masters such as Abraham-Louis Breguet devised the world's first complicated timepieces?
At the same time, however, a growing cohort of forward-thinking watchmakers is embracing the possibilities of virtual reality, or simply V.R. The immersive technology, designed to simulate a user's presence in a real or imaginary environment using a special headset, is being hyped as the biggest thing to happen to the luxury industry since e-commerce.
"The key word for V.R. is experience," said Tom Emrich, the Toronto-based co-producer of Augmented World Expo, a conference dedicated to augmented and virtual reality. "Luxury brands are taking it a step further: Instead of watching the experience, the end user is actually in the experience."
While there is some disagreement as to what qualifies as virtual reality — some believe that 360-degree video, or videos that capture images in every direction simultaneously, should be distinguished from V.R. because it doesn't provide the same level of immersion — watchmakers aren't fazed by these distinctions. Here are the stories of four watch brands pioneering the use of these mediums in an effort to educate, entertain and, ultimately, lure customers.
Roger Dubuis
Over the course of four days in late October, the Geneva-based watchmaker Roger Dubuis welcomed about 250 guests to its "Dare to Be Rare" event in Shanghai. Billed as an "immersive presentation on the state and future of the brand," the event highlighted three well-known Roger Dubuis calibers — RD01SQ, the skeleton flying double tourbillon; RD820SQ, the automatic skeleton with microrotor; and RD0101, the Quatuor — through a virtual reality experience viewed on an Oculus Rift headset.
Clients were "able to travel inside like a roller coaster, into the movement," said Dorothée Henrio, the company's global marketing director.
It wasn't the first time that Roger Dubuis had relied on Oculus to tell its story. In 2015 the brand produced, with a French agency, a two-and-a-half-minute virtual reality film to acquaint attendees at the Salon International de la Haute Horlogerie in Geneva with its newest collection of skeleton timepieces.
The experiment went so well that Roger Dubuis took the experience to its boutique in Macau that April.
"The client is buying a timepiece, but we really want to offer him an experience," Ms. Henrio said. "That's what the ultrarich are looking for. They could have bought a piece of art or a Lamborghini but instead they bought a Roger Dubuis."
Piaget
Polo may be the sport of kings, but Piaget has made sure that anyone with an internet connection can feel what it's like to ride amid the swinging mallets and pounding hooves of a polo match.
Filmed in Chantilly, France, the Swiss brand's two-minute-plus "Polo Experience" — available in both V.R. and 360-degree video formats — debuted in mid-July at an event in Brooklyn to coincide with the unveiling of the Piaget Polo S, a steel timepiece aimed at younger buyers.
"It was very important for us to digitize our launch and be in tune with the younger generation," said the brand's global communications director, Valerie Nowak.
Ms. Nowak also referred to a promotion the brand staged in 1985, when a team of polo players on horses paraded along Fifth Avenue to draw attention to Piaget's then 6-year-old Polo model. "We wanted to again show that polo could be played in a different way but in 2016, with this virtual reality experience," she said.
Working with Unit9, a London-based production company, Piaget also created a video depicting its newest ambassador, Ryan Reynolds, in a lushly rendered polo fantasy set on the rooftop of a Manhattan apartment building.
"It's all about being game changers," Ms. Nowak said, "and renewing the way we consider high watchmaking and, in parallel, the way we see polo."
TAG Heuer
TAG Heuer, whose motto is "Swiss Avant-Garde Since 1860," went all in with virtual reality a year ago in a partnership with 909c, a Paris-based digital marketing agency, to create a racecar-centered V.R. experience to highlight the brand's iconic Carrera collection of automotive-inspired chronographs.
The two-minute video, "Crafting a Legend: Ride with TAG Heuer," sought to teach viewers about the complexity of the watch brand's movements — first, by placing them inside a sports car racing around a circuit and then by catapulting them into space, where viewers could explore the inner workings of a Carrera wristwatch. It took about three months to make, said Jean-Robert Bellanger, the company's digital marketing director, as well as some additional time to create adaptations in different languages and for different devices before its premier at the Baselworld luxury watch fair in March.
"Today it's very difficult to let people know what's inside a watch," Mr. Bellanger said. "We thought virtual reality would be a very good experience, but also very entertaining."
He wouldn't specify the video's cost, other than to say the brand's good contact at the production company had kept it in the five-digit range — and adding that such videos can cost much more.
The video is available on a dedicated app that has been installed on about 60 TAG Heuer devices that travel to the brand's global events. It was also posted on The New York Times website earlier this year, thanks to a paid content collaboration. The video may one day be experienced on a TAG Heuer-branded headset, Mr. Bellanger added.
"V.R. is a tomorrow technology," he said. "In five years, there won't be any more mobile phones. It'll just be ear plugs and virtual reality glasses."
Shinola
The actor Luke Wilson is a charming, albeit clumsy, guide to Shinola's factory in the lifestyle brand's latest promotional video. It employs 360-degree video technology to introduce viewers to the heart and soul of the enterprise: the 250 employees who work at the historic Argonaut Building in Detroit.
Unveiled in September, the four-and-a-half-minute clip, "A 360 Tour of the Shinola Detroit Factory with Luke Wilson," was produced by Reel FX, which is, like Shinola, owned by Bedrock Brands, based in Dallas.
Jacques Panis, Shinola's president, said Mr. Wilson and his brother, Andrew Wilson, who directed the film, had been a natural choice to lead the production. "When we were thinking about how to make this more interesting than a stale factory tour, we thought they'd bring a certain levity to it," Mr. Panis said.
"We want people to really understand what's going on behind the scenes so they get a sense of the authenticity, the work going into it, the people behind the products," Mr. Panis added. "It's all such a critical piece of the puzzle."