[As the Boiler Room CEO/founder notes in this story from Magnetic Magazine, presence technologies are poised to bring music fans closer to performers and performances, "to what it's like being at a sweaty rave or an amazing concert half-way across the world." The story includes two videos; for more information see the press release available via BusinessWire. –Matthew]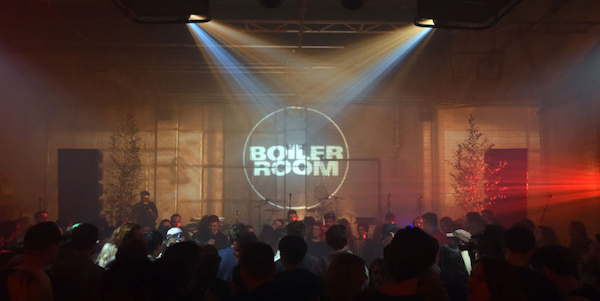 [Image: Source: Pitchfork]
Boiler Room and the emerging worlds of VR in electronic music
Electronic music fans can now get closer than ever to the live streaming action
Akhil Kalepu
October 27, 2016
The international music broadcaster is bringing their live streaming sessions to the virtual realm, creating what is the world's first venue designed specifically for shooting VR. Boiler Room's announcement is an exciting innovation for electronic music fans; the music project has spent the last six years building a fanbase tuning into their shows from around the world. Series like these are a boon for dance music fans distant from major clubbing cities, so emerging virtual reality technologies are the next logical step for bringing listeners closer to the performance.
A number of artists have dabbled in VR as headsets become more affordable to consumers. YouTube has a channel dedicated to 360-degree videos, containing a large variety of experiences that are watchable on a standard web browser. Experiences as plain as walking in New York City are given a new perspective, but the format really shines in videos like National Geographic's tour of New Zealand's Glow Worm Caves and Hyperdream's Minecraft Rollercoaster.
Musicians who have virtual reality content include the likes of Muse, The Weeknd and Björk, showcasing new possibilities for how one is supposed to experience a song. Electronic releases include Hardwell's 360 Experience, Squarepusher's "Stor Eiglass" and a number of festivals. "Stor Eiglass" is particularly impressive as a completely animated music video, providing an experience that's never exactly the same in each viewing. Some of the concert footage available right now can be underwhelming, usually a 360 camera stuck somewhere or a bland walkthrough where the point of focus stays in one spot.
Hopefully Boiler Room's new venue will have a more captivating experience. Their first foray into 360 was a Run The Jewels concert in London, getting viewers right up to the edge of the stage and immersed in the performance. The new venue, built in partnership with Inception VR, will launch in London early 2017, promising to go beyond what they call "passive 360 viewing" by creating a space designed specifically for VR recording, potentially allowing people to truly interact with the environment.
"We've always been driven by using technology to showcase the music we care about and give fans all around the globe an authentic experience of the events and scenes they can't be part of in person. Building the first ever music venue born for VR is a big evolution of that, creating pioneering online experiences that bring people even closer to what it's like being at a sweaty rave or an amazing concert half-way across the world."  – Blaise Bellville, Founder and CEO of Boiler Room
The videos are slated to stream on Inception's VR app, YouTube and Facebook, in addition to other social media platforms the company is currently in discussions with. Details about the technology involved and how the content is experienced are yet to come.