[Presence scholars have emphasized virtual reality over augmented reality, but projects like the one described in this story from The Creators Project point to the potential of AR to evoke a meaningful altered perception of a place. See the original story for many more images. –Matthew]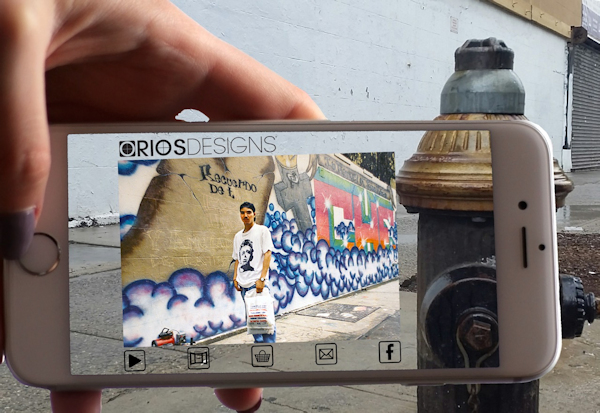 How Augmented Reality Is Fighting Cultural Erasure in East Harlem
Beverly Bryan — Oct 23 2016
Culture and history are vital, though often invisible, parts of any community, but the Mi Querido Barrio (My Beloved Community) augmented reality tour, presented by New York City's Caribbean Cultural Center African Diaspora Institute (CCCADI), showcases the many different ways AR can make visible the unseen. The digital art project is part of the Home, Memory and Future exhibition celebrating the Caribbean Cultural Center's grand reopening in its new East Harlem location.
Using the AR app Blippar, anyone with a smartphone and a guide to the tour's location markers can point their phone at landmarks across the rapidly-gentrifying neighborhood and unlock augments—artworks, photographs, and interactive features—that bring the past to life. A marker in front of a 7 Eleven, for example, reveals that it was the original location of Justo Botánica, a famous and long-standing spiritual emporium that was given just 30 days to vacate the building along with five other small businesses.
Oliver Rios, one of several artists who participated in Mi Querido Barrio, grew up in the historically Latinx area, often affectionately called El Barrio, and still lives there. He remembers when it was a place rich in culture though economically poor, circumstances that are reversing as high rises replace brownstones. The 44-year-old graphic artist spent his youth doing graffiti and painting anti-drug and anti-violence murals and memorials. In some cases, the buildings he painted simply aren't there anymore.
When Rios heard about Mi Querido Barrio, he volunteered to contribute his photographs from that time, which can now be viewed on residents' smartphones. He believes AR technology can strengthen his community: "It is a great way to not only educate, but preserve and connect. I think that the more people start using it, especially the younger generation, the more they are going to open their eyes and want to reinvent," he says.
Nine Nights: African Burial Ground by Brooklyn-based Trinidadian artist Kearra Amaya Gopee demonstrates how AR can be used to make site-specific, if incorporeal, interactive art. The piece leads users on an introspective walk around the East 126th St. Bus Depot, which was actually a segregated burial ground for people of African descent during the 17th and 18th centuries.
Markers launch pop-ups that ask questions about users' own experiences with loss and allows them to submit responses. The brochure reads, "In times when the deaths of black people have become a spectacle in the digital era, [Nine Nights] utilizes augmented reality to provide the viewers with a more private and intimate space to mourn."
Throughout the neighborhood, artists have found innovative ways to reclaim public space, while putting history and art in the hands of residents. Tamiko Thiel, an artistic and technical adviser for Mi Querido Barrio, is known for creating guerrilla-style AR interventions. She trained artists on how to use the technology and helped workshop content.
Thiel believes the medium's subversive and democratizing potential, as it applies to public art and historical narratives, is the crux of its power. "You can really write alternative realities and alternative histories anywhere you want, anywhere that there is a community that doesn't have enough power to commission big bronze statues of its heroes," she says.
Home, Memory and Future is at CCCADI through March 2017. Find out more about Mi Querido Barrio at CCCADI's website.
Related:
This Digital Graffiti Is a Trip Through a Twisted City
Augmented Reality Brings GIF Art to a Subway Platform Near You
Experience Miami Through an Augmented Reality App Experience