[Aside from the further expansion of VR presence experiences, it's interesting that the NBA learned that it had to incorporate elements of traditional broadcasting into its 360-degree live broadcasts to maintain viewer attention and interest. This story is from Fortune. –Matthew]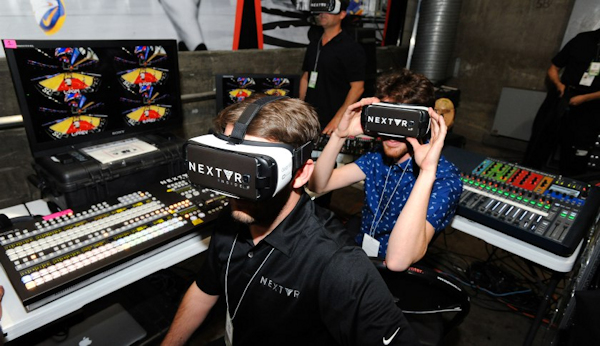 Here's How the NBA Is Stepping Up Its Virtual Reality Game
by Jonathan Vanian
October 20, 2016
The NBA is getting more serious with virtual reality.
NBA Digital, a joint venture between Turner Sports and the NBA that manages the league's online properties, said that it will broadcast one basketball game a week that viewers can watch in 360 degrees. The first custom broadcast will debut October 27 when the Sacramento Kings play against the San Antonio Spurs. During the broadcast, the NBA will stream the game in 180-degrees, in which viewers can turn their heads to follow the action, while a graphical display of the game's statistics will be streamed in another 180-degrees to accompany the broadcast.
Viewers can watch the first game for free as long as they sign up for a free trial of the NBA League Pass, the NBA's video subscription service, and have a Samsung Gear VR headset as well as the appropriate Samsung smartphone.
Eventually, the NBA will make 360-broadcasts available to the Google Daydream View virtual headset, says Jeff Marsilio, NBA vice president of global media distribution. Marsilio adds that it's "likely" that other headsets like Facebook's Oculus Rift , the HTC Vive, and the Sony PlayStation VR will be supported.
The NBA is partnering with virtual reality startup NextVR, which will be doing a lot of the production legwork, such as setting up a broadcasting truck outside the arena and filming the game. NextVR will work with NBA producers on how the game will be presented, and the NBA will have dedicated announcers and sideline reporters who will narrate the game.
The VR production is a significant step up from last year, when the NBA filmed a 180-degree version of last season's opening game between the Golden State Warriors and the New Orleans Pelicans. Marsilio did not say how many viewers watched last season's opening game using a VR headset, but remarks, "It was modest, but we were encouraged by it."
Since then, the NBA has privately experimented with "maybe around a dozen" more 360 broadcasts to learn how to make the games more compelling to viewers, according to Marsilio. During the first live broadcast, for example, the NBA discovered through tracking viewers that many people were not watching the whole game and seemed to lose interest as the game progressed.
After more internal testing, the NBA learned that viewers would be more engaged in the VR broadcast and watch longer if more traditional broadcasting elements—like digital scoreboards, multiple camera angles, and replays—were added.
"We got some seasoned production guys that've been telling us this from the beginning," explains Marsilio. The NBA, essentially, had to "marry" what it learned from "decades of traditional broadcasting" with its more cutting-edge 360-degree live broadcast.
The ultimate goal for the NBA is to move away from 360-degree broadcasts being "one-off events" and gradually introduce this type of broadcasts to the regular NBA schedule.
"We want to be realistic too," said Marsilio. "We are going to be really proud with what we put out Thursday, but it is by no means the last thing."