[The installation described in this story from The Creators Project should evoke a welcome sense of spatial presence among travelers. The original includes different images and a 1:08 minute video, and for more photos and information see the project's page on the Studio Roosegaarde website. –Matthew]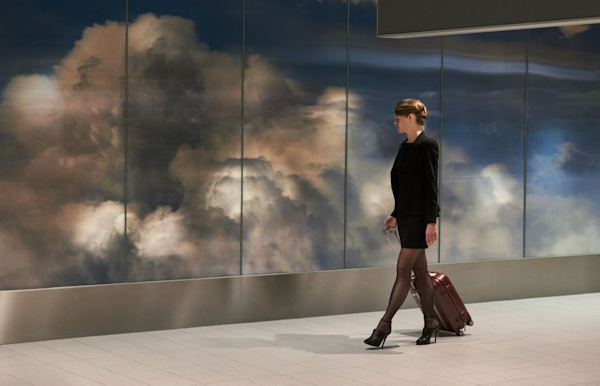 A Dutch Artist Takes Augmented Reality into the Clouds
DJ Pangburn — Aug 28 2016
If travelers happen to visit Departure Hall 3 of Amsterdam's Schiphol Airport, they may notice an immersive installation of clouds. Titled Beyond, Dutch artist Daan Roosegaard's latest work is a "cloud wall" that creates the impression of a 3D cloud-laden sky vanishing into a great aerial distance. A beautiful feat of optical illusion, it is 100 meters long and 10 centimeters thick, and comprised of 160 billion pixels.
While this "augmented reality space" looks incredibly futuristic, Roosegaarde's visuals were actually inspired by 17th century Dutch master Salomon Ruysdael, a landscape painter known for his photo-realistic work in representing The Netherland's golden clouds of the Dutch Golden Age of painting.
To create an equally realistic digital simulation of clouds, Roosegaarde worked with a team of experts on a unique printing technology that uses lenses to produce perspective and movement effects. So think of Beyond as a massive lenticular print designed to give and up close and personal immersive 3D experience.
"Its 3D effect is enhanced by yellowish-white LED lamps embedded in the wall, creating a space that is both physical and poetical," Roosegaarde says. "The more than 100 meters long artwork is the largest of its kind worldwide."
Roosegaarde explains that Beyond is not simply a straightforward aerial image. Instead, it consists of various cloud dimensions, from the aforementioned golden clouds in the middle of the wall, to the more "international clouds" that people see when gazing out of an airplane window.
"In the midst of Schiphol Airport's bustle, Beyond creates a place of wonder and identity—our Dutch light and sky," he adds. "Looking at the clouds, people start dreaming again and find their own stories in them."
The permanent Beyond installation is located Departure Hall 3 of Amsterdam Airport Schiphol, and is accessible to all travelers from August 27th on free of charge.