[This story from SFGate describes what may become one of the most valued applications of presence technology, the recording of precious experiences and people; it also highlights the way applications are often discovered inadvertently. –Matthew]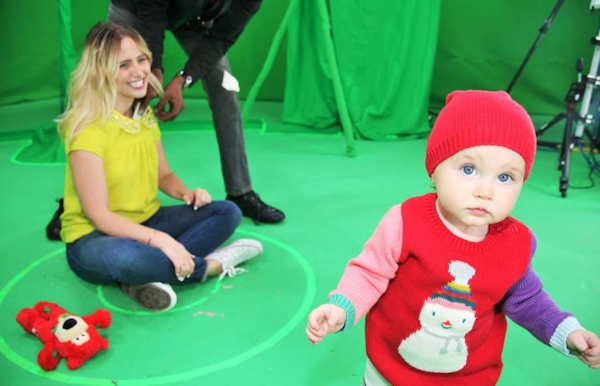 [Image: Ashley Scott and daughter Reese at the 8i studio.]
Virtual reality archives memories
By Benny Evangelista
Friday, May 27, 2016
Virtual reality could become the archive of personal memories.
From a new mom tearfully re-experiencing her infant daughter six months later, to Paul McCartney remembering what led him to write a hit song, virtual reality startups have uncovered how the new technology can store human experiences like no other medium before.
"Imagine meeting your grandparents as young adults or as kids," said Linc Gasking, CEO of virtual reality startup 8i. "Wouldn't it be cool to have some of these recorded over the course of someone's life? It's going to be mind-blowing in the future."
The new medium can re-create a time and place in such stunning detail that people feel they are actually present in the scene. Much of the focus on VR development so far has centered on creating entertainment, especially video games.
Virtual archives
However, Gasking's New Zealand startup last year stumbled upon a different use, which it calls archival VR. Company representatives were in San Francisco recently demonstrating how its "volumetric VR" technology can create experiences such as frighteningly realistic zombies for games.
Most virtual reality video is now captured with a centrally placed, 360-degree field-of-view camera. However, 8i developed a system using positional tracking sensors and multiple video cameras that surround a person or object. The result is a true-to-life, 3-D video rendering that the viewer can later virtually walk through, using a headset like the HTC Vive.
As part of a project to record people with its technology, 8i asked Ashley Scott to come into its Los Angeles studio to record a motherly message that her then-4-month-old daughter Reese could view when she was grown. Scott, a Los Angeles-area actress, responded to an open call from 8i for people willing to be recorded.
She returned to the studio six months later for another recording session, but first viewed the original video. What happened next surprised Gasking: Scott began to cry when she relived what it was like to cradle her daughter in her arms, one of those sentimental moments that every parent knows is all too fleeting.
"I feel like I was like there again, that same day," Scott said in an original documentary, "The Observed Life," produced by Audience Network, which is part of AT&T-owned DirecTV.
"I felt like I wanted to hold that little 4-month-old version of her again," Scott said. "I was able to move around and kind of glance at her from different angles. … It was different than looking at just a flat photo. I can see how her thighs have changed and her hands have gotten bigger and her hair color has changed."
Gasking said he founded the company to use the technology for entertainment, retail and training applications.
However, he said, "The biggest request that we have, one we never expected, is that everyone wants to record their kids."
The company plans to accommodate a few of those requests during the summer. But 8i has also started talking with potential partners that could bring the technology to a bigger audience. One idea is to open virtual reality recording studios in shopping malls, a 21st century update to photo portrait studios.
"This is the type of experience we want to enable everyone to have," Gasking said.
The company is also talking with museums about re-creating historical events or figures. Gasking said he would like to record President Obama before he leaves office.
Lost opportunities
However, there are already so many lost opportunities.
"We just lost Prince and David Bowie — what would it have been like if we had those performances?" he said.
In that vein, Palo Alto's Jaunt this week released the first in a series of six short, virtual reality documentaries starring Paul McCartney, recorded in the artist's home recording studio in the United Kingdom. The shorts promote the June 10 release of his latest album "Pure McCartney."
Jaunt, whose investors include Disney, previously posted a virtual reality video from McCartney's August 2014 performance at Candlestick Park, the stadium's farewell event. That video became one of the prime examples of the potential for VR long before consumer versions of headsets like the Oculus Rift went on sale.
"Ever since the Candlestick concert, we were looking for another opportunity to work with him," said Jaunt Studios President Cliff Plumer.
In the latest video, the virtual reality effect gives a viewer the feeling of standing in front of McCartney, in the middle of his eclectically decorated studio, while he shares memories about the inspiration for songs like "Dance Tonight" and "Coming Up." Multimedia graphics and videos pop up all around while McCartney speaks.
"We were trying to capture the experience of what it's like to be there with him," Plumer said.
Using virtual reality to capture experiences for generations to come is the next step of a memory-saving evolution that started with cave paintings, Gasking said.
"This is the most realistic and most compelling way of leaving a memory of ourselves," he said.