[IMAX is entering the out-of-home consumer VR market; this story is from The Wall Street Journal; the IMAX press release is available from PRNewswire, and Outer Places has details on the IMAX-Google VR camera. –Matthew]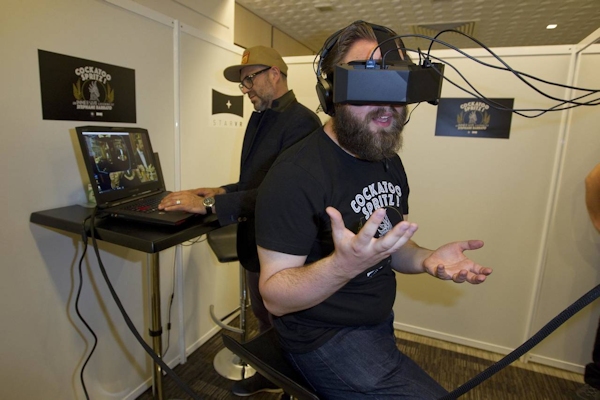 [Image: Starbreeze showed its virtual-reality headset at the Cannes Film Festival earlier this month. IMAX, in partnership with the Swedish technology developer, plans to launch VR experiences in locations such as multiplexes and malls. Photo: Alexander Sandvoss/DPA/Zuma Press]
IMAX Plans Foray Into Virtual Reality
IMAX and Google are to develop a camera that will capture 360-degree images to be experienced on VR headsets
By Ben Fritz
May 19, 2016
IMAX Corp., best known for extra-large movie screens, is now betting on a far more intimate viewing format: virtual reality.
The company, later this year, will begin launching VR experiences in locations such as multiplexes and malls, using its connections with movie theaters and Hollywood talent along with new partnerships in the tech community to build the new business.
The plan comes as IMAX and Alphabet Inc.'s Google on Thursday announced plans to collaborate on a camera that will capture 360-degree images made to be experienced on virtual-reality headsets. The camera is expected to be ready for commercial use in roughly 18 months.
IMAX is in partnership with the Swedish technology developer Starbreeze AB on its location-based VR initiative. It will use Starbreeze's VR headsets and initially, games, though it hopes to encourage filmmakers to use the camera it is making with Google to create entertainment content as well.
IMAX is planning to launch six VR locations world-wide this year, starting with one in Los Angeles. After that, the company hopes to expand further, including in China, where it has a large presence.
IMAX Chief Executive Richard Gelfond said the move into VR is part of a larger strategy to expand the company's brand beyond movies. "Virtual reality in the home is going to be a crowded space, but we thought the idea of doing VR in the multiplex of the future was a place where we can provide a superior experience and a social experience, which are the same reasons people go to movies," said Mr. Gelfond.
Mr. Gelfond said he was particularly interested in developing VR content tied to film franchises, making it natural for movie-theater patrons to try. He said he envisioned VR experiences of about 10 minutes costing between $7 and $10.
David Passman, CEO of Carmike Cinemas, the No. 4 exhibitor in the U.S. and Canada by screen count, said his company could install VR experiences from IMAX in rooms currently used for arcade games or in auditoriums in which the floor has been flattened. But questions remain to be resolved, he noted, such as staff training and the cost of installation.
"It is still on the drawing boards, but I would love to be one of the first theaters to pilot this," he said.
Since VR headsets from Starbreeze and many of its competitors such as Facebook Inc.'s Oculus Rift require costly, high-end PCs and more room than some people have in their homes, IMAX is betting that out-of-home, short-term rental experiences will be the first way many encounter the technology.
"We'll be able to leap five years ahead of what most people can do in their homes," said Starbreeze CEO Bo Andersson Klint.
IMAX expects to license the VR technology to operators such as cinemas and receive a percentage of revenue, much as it does with its movie screens, said Mr. Gelfond.
He declined to specify how much IMAX is investing in the new business, but said it wouldn't impact the company's financial guidance.