[You can have some Christmas presence (sorry!) at TGI Fridays in the UK this year; will this become a trend? The story is from The Daily Mirror, where it features many more images and a 1:14 minute video. The unscientific poll at the end of the story currently has 75% indicating support for the idea. The VR promotion follows last year's "Mistletoe drones" – see CNET for details. –Matthew]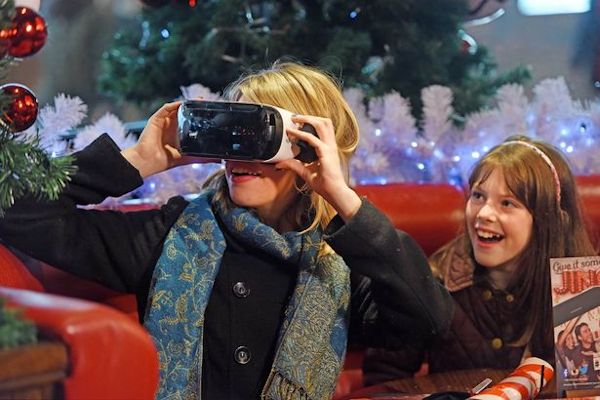 Fancy dinner in Lapland? Customers at TGI Fridays offered 'virtual reality' trips to festive wonderland
You won't even have to get on a plane to experience the true magic of Christmas this year – you can see it all from your dining table
25 Nov 2015
By Kara O'Neill
If you've ever fancied dinner in Lapland – without even having to leave your dining table – then your luck might be in.
Because a restaurant has become the first in the UK to offer its customers a festive virtual reality using state-of-the-art wearable technology.
As new research shows Lapland is our favourite Christmas destination, diners at TGI Fridays will be taken on a virtual dog-sled ride through the festive Finnish region.
Customers wearing the hi-tech headgear will be taken on a fully-immersive 360 degree sled-ride and will experience what it is actually like to travel through the snowy province for 90 seconds.
From the comfort of their table at the restaurant, diners will experience the spectacular views in Lapland at high speeds while ten huskies virtually pull them along.
All the footage was captured by a trekker using a dog sled to travel through the town of Kiruna, 85 miles north of the Arctic Circle.
The content was filmed in temperatures as low as -17 degrees Celsius – but fortunately for customers at TGI Fridays, they won't experience the cold.
The equipment to show the virtual reality used is the new hi-tech Galaxy Gear VR headset, which is powered by Oculus technology.
It comes as a new study by the restaurant chain found nearly half of us, 43 per cent, see Lapland as the perfect destination for a festive holiday.
The new virtual reality scheme has been introduced at TGI Fridays in Stratford, London, and it is set to be available to customers at other restaurants across the UK throughout December.
Rachel McDowell, from TGI Fridays UK, said: "We always pull out all the stops for Christmas at TGI Fridays because it's the most fun time of year.
"As nearly half of us think Lapland is the ideal holiday destination, we couldn't think of a better way of doing that than making people's Christmas dreams come true virtually.
"The experience, powered by cutting-edge Oculus technology, is truly incredible.
"It gives guests 100 per cent freedom of vision to explore the stunning, magical snow-scape in Lapland.
"It will undoubtedly be the talking point of any Christmas party at – we hope guests have as much fun experiencing it as we did creating it!"