[A cultural activity that relies on imagination moves into virtual reality (someone ought to conduct a comparative study, now or as the VR versions evolve); the story is from Forbes. –Matthew]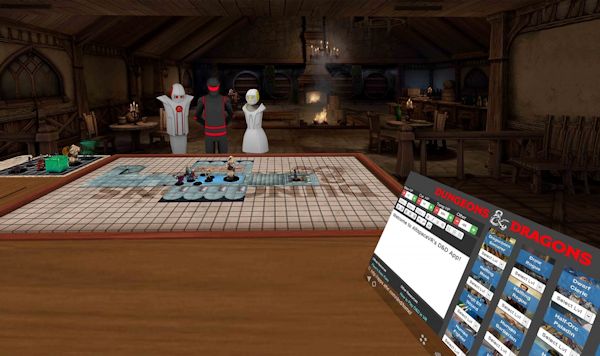 Dungeons & Dragons Debuts In Virtual Reality Via AltspaceVR
David M. Ewalt, Contributor
Author, Of Dice and Men: The Story of Dungeons & Dragons and The People Who Play It
(Opinions expressed by Forbes Contributors are their own.)
Nov 16, 2015
The classic pen-and-paper fantasy role-playing game Dungeons & Dragons is making a big leap off the tabletop into the high tech-world of virtual reality.
On Monday, VR software company AltspaceVR announced a partnership with D&D publisher Wizards of the Coast (a subsidiary of Hasbro) that brings officially licensed D&D assets to a tavern-themed online virtual reality setting. Users create a private game space where they can gather with around a 3D table, and control individual avatars representing each player. They can build a map using dungeon, wilderness and city themed terrain tiles; record their characters on official D&D character sheets; and move around figurines representing various D&D player classes as well as monsters including gelatinous cubes and dragons.
This isn't the first time the fantasy role-playing game has been played in VR: In July, AltspaceVR unveiled a virtual space it called V20, which provides RPG fans with a virtual battle grid, polyhedral dice, and a soundboard for dynamic music. But while it was compatible with Dungeons & Dragons, V20 was not specifically associated with the game, and didn't include any Wizards of the Coast owned-assets, so the announcement is the first official VR experience in D&D's 4o-year history.
"D&D is extremely social, which is why we are so excited to offer it in AltspaceVR," said Eric Romo, founder and CEO of AltspaceVR, said in a statement. "Players love it… we've seen them hang out together for sessions lasting six hours—previously only developers spent that long in VR."
Altspace's software is accessible in full, immersive 3D VR via a variety of VR headsets, or in 2D on computers running Windows or OSX. Interested gamers can start playing D&D in AltspaceVR now via this link, or check out the [4:38 minute] video to see how the application works.
Redwood City, California-based AltspaceVR was founded in 2013 and has raised $15.7M in venture capital funding. The startup bills itself as "the social VR company," and makes virtual reality communication software that allows people to share content and experiences in a virtual online environment. Users appear as avatars that resemble robots within a variety of different settings, ranging from high-tech cinemas to Japanese tea gardens. Once there they can converse over voice chat, watch streaming video from services including Netflix and Twitch, or play games against each other.
The Altspace VR software launched in open beta in May 2015, and is currently available for Oculus users, Mac and PC desktops, and 3D TVs. In July, Romo said the company will continue to develop and expand the software, but has no immediate plans to leave beta and launch a final commercial version.
The market for virtual reality products is currently booming in advance of several highly anticipated VR headsets due to hit stores in the coming year, including the Facebook-owned Oculus Rift, Sony's Project Morpheus, and the Valve and HTC co-developed Vive. Other tech giants pursuing new virtual reality and augmented reality products include Microsoft, which is developing the HoloLens AR headset; and Google, which has dabbled in the technology with a DIY rig made of (and called) Cardboard.