[As Matt Jones and I have argued, the topic of presence and sexuality raises complex but important issues; this story is from TechRepublic. –Matthew]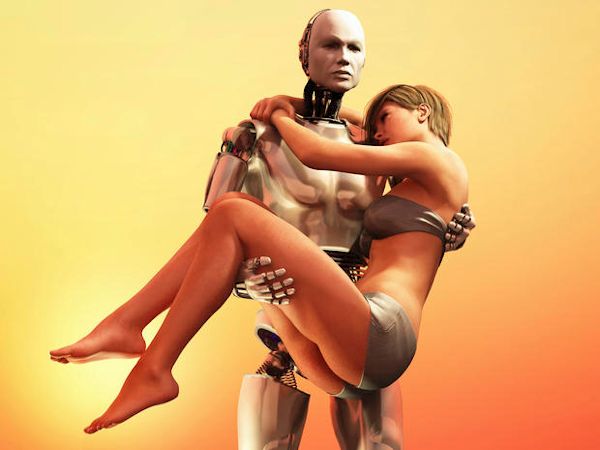 Academic conference on 'Love and Sex with Robots' abruptly cancelled after being declared illegal
Malaysian authorities deemed the second annual Love and Sex with Robots Conference, slated for November, illegal. TechRepublic talked to co-founder, Adrian David Cheok, for the story.
By Hope Reese | October 21, 2015
TechRepublic has written a lot about the introduction of robots and artificial intelligence in the workplace. But while many of these issues revolve around whether or not robots will replace humans in offices, on the battlefield, in air and deep undersea, the new promise of artificial life in "caring" forms requires new conversations about the ethical dimensions of living with machines that can "feel."
Humanoid robots are now being introduced into nursing homes, and as therapists, for example. The new Hello Barbie toy will be a "friend" to children, holding conversations with young boys and girls. Robots are even getting married in Japan.
The ethical conversations about how to integrate robots into the human world are just beginning. A perfect example of the backlash against human-like machines happened last Friday, when Adrian David Cheok and David Levy were forced to cancel their second annual Congress on Love and Sex with Robots, set to be held in Malaysia next month. The academic conference was meant as a place for exploring broad questions about the practicalities and ethics surrounding the field of humanoid robots —like robot emotions, teledildonics, and more.
Inspector-General of Police, Khalid Abu Bakar, unfortunately, saw the topic from a more literal perspective, deeming love and sex between human and robots "illegal" in a press conference, according to Free Malaysia Today. The Congress on Love and Sex with Robots website was updated to reflect the news: "Due to circumstances beyond our control, the Second International Congress on Love and Sex with Robots will be postponed until 2016. The conference will definitely not be held anywhere in Malaysia. We deeply apologize to any person or any authority which have felt offense in any way."
The idea for the conference was sparked when Cheok and Levy, two academics interested in robotics, met several years ago and realized they had goals in common. Levy, author of Love and Sex with Robots: The Evolution of Human-Robot Relationships, focuses on the brain, the software side, and the algorithms of humanoid robots. Cheok researches the hardware side from an engineering view, looking at multi-modal interfaces including communication by touch, taste, and smell. These areas of study, Cheok said, will be important in the future of robots. "A lot of the technology that's incubating in my lab will be integrated with robots in the future, especially with humanoid robots. I'm developing hardware that would be used in robots that will become our friends and lovers and even sexual partners."
Cheok and Levy began to collaborate. A few years ago, they held a small workshop on love and sex with robots in London as part of the Society for the Study of Artificial Intelligence and the Simulation of Behaviour's annual meeting. It's the oldest AI society in the world. "We were surprised how many people were interested," Cheok said. "They came from Japan, Europe, USA—they were interested in technology, ethics, and more."
So Cheok and Levy decided to hold the first conference in Madeira, Portugal. They were both interested in the Advances in Computer Entertainment Technology conference (ACE 2014), and so they co-located the first "Love and Sex with Robots" conference with that event. It drew more than 40 participants, who presented academic papers on a range of subjects related to these issues with humanoid robots.
This year's ACE 2015 event is set to take place in Iskandar, Malaysia in November, so Cheok and Levy decided to hold LSR there as well.
"It all started off with good intent," Cheok said. "We thought that this congress, in fact, would be beneficial in showing that Malaysia was advanced in terms of new scientific activity and robotics." But one of the sponsors of ACE was the Malaysian government board of conferences. When they "quite innocently put the Malaysian government logo on the LSR poster," The Malay Mail noticed and showed the minister of tourism.
"It spiraled out of control," said Cheok. "A lot of people read the title without looking at the actual content of the website and realizing it was purely academic. I think they thought people would be having sex with robots there, or some strange thing like that."
But, Cheok stressed, the congress is not saying LSR is a good thing or a bad thing. "The whole point is to present the latest research and discuss the ethics and philosophy of this in the future." Unfortunately, it offended a lot of people. And on Saturday, October 10, the police came by to say it was illegal. "We tried to clarify the matter with the local police and basically realized that we couldn't hold it there," Cheok said. "None of us are lawyers. We're a group of scientists and academics."
Cheok has just begun sending emails to registered participants to alert them of the news.
"When in Rome, you do as Romans do," said Cheok. "So now in Malaysia, a very traditional Muslim country, we have offended people, and we need to abide by their views." The conference, he said, will most likely be held in London next year.
The case of the cancelled conference is just the beginning of the kind of obstacles intellectuals and researchers may encounter in the pursuit of academic study of humanoid robotics—an increasingly controversial field as the line between fantasy and reality gets blurred. While love and sex with artificial life may be an extreme example that spurs powerful reactions, it is a harbinger of the larger ethical conversations that will need to happen.