[This weather simulator lets travelers 'visit' any city serviced by the airport in real time; the story is from PSFK and includes more pictures and a video; for more information see the August 15 coverage by NBC's Today, which includes a 4:15 minute video. –Matthew]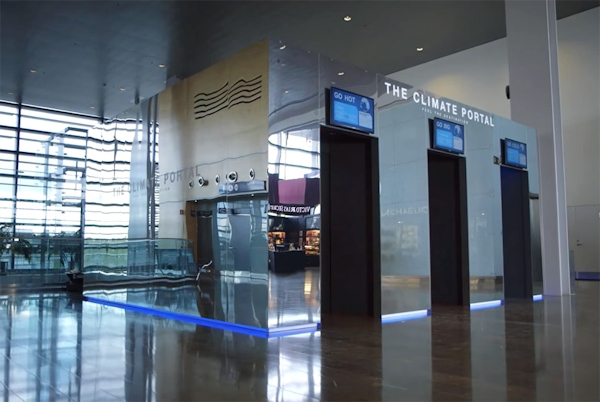 Airport Simulates Your Destination's Climate at Push of Button
Stockholm Arlanda Airport lets you feel foreign weather even before your flight
Leo Lutero
12 june 2015
The Climate Portal is exactly how it sounds; it's a series of small rooms that bring the climate of faraway places to where you are. Yvonne Boe, Communication Manager of the Stockholm Arland Airport where the device is housed shares, "We wanted to explore the possibilities of not just moving you to your destination but our destinations to you."
Available for public use until August 31, anyone can step into one of the three chambers and experience what it feels like on a specific place anywhere in the world.
The system is hooked up to Internet services that relay weather information. Its systems transform this information to adjust the room conditions. Aside from shifting the temperatures, sound, light and wind machines complete the simulation. The boxes are labeled Hot, Cold and Big. The first two refer to the temperature while the "Big" room mimics conditions of megacities.
The contraption was created with Studio Noc. Dev Malhotra, the executive technical director of the agency adds, "The Climate Portal translates the data from the weather stations across the globe directly into our physical world. In this way, you can experience the other side of the world by just stepping through a door."
Watch the full [2:08] video here.
The concept isn't just for fun. It will help to inform passengers of what they might need in their hand-carried language. For example, a person traveling to a tropical city might want to bring light clothing on the plane. Someone traveling to snowy northern countries might find a thick sweater on the carry-on essential. It might even convince someone to grab a pair of sunnies at the duty-free section of the airport.
The Stockholm Arlanda Airport is the biggest airport in Sweden. Seventeen million of its over 22 million passengers last year travelled to international destinations and it has seen a 30 percent rise in passenger flow in just five years, making it likely the future main airport of the Nordic region.
For those interested in trying out The Climate Portal, it is situated in Terminal 5 of the Arlanda Airport.