[David Attenborough guides you on a virtual trip through space and time, to the oceans of early Earth, at London's National History Museum this summer (through September 24); the detailed review below is from The Register; more information and a 1:13 minute trailer is available from Wired. –Matthew]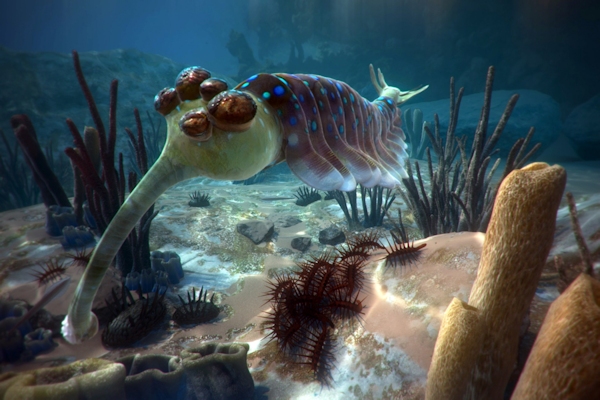 Virtual reality below the prehistoric waves: David Attenborough's First Life
A trip back in time at the Natural History Museum
20 Jun 2015, Nigel Whitfield
One way or another, Sir David Attenborough has been involved in the adoption of many key consumer technologies of recent decades, from the introduction of colour programming as BBC 2 controller, through landmark TV series such as Life on Earth, to the stunning HD of Planet Earth – and 3D nature programming for Sky.
It's perhaps no surprise, then, that the latest addition to the Natural History Museum, a virtual reality experience, also bears the Attenborough imprint, using the latest technology to engage people in a look at the very beginnings of life on earth.
A partnership between the museum, Samsung, Atlantic Productions and VR specialist Alchemy, First Life is a fifteen minute presentation, narrated by Sir David. It explores the growth of life in our oceans from the earliest multi-cellular organisms through to complex creatures like arthropods. The VR realisations are based on fossils from the museum's own collection, to ensure that as far as possible it's grounded in real science.
Get your Gear on
The hardware that powers the exhibition is the latest iteration of Samsung's Gear VR, the Innovator Edition – so, essentially, each person in the auditorium has a Galaxy S6 strapped to their face. There's a separate pair of headphones to provide the audio, linked to the headset. Although I've used some VR stuff before, it was my first time with Gear, and even with glasses on, it was pretty decent.
I couldn't get the focus absolutely spot on, but that's more about my eyes and the early hour of the press demo than the kit itself. A brief section at the start of the experience allows you time to tweak the focus before things get going. Most spectacle wearers will probably be best off removing them unless, like me, you have a very different prescription in each eye.
Using the Gear VR is obviously good PR for Samsung, and I suppose it will also allow easy replacement, dropping straight into a new phone should one be damaged by visitors. The resolution is 1280×1440 per eye, which is in theory better than full HD. In practice, while sharp, it's not photorealistic
The phone sensors allow the VR software to know when you're moving your head in a different direction, so you can look around and see considerably more than the normal 96 degrees of vision that the system provides. In that sense it is entirely immersive – far more so than, for example, watching a 3D presentation with a set of glasses, where the view is fixed, and you're often all too aware of the edge of the frames. This experience is also, mercifully, missing gimmicks such as things deliberately thrown at the camera to remind you it's 3D.
Deep dive
The first part of the presentation proper sets out to give an idea of the scale of evolutionary time, and I think it does a very good job. The feeling is a little like being a suspended in a well or pipe, with historical time marked along the walls. Peer down and you can see what feels like a bottomless pit as time recedes away into the distance – vertigo sufferers may want to be aware of this beforehand. You can also look left and right to see sections representing different types of life, with marks further on timeline to show when they appeared.
Along with the commentary, highlighted sections help give a good sense of just how far back things are going – and also of how little time, in evolutionary terms, we've been around for. Everything's presented in years, which is a relief for those of us who find it hard remember whether Cretaceous came before or after Jurassic.
The introduction is brief, and the bulk of the show places you under the seas of our developing planet, moving past rocks, through water and passing by some of the earliest creatures known to have lived on the planet. If you've not tried this sort of VR before, be prepared to be blown away.
By and large, you'll see all the things mentioned in the narration if you sit still and look straight ahead, but it's only when you turn your head and look around that it really becomes clear just how much effort has gone into creating an immersive experience.
Attenborough's narration draws your attention to various creatures in turn, from an early leaf-like organism tethered to the sea bed, through slugs and trilobites, snails and some that you've likely never seen before and – if it weren't for the reassurances of scientific accuracy given by the NHM – you could easily imagine to have been made up. The information, as you'd expect, is clear without patronising the participants – something many other documentary makers could learn from.
Of course, there are a couple of moments where a creature unexpectedly swims over your shoulder or lunges forwards towards you, but it doesn't feel like it's done deliberately to shock, and merely reinforces the view that you really are right there in the middle of things.
That can be a bit disconcerting at times – looking down to see the sea floor, you naturally expect to see your knees as you bend your neck, and then notice that they've become invisible and you're looking right through them.
At fifteen minutes, the VR show is about the right length. Personally, I could have watched for longer, but I can see that some might get fidgety, and there's plenty in those fifteen minutes to enthuse young and old. At £6.50, it's reasonably priced – the bulk of the museum is free to enter, of course, but take in a few of the temporary exhibits like this, and you could end up spending a fair bit.
If you are planning a trip to the Natural History Museum this summer, it's definitely well worth adding to your list. Children under 13 aren't permitted however, and there are some health advisories on the website.
All in all, this is a great addition to the museum – and it's easy to see how other types of museum could benefit from using this technology, as long as they have a suitable space and staff to manage the visitors. For anyone with an interest in tech, it's worth trying out just for that alone. That it also brings ancient creatures to life with a narration by Sir David Attenborough is what makes this a must-see.
Where: Attenborough Studio, Natural History Museum, South Kensington, London
When: 19th June–24th September
Tickets: £6.50 adult, £4.50 NHM members (no under-13s).
Contact: 020 7942 5000
More info: David Attenborough's First Life